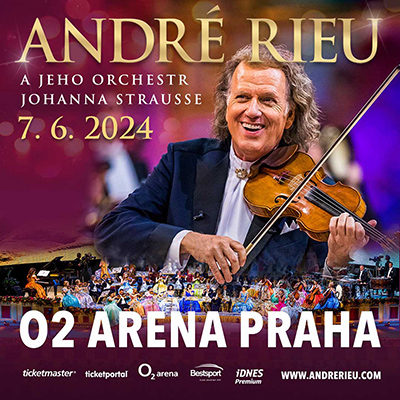 7.6.2024 19:30
ANDRÉ RIEU IN PRAGUE 2024
Date
7.6.2024 19:30
Entry from
18:00
Place
O2 arena, Praha
Organizer
Bestsport, a.s. Organizer
Download
Invitation ANDRÉ RIEU Premier Club (600.93 Kb)
Invitation ANDRÉ RIEU Skyboxes (604.24 Kb)
Invitation ANDRÉ RIEU Club Floor (600.91 Kb)

Skybox
Tickets: 10 Kč
Catering: CZK 1 600

Club floor
Tickets: 690 Kč
Catering: CZK 1 600

Premier Club
Tickets: 10 Kč
Catering: CZK 1 600

More information

Parking available only for VIP clients:
VIP PARKING O2 ARENA – price CZK 500/event
VIP STAGES HOTEL PARKING – price CZK 400/event

Capacity is limited.
Prices are for VIP clients with valid contract.

Sale / reservation
Available in the Ticketportal sales network

Box offices

Box office - entry no. 10, O2 arena
Mon - Fri
13:00 - 18:00
Event day
13:00 - 1 hour after the start of the event

Opening hours may change depending on the event schedule.

Information
Bestsport, a.s. records of visitors and other persons in accordance with Privacy Policy.
Organizer – Bestsport, a.s.
1. Vstupenka platí jen pro uvedený den, hodinu, akci, místo konání a sedadlo, je platná pouze s kontrolním ústřižkem a opravňuje k jednomu vstupu. Po opuštění místa konání akce pozbývá platnosti. Dodatečnými úpravami se stává vstupenka neplatnou. V případě uplynutí platnosti vstupenky, jejího poškození, zničení, ztráty nebo krádeže nelze vstupenku vyměnit ani nahradit její hodnotu ani poskytnout jinou kompenzaci. Další převod, prodej nebo zbavení se vstupenky bez písemného souhlasu pořadatele nebo pokus o další prodej za cenu vyšší, než je na vstupence vytištěna, způsobuje její neplatnost. Držiteli takové vstupenky bude odepřen vstup na místo konání akce nebo bude vyveden a zakládá to důvod pro zabavení vstupenky bez náhrady její nominální ceny nebo jiné kompenzace.
2. Vstupenka je cenina, její padělání a pozměňování je zakázáno. Pořadatel odepře vstup na akci všem držitelům takových vstupenek.
3. Zaplacené vstupné se nevrací, vstupenka se nevyměňuje. V případě zrušení akce zodpovídá za vrácení vstupného pořadatel. V případě zrušení akce uplatní držitel vstupenky nárok na vrácení vstupného dle pokynů pořadatele. Servisní poplatky se nevracejí. Náhrada zvláštních nákladů (např. hotel, jízdní výlohy) se neposkytuje. Změna programu vyhrazena. Datum a čas akce mohou být změněny bez upozornění.
4. Je zakázáno používání laserových ukazovátek a selfie tyčí.
5. Pořadatel poskytuje slevy na vstupném vozíčkářům (držitelům průkazu ZTP/P) a jejich průvodcům.
6. Při plnění povinností vyplývajících z prodeje vstupenek bude IRSnet CZ s.r.o. postupovat ve shodě s platnými obchodními podmínkami pro poskytování služby prodej vstupenek na sportovní a kulturní akce prostřednictvím prodejní sítí Ticketmaster a Ticketportal. Aktuální znění obchodních podmínek je k dispozici na www.ticketmaster.cz a www.ticketportal.cz.
As a promoter of classical music, André Rieu will return to the Czech Republic as part of his World tour in 2024.
André Rieu enchanted over 100,000 spectators during his last German tour. It's no wonder, as his concerts offer amazing entertainment for all age groups, featuring a repertoire that includes well-known classics and Rieu's beloved waltzes, as well as film and pop music. Rieu's charm and sense of humor create an unparalleled concert atmosphere, delivering a musical experience full of emotions.
The Dutch violin virtuoso has 9 million fans on Facebook, has sold over 40 million albums, and attracts over half a million spectators to his concerts every year. He ranks among the elite of the music world and competes with the biggest pop and rock stars. From Chicago to Bahrain, from Malta to Toronto—this year alone, he has over 90 concerts on his packed tour schedule. As part of the tour, he travels with the world's largest private orchestra, a choir, and soloists.
THE OFFICIAL SELLERS OF TICKETS FOR EVENTS AT THE O2 ARENA ARE TICKETMASTER AND TICKETPORTAL. WE DO NOT WARRANT THE VALIDITY OF TICKETS PURCHASED FROM OTHER SELLERS.