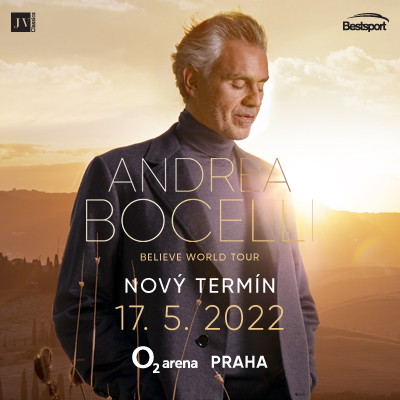 17.5.2022 20:00
ANDREA BOCELLI
Date
17.5.2022 20:00
Entry from
18:30
Place
O2 arena, Praha
Organizer
Bestsport, a.s. Organizer
Download
Orientation Plan ANDREA BOCELLI Ticketportal (316.38 Kb)

Price

CZK 925–12 525
---
wheelchairer + guide
CZK 925 + CZK 1

Sale / reservation
Ticket sales have ended.
Box offices

Box office - entry no. 10, O2 arena
Mon - Fri
13:00 - 18:00
Event day
13:00 - 1 hour after the start of the event

Opening hours may change depending on the event schedule.

Information
Bestsport, a.s. records of visitors and other persons in accordance with Privacy Policy.
Organizer – Bestsport, a.s.
Pokyny pořadatele
ANDREA BOCELLI – THE WORLD´S MOST BELOVED TENOR 
Vstupenka platí jen pro uvedený den, hodinu, akci, místo konání a sedadlo, je platná pouze s kontrolním ústřižkem a opravňuje k jednomu vstupu. Po opuštění místa konání akce pozbývá platnosti. Dodatečnými úpravami se stává vstupenka neplatnou. V případě uplynutí platnosti vstupenky, jejího poškození, zničení, ztráty nebo krádeže nelze vstupenku vyměnit ani nahradit její hodnotu ani poskytnout jinou kompenzaci. Další převod, prodej nebo zbavení se vstupenky bez písemného souhlasu pořadatele nebo pokus o další prodej za cenu vyšší, než je na vstupence vytištěna, způsobuje její neplatnost. Držiteli takové vstupenky bude odepřen vstup na místo konání akce nebo bude vyveden a zakládá to důvod pro zabavení vstupenky bez náhrady její nominální ceny nebo jiné kompenzace.
Vstupenka je cenina, její padělání a pozměňování je zakázáno. Pořadatel odepře vstup na akci všem držitelům takových vstupenek.
Zaplacené vstupné se nevrací, vstupenka se nevyměňuje. V případě zrušení akce zodpovídá za vrácení vstupného pořadatel. V případě zrušení akce uplatní držitel vstupenky nárok na vrácení vstupného dle pokynů pořadatele. Servisní poplatky se nevracejí. Náhrada zvláštních nákladů (např. hotel, jízdní výlohy) se neposkytuje. Změna programu vyhrazena. Datum a čas akce mohou být změněny bez upozornění.
Je zakázáno fotografování a pořizování obrazových a zvukových záznamů v průběhu akce včetně přestávek, vyjma malých kompaktních fotoaparátů. Dále je zakázáno vnášet do objektu kamery, profesionální fotoaparáty, tablety a zároveň je zakázáno používání laserových ukazovátek.
Pořadatel poskytuje slevy na vstupném vozíčkářům (držitelům průkazu ZTP/P) a jejich průvodcům.
Při plnění povinností vyplývajících z prodeje vstupenek bude IRSnet CZ s.r.o. postupovat ve shodě s platnými Obchodními podmínkami pro poskytování služby prodej vstupenek na sportovní a kulturní akce prostřednictvím prodejní sítě Ticketportal. Aktuální znění obchodních podmínek je k dispozici na www.ticketportal.cz.
Andrea Bocelli returns to Prague's O2 arena in May this year after almost three years, where she will perform together with the Czech National Symphony Orchestra under the baton of Marcello Rota. The famous Italian tenor will be accompanied on stage by his rare guests – the great Cuban soprano Maria Aleida, the Tuscan diva Ilaria Della Bidia, baritone Gianfranco Montresor and cellist Ayanna Witter-Johnson.
In an interview with Radiožurnál, Andrea Bocelli recently praised and appreciated the Czech audience: "Every time I come to Prague and find out that the concert hall is sold out, it is a joyful proof for me that the Czech audience likes me and that enjoying. And also thanks to this relationship, I always have very good memories of Prague and the Czech audience."
Tickets for the original dates (8 January 2022 and 29 May 2021) will also remain valid for the new date 17 May 2022.
In a recent interview with TV Prima, which Libor Bouček conducted with him in Prague while recording with the Czech National Symphony Orchestra, he spoke beautifully about how important classical music and culture are in general for mental and spiritual development. He sent this important message to his audience, and especially to young people: "Without culture, humanity would fall into ignorance, which leads to people becoming slaves to something or someone, which is very dangerous. … Study, learn, try to understand things, understand the world, look at it with an unbiased view, try to absorb as much as possible."
During his career, Andrea Bocelli has performed not only for millions of enthusiastic listeners in the world's largest concert halls and opera houses, but also for popes, presidents and the royal family, and has sold an incredible 90 million carriers. Bocelli has won many awards, including the Golden Globe, an incredible seven Classic Brit Awards and seven World Music Awards, and has been nominated for six Grammy Awards and six Latin Grammy Awards. Since 2010, his star has shone on the Hollywood Walk of Fame. Nevertheless, he remains a modest and kind person who, in addition to his brilliant singing career, also pursues the Andrea Bocelli Foundation, which aims to help socially and medically handicapped people around the world.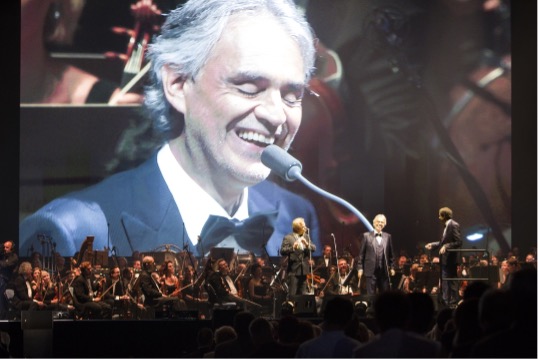 In the fall of 2018, the artist released the album Sì, an intimate collection of songs that celebrates love, faith and family. The production was undertaken by the legendary Bob Ezrine (Pink Floyd, Lou Reed). Sí is an album about heart and soul, positivity and family, melody and magic. For this reason, Bocelli chose a strong and simple title. "Yes, it's the word you say when you get your first kiss, when you agree with someone, when you want someone to feel good. Sí is the word you say every time things end well… Sí is an expression of a positive and strong human word." The album immediately topped the US and British charts, making it forever on November 20. 2019, Andrea was nominated for a Grammy Award for this album.
Two years later, in the fall of 2020, Bocelli released a new, breathtaking Believe album on Sugar / Decca Records, celebrating the power of the mushroom and its soothing, calming effect on the human soul. The album contains a previously unreleased song by the star Italian composer Enio Morricone, duets with the great mezzo-soprano Cecilia Bartoli, as well as the newly sung song Amazing Grace with 27-time Grammy winner Alison Kraus. Bocelli explores in depth very personal themes of faith. "The concept behind Believe's title is three words," explains Bocelli, "they are faith, hope and charity. To believe means to listen to the heavens within each of us, to strive for the most wonderful, even the only possible state of being, which is life in harmony with other human beings and with the world as such, life lived poetically (i.e. for the higher good) and spiritually. Music can then be our guide on this journey."
Believe's album also lent its name to the famous artist's current tour. At the Prague concert, we can look forward not only to the most famous opera arias, but also, among other things, to a selection of the most beautiful songs from this beautiful album with a strong message.
And finally, an interesting thing about the tireless charitable work of Andrea Bocelli. His ABF (Andrea Bocelli Foundation) recently entered into a partnership with Plus1, which will automatically add one currency unit (euro / dollar / pound, etc.) to each ticket sold to any famous tenor concert, which will then be transferred to the foundation. ABF.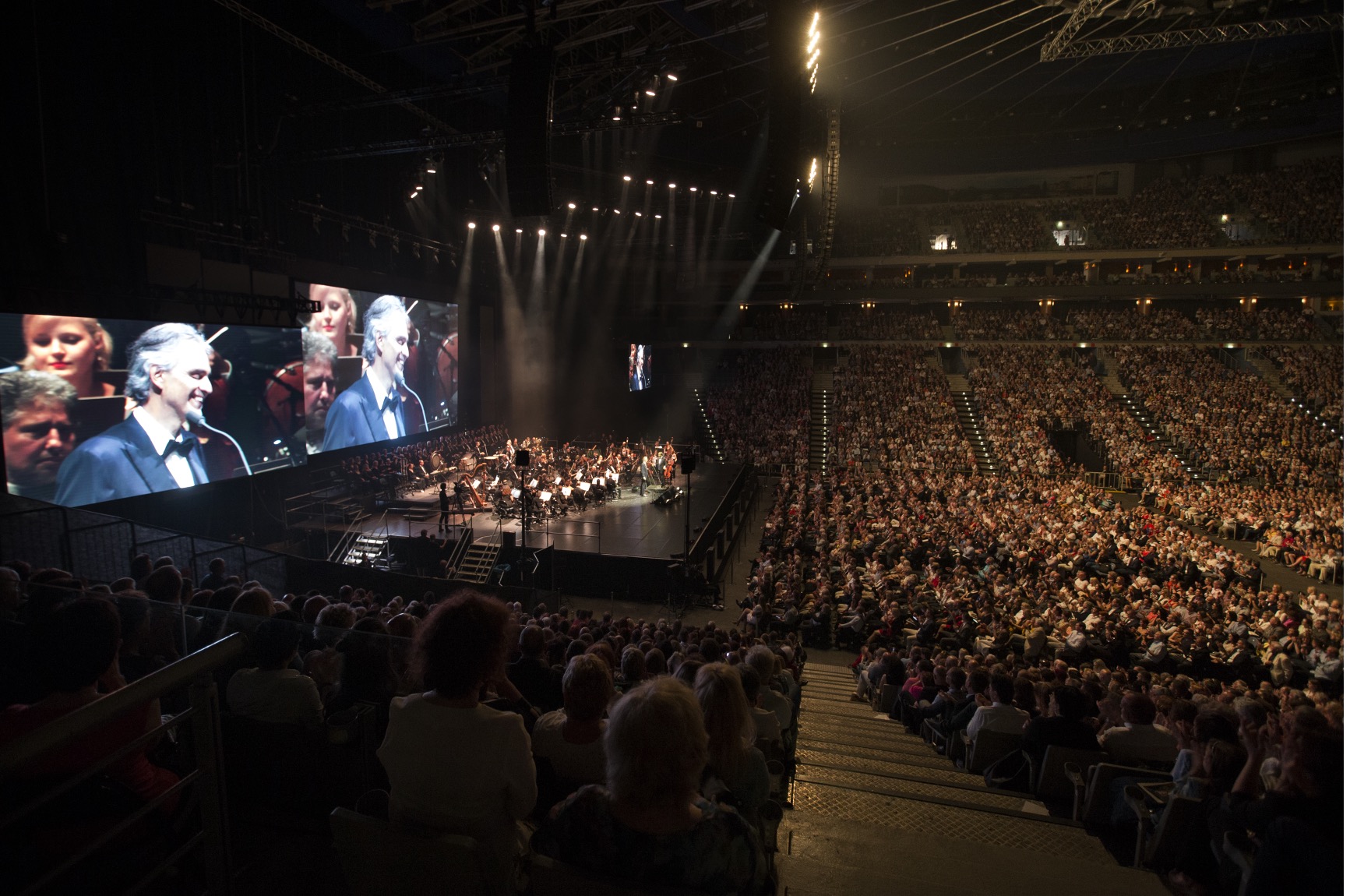 THE OFFICIAL SELLER OF TICKETS FOR THIS EVENT IS TICKETPORTAL. WE DO NOT WARRANT THE VALIDITY OF TICKETS PURCHASED FROM OTHER SELLERS.