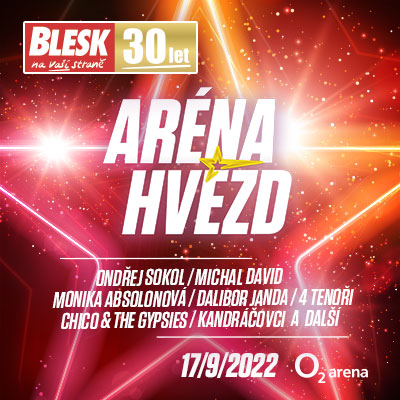 17.9.2022 19:00
ARÉNA HVĚZD: BLESK SLAVÍ 30 LET
Date
17.9.2022 19:00
Entry from
17:30
Place
O2 arena, Praha
Organizer
Active Radio a.s. Organizer
Download
Invitation BLESK Club Floor (374.55 Kb)
Invitation BLESK Skyboxes (453.55 Kb)
Invitation BLESK Premier Club (414.09 Kb)

Skybox
Tickets: CZK 10
Catering: CZK 1 500

Club floor
Tickets: CZK 490
Catering: CZK 1 500

Premier Club
Tickets: CZK 10
Catering: CZK 1 500

More information

Parking available only for VIP clients:
VIP PARKING O2 ARENA – price CZK 500/event
VIP STAGES HOTEL PARKING – price CZK 400/event

Capacity is limited.
Prices are for VIP clients with valid contract.

Sale / reservation
Ticket sales have ended.
Box offices

Box office - entry no. 10, O2 arena
Mon - Fri
13:00 - 18:00
Event day
10:00 - 1 hour after the start of the event

Information
Bestsport, a.s. records of visitors and other persons in accordance with Privacy Policy.
Organizer – Active Radio a.s.
Aréna hvězd – BLESK slaví 30 let
Vstupenka platí jen pro uvedený den, hodinu, akci, místo konání a sedadlo, je platná pouze s kontrolním ústřižkem a opravňuje k jednomu vstupu. Po opuštění místa konání akce pozbývá platnosti. Dodatečnými úpravami se stává vstupenka neplatnou. V případě uplynutí platnosti vstupenky, jejího poškození, zničení, ztráty nebo krádeže nelze vstupenku vyměnit ani nahradit její hodnotu ani poskytnout jinou kompenzaci. Další převod, prodej nebo zbavení se vstupenky bez písemného souhlasu pořadatele nebo pokus o další prodej za cenu vyšší, než je na vstupence vytištěna, způsobuje její neplatnost. Držiteli takové vstupenky bude odepřen vstup na místo konání akce nebo bude vyveden a zakládá to důvod pro zabavení vstupenky bez náhrady její nominální ceny nebo jiné kompenzace.
Vstupenka je cenina, její padělání a pozměňování je zakázáno. Pořadatel odepře vstup na akci všem držitelům takových vstupenek.
Zaplacené vstupné se nevrací, vstupenka se nevyměňuje. V případě zrušení akce zodpovídá za vrácení vstupného pořadatel, nikoli společnost IRSnet CZ s.r.o. V případě zrušení akce uplatní držitel vstupenky nárok na vrácení vstupného dle pokynů pořadatele. Servisní poplatky se nevracejí. Náhrada zvláštních nákladů (např. hotel, jízdní výlohy) se neposkytuje. Změna programu vyhrazena. Datum a čas akce mohou být změněny bez upozornění.
Je zakázáno fotografování a pořizování obrazových a zvukových záznamů v průběhu akce včetně přestávek, vyjma malých kompaktních fotoaparátů. Dále je zakázáno vnášet do objektu kamery, profesionální fotoaparáty, tablety a zároveň je zakázáno používání laserových ukazovátek.
Na akci jsou poskytovány slevy. Pořadatel poskytuje slevy na vstupném držitelům průkazu ZTP/P – vozíčkářům a jejich průvodcům.
Při plnění povinností vyplývajících z prodeje vstupenek bude společnost IRSnet CZ s.r.o. postupovat ve shodě s platnými Obchodními podmínkami pro poskytování služby prodej vstupenek na sportovní a kulturní akce prostřednictvím prodejní sítě Ticketportal. Aktuální znění obchodních podmínek je k dispozici na www.ticketportal.cz.
The sale has been discontinued, the event will most likely be moved or canceled. We are waiting for the organizer's statement, which will then be sent to all customers to their contact e-mail addresses.
The magnificent celebration of the jubilee of the most widely read Czech daily will start on September 17 at Prague's O2 Arena. You must not miss it! Get your ticket on time. They will disappear quickly. The Arena of the Stars is called the gala evening, which is organized by the daily BLESK on the occasion of its 30th birthday. And you can transfer to the company of star bands, singers and your favorite celebrities for three hours.
The Prague O2 arena will be filled for you with personalities from the Czech and international music scene, and you will be able to enjoy your favorite hits. For example, hitmaker Michal David, popular singer Monika Absolonová, the ageless legend of Czechoslovak pop Dalibor Janda, who will perform with the band Prototyp and Jiřina Anna Jandová, the great 4 Tenoři or the Slovak Kandráčovci will perform.
You can look forward to the true highlight of Chico & The Gypsies evening! These members of the original Gipsy Kings will bring you to a boil with their Baila me, Volare and many others.
The evening will be accompanied by moderator Ondřej Sokol, whom you know, for example, from the popular series Ninadesátka or the show Your Face Has a Famous Voice.
You will receive a Premium Plus for each ticket for three months for CZK 1!
What is Premium Plus?
The best of nine sites. Premium content for the whole family! For one price you can enjoy premium content from
• Reflex.cz
• Blesk.cz
• iSport.cz
• Auto.cz
• Živě.cz
• E15.cz
• Maminka.cz
• and Flash for women
In addition, you will be able to enjoy unlimited reading of all titles on iKiosek.cz (except audio books and books). More titles will be added.
THE OFFICIAL SELLERS OF TICKETS FOR EVENTS AT THE O2 ARENA ARE TICKETMASTER AND TICKETPORTAL. WE DO NOT WARRANT THE VALIDITY OF TICKETS PURCHASED FROM OTHER SELLERS.