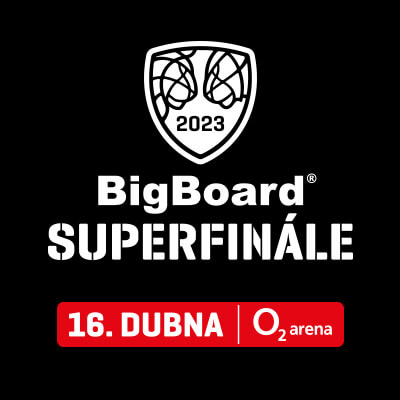 16.4.2023 00:00
BIGBOARD SUPERFINÁLE
Date
16.4.2023 00:00
Entry from
30 minutes before the opening duel
Place
O2 arena, Praha
Organizer
Český florbal s.r.o. Organizer
Download
Orientation Plan Ticketmaster (256.00 Kb)
Orientation Plan Ticketportal (329.06 Kb)

Price

CZK 290–790
---
wheelchairer + guide
CZK 150 + CZK 1

Order wheelchair tickets from Ticketmaster (ticket@ticketmaster.cz) and Ticketportal.

Sale / reservation
Ticket sales have ended.
Box offices

Box office - entry no. 10, O2 arena
Mon - Fri
13:00 - 18:00
Event day
13:00 - 1 hour after the start of the event

Opening hours may change depending on the event schedule.

Information
Bestsport, a.s. records of visitors and other persons in accordance with Privacy Policy.
Organizer – Český florbal s.r.o.
1. Držitel vstupenky je povinen nosit ji po celou dobu pobytu v O2 areně a na požádání pořadatele ji předložit ke kontrole. Vstupenka platí jen pro uvedený den, akci, místo konání, sedadlo. Je platná pouze s kontrolním ústřižkem a opravňuje k opakovanému vstupu do O2 areny v konkrétní den akce. Dodatečnými úpravami se stává vstupenka neplatnou. V případě uplynutí platnosti vstupenky, jejího poškození, zničení, ztráty nebo krádeže nelze vstupenku vyměnit ani nahradit její hodnotu ani poskytnout jinou kompenzaci. Další převod, prodej nebo zbavení se vstupenky bez písemného souhlasu pořadatele nebo pokus o další prodej za cenu vyšší, než je na vstupence vytištěna, způsobuje její neplatnost. Držiteli takové vstupenky bude odepřen vstup na místo konání akce nebo bude vyveden a zakládá to důvod pro zabavení vstupenky bez náhrady její nominální ceny nebo jiné kompenzace.
2. Vstupenka je cenina, její padělání a pozměňování je zakázáno. Pořadatel odepře vstup na akci všem držitelům takových vstupenek.
3. Zaplacené vstupné se nevrací, vstupenka se nevyměňuje. V případě zrušení akce zodpovídá za vrácení vstupného pořadatel. V případě zrušení akce uplatní držitel vstupenky nárok na vrácení vstupného dle pokynů pořadatele. Servisní poplatky se nevracejí. Náhrada zvláštních nákladů (např. hotel, jízdní výlohy) se neposkytuje. Změna programu vyhrazena. Datum a čas akce mohou být změněny bez upozornění.
4. Je zakázáno pořizování obrazových a zvukových záznamů v průběhu akce, včetně přestávek. Výjimku tvoří používání malých kompaktních kapesních fotoaparátů pro veřejnost a profesionálních fotoaparátů, které budou používat fotografové akreditovaní pořadatelem.
5. Pořadatel poskytuje slevy na vstupném držitelům průkazu ZTP/P – vozíčkářům, jejich průvodcům.
6. Při plnění povinností vyplývajících z prodeje vstupenek bude IRSnet CZ s.r.o. postupovat ve shodě s platnými obchodními podmínkami pro poskytování služby prodej vstupenek na sportovní a kulturní akce prostřednictvím prodejní sítě TICKETPORTAL. Aktuální znění obchodních podmínek je k dispozici na www.ticketportal.cz.
The unique sporting event is once again heading to the biggest arena in the Czech Republic. Be there when the best teams in the country battle it out for the title and enjoy top floorball spiced up with a unique show and electrifying atmosphere. BigBoard Superfinále will be held at the O2 arena in Prague on Sunday 16 April 2023. Tickets go on sale from 3 November at 14:00 in Ticketportal and Ticketmaster.
The culmination of the ongoing Livesport Superliga, Women's Extraliga and Subterra Cup is scheduled for the second weekend in April, but you can already secure the best seats in the stands of the multifunctional arena in Libeň!
In addition, the Christmas holidays are coming up and perhaps every floorball fan will welcome the tickets for the BigBoard Superfinále under the tree with enthusiasm.
Czech Floorball is preparing a lot of great accompanying programme, a unique visual show and entertainment for fans of all ages for the upcoming – already eleventh – edition of the Floorball Superfinal.
Once again, the Superfinal will create a comprehensive and unique fan experience that has caught the attention of sports business and marketing experts, who awarded it second place in the hugely competitive Sport Alive Awards. Convince yourself that it was right!
Last season, 7,923 fans watched the premiere triumph of the FBC Ostrava women in the extra league, while the battle for the Livesport Superliga title, which was eventually won by Mladá Boleslav, was watched by 10,865 spectators. Thousands of fans have been occupying their seats since the morning, when the high school girls' and boys' cups culminated.
BigBoard Superfinal 2023 program
10:30 – Subterra cup final – girls
11:45 – Subterra cup final – boys
14:00 – Women's Extraliga Superfinal
17:00 – Livesport Superliga Superfinal
For information on the BigBoard Superfinále, visit the project's website at www.ceskyflorbal.cz/superfinale. The main source of news is the Facebook page of Czech Floorball and the instagram profile of Czech Floorball, which will bring you reports from the top competitions, from behind the scenes of the superleague teams or from the program of the superfinal day along with a number of competitions and news.
The exact programme of the BigBoard Superfinále will be specified in the coming months, entry to the arena will be allowed 30 minutes before the opening duel.
THE OFFICIAL SELLERS OF TICKETS FOR EVENTS AT THE O2 ARENA ARE TICKETMASTER AND TICKETPORTAL. WE DO NOT WARRANT THE VALIDITY OF TICKETS PURCHASED FROM OTHER SELLERS.