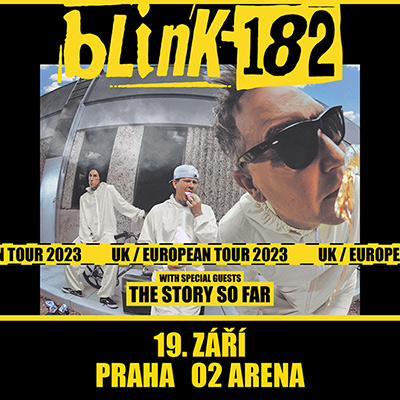 19.9.2023 19:30
BLINK-182
Organizer – LIVE NATION CZECH REPUBLIC s.r.o.
Majitel vstupenky je povinen nosit ji po celou dobu pobytu v O2 areně a na požádání pořadatele ji předložit ke kontrole. Vstupenka platí jen pro uvedený den, akci, místo konání, sedadlo. Je platná pouze s kontrolním ústřižkem a opravňuje k jednomu vstupu do arény. Po opuštění O2 areny pozbývá platnosti. Dodatečnými úpravami se stává vstupenka neplatnou. V případě uplynutí platnosti vstupenky, jejího poškození, zničení, ztráty nebo krádeže nelze vstupenku vyměnit ani nahradit její hodnotu ani poskytnout jinou kompenzaci. Další převod, prodej nebo zbavení se vstupenky bez písemného souhlasu pořadatele nebo pokus o další prodej za cenu vyšší, než je na vstupence vytištěna, způsobuje její neplatnost. Majiteli takové vstupenky bude odepřen vstup na místo konání akce nebo bude vyveden a zakládá to důvod pro zabavení vstupenky bez náhrady její nominální ceny nebo jiné kompenzace.
Vstupenka je cenina, její padělání a pozměňování je zakázáno. Pořadatel odepře vstup na akci všem majitelům takových vstupenek.
Zaplacené vstupné se nevrací, vstupenka se nevyměňuje. V případě zrušení akce zodpovídá za vrácení vstupného pořadatel. V případě zrušení akce uplatní majitel vstupenky nárok na vrácení vstupného dle pokynů pořadatele. Servisní poplatky se nevracejí. Náhrada zvláštních nákladů (např. hotel, jízdní výlohy) se neposkytuje. Změna programu vyhrazena. Datum a čas akce mohou být změněny bez upozornění.
Je zakázáno fotografování a pořizování obrazových a zvukových záznamů v průběhu akce včetně přestávek. Dále je zakázáno používání laserových ukazovátek, vnášet do objektu na akci kamery, profesionální fotoaparáty a tablety.
Na akci jsou poskytovány slevy. Pořadatel poskytuje slevy na vstupném držitelům průkazu ZTP/P – vozíčkářům a jejich průvodcům.
Při plnění povinností vyplývajících z prodeje vstupenek bude IRSnet CZ s.r.o. postupovat ve shodě s platnými obchodními podmínkami pro poskytování služby prodej vstupenek na sportovní a kulturní akce prostřednictvím prodejní sítě TICKETPORTAL. Aktuální znění obchodních podmínek je k dispozici na www.ticketportal.cz.
Multi-platinum, award-winning band blink-182 have announced their biggest tour to date, a colossal worldwide jaunt that will reunite Mark Hoppus, Tom DeLonge and Travis Barker for the first time in nearly a decade. The worldwide tour, produced by Live Nation, includes their first-ever Latin American shows along with stops in North America, Europe, Australia and New Zealand from March 2023 through February 2024.
The tour announcement also features multiple festival appearances in Latin America and the US, including Lollapalooza alongside co-headliners Billie Eilish and Drake, the new Adjacent Music Festival with Paramore, and the 2023 edition of When We Were Young with Green Day among others.
Europe
With Support from The Story So Far
Sep 2 – Glasgow, UK – OVO Hydro
Sep 4 – Belfast, UK – SSE Arena
Sep 5 – Dublin, Ireland – 3Arena
Sep 8 – Antwerp, Belgium – Sportpaleis
Sep 9 – Cologne, Germany – Lanxess Arena
Sep 12 – Copenhagen, Denmark – Royal Arena
Sep 13 – Stockholm, Sweden – Avicii Arena
Sep 14 – Oslo, Norway – Spektrum
Sep 16 – Berlin, Germany – Mercedes-Benz Arena
Sep 17 – Hamburg, Germany – Barclays Arena
Sep 19 – Prague, Czech Republic – O2 Arena
Sep 20 – Vienna, Austria – Stadthalle
Oct 2– Lisbon, Portugal – Altice Arena
Oct 3 – Madrid, Spain – Wizink Centre
Oct 4 – Barcelona, Spain – Palau Sant Jordi
Oct 6 – Bologna, Italy – Unipol Arena
Oct 8 – Amsterdam, Netherlands – Ziggo Dome
Oct 9 – Paris, France – Accor Arena
Oct 11 – London, UK – The O2
Oct 14 – Birmingham, UK – Utilita Arena
Oct 15 – Manchester, UK – AO Arena
About blink-182
Since their humble beginnings nearly thirty years ago, when they started playing in a San Diego garage, 'blink-182' have sold over fifty-million albums worldwide and rocked audiences from Adelaide to Zurich having become one of the defining rock bands of their generation. According to The New York Times, "No punk band of the 1990s has been more influential than 'blink-182'." While 'blink-182' have already racked up more than their fair share of platinum records and blockbuster singles, they are looking forward to their 10th studio album. With Delonge back after nearly a decade fans can expect that electric on stage magic that the trio has delivered over the years. With their new album due in 2023, 'blink-182' is stoked to be facing their future together.
THE OFFICIAL SELLERS OF TICKETS FOR EVENTS AT THE O2 ARENA ARE TICKETMASTER AND TICKETPORTAL. WE DO NOT WARRANT THE VALIDITY OF TICKETS PURCHASED FROM OTHER SELLERS.