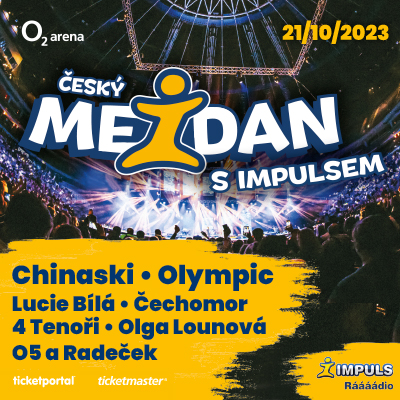 21.10.2023 18:00
ČESKÝ MEJDAN S IMPULSEM 2023
Date
21.10.2023 18:00
Entry from
16:30
Place
O2 arena, Praha
Organizer
Bestsport, a.s. Organizer
Download
Orientation Plan IMPULS Ticketmaster (273.85 Kb)
Orientation Plan IMPULS Ticketportal (357.07 Kb)

Price

CZK 590 – 4 990
---
wheelchairer + guide
CZK 790 + CZK 1

Order wheelchair tickets from Ticketmaster (ticket@ticketmaster.cz) and Ticketportal.

Sale / reservation
Available in the Ticketmaster and Ticketportal sales networks

Box offices

Box office Ticketmaster - entry no. 1, O2 arena
Mon - Fri
9:00 - 12:00
12:30 - 17:00
Event day
10:00 - 1 hour after the start of the event

Box office Ticketportal - entry no. 10, O2 arena
Mon - Fri
13:00 - 18:00
Event day
13:00 - 1 hour after the start of the event

Opening hours may change depending on the event schedule.

Information
Bestsport, a.s. records of visitors and other persons in accordance with Privacy Policy.
Organizer – Bestsport, a.s.
Vstupenka platí jen pro uvedený den, hodinu, akci, místo konání a sedadlo, je platná pouze s kontrolním ústřižkem a opravňuje k jednomu vstupu. Po opuštění místa konání akce pozbývá platnosti. Dodatečnými úpravami se stává vstupenka neplatnou. V případě uplynutí platnosti vstupenky, jejího poškození, zničení, ztráty nebo krádeže nelze vstupenku vyměnit ani nahradit její hodnotu ani poskytnout jinou kompenzaci. Další převod, prodej nebo zbavení se vstupenky bez písemného souhlasu pořadatele nebo pokus o další prodej za cenu vyšší, než je na vstupence vytištěna, způsobuje její neplatnost. Držiteli takové vstupenky bude odepřen vstup na místo konání akce nebo bude vyveden a zakládá to důvod pro zabavení vstupenky bez náhrady její nominální ceny nebo jiné kompenzace.
Vstupenka je cenina, její padělání a pozměňování je zakázáno. Pořadatel odepře vstup na akci všem držitelům takových vstupenek.
Zaplacené vstupné se nevrací, vstupenka se nevyměňuje. V případě zrušení akce zodpovídá za vrácení vstupného pořadatel. V případě zrušení akce uplatní držitel vstupenky nárok na vrácení vstupného dle pokynů pořadatele. Servisní poplatky se nevracejí. Náhrada zvláštních nákladů (např. hotel, jízdní výlohy) se neposkytuje. Změna programu vyhrazena. Datum a čas akce mohou být změněny bez upozornění.
Je zakázáno fotografování a pořizování obrazových a zvukových záznamů v průběhu akce včetně přestávek, vyjma malých kompaktních fotoaparátů. Dále je zakázáno vnášet do objektu kamery, profesionální fotoaparáty, tablety a zároveň je zakázáno používání laserových ukazovátek.
Pořadatel poskytuje slevy na vstupném vozíčkářům (držitelům průkazu ZTP/P) a jejich průvodcům.
Při plnění povinností vyplývajících z prodeje vstupenek bude IRSnet CZ s.r.o. postupovat ve shodě s platnými Obchodními podmínkami pro poskytování služby prodej vstupenek na sportovní a kulturní akce prostřednictvím prodejní sítě Ticketportal. Aktuální znění obchodních podmínek je k dispozici na www.ticketportal.cz.
Český mejdan s Impulsem is a traditional, almost five-hour music concert marathon with the biggest stars of Czech and Slovak popular music. The 7th edition of Český mejdan s Impuls will once again bring Prague's O2 arena to life on 21 October 2023.
Chinaski, a band that fans have loved for almost 30 years, will return to Český mejdan s Impulsem in great form as the headliner. Chinaski joins the already announced legendarymusic group Olympic with the ageless Petr Janda and the first lady of Czech pop music, Lucie Bílá.
We are happy to announce that this year's line-up will be completed for the first time by the popular band Čechomor.
The other woman in this year's party line-up is fresh mum Olga Lounová, who is returning after her maternity break straight to the stage at the O2 arena. The premiere in our biggest czech hall will be given by Šumperk's music group O5 & Radeček, who are preparing live their big radio hits BRA3, Vloupám se and the latest Romatický smyčce. And the participation of the successful 4 Tenoři, who will appear at the Czech Party with radio Impuls for the first time and are preparing a special tribute to famouse composer Karel Svoboda.
For the most loyal ones, the organizers have prepared a VIP Experience package that will allow fans to experience the concert in an unforgettable way.
The VIP Experience package priced at CZK 4,990 includes:
– Exclusive seating in the 1st to 4th row under the stage in Sector 002
– Welcome drink (prosecco or soft drink) at the Lokomotivka restaurant
– Catering at the Lokomotivka restaurant
– Priority VIP access through entrance 2 from 16:30
Tickets are available in the price range of 590 CZK – 4.990 CZK.
THE OFFICIAL SELLERS OF TICKETS FOR EVENTS AT THE O2 ARENA ARE TICKETMASTER AND TICKETPORTAL. WE DO NOT WARRANT THE VALIDITY OF TICKETS PURCHASED FROM OTHER SELLERS.