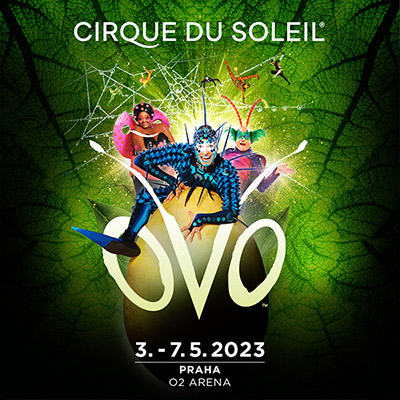 3.5.2023 20:00
4.5.2023 20:00
5.5.2023 16:00
5.5.2023 20:00
6.5.2023 16:00
6.5.2023 20:00
7.5.2023 13:00
7.5.2023 17:00
CIRQUE DU SOLEIL: OVO
Organizer – LIVE NATION CZECH REPUBLIC s.r.o.
Majitel vstupenky je povinen nosit ji po celou dobu pobytu v O2 areně a na požádání pořadatele ji předložit ke kontrole. Vstupenka platí jen pro uvedený den, akci, místo konání, sedadlo. Je platná pouze s kontrolním ústřižkem a opravňuje k jednomu vstupu do arény. Po opuštění O2 areny pozbývá platnosti. Dodatečnými úpravami se stává vstupenka neplatnou. V případě uplynutí platnosti vstupenky, jejího poškození, zničení, ztráty nebo krádeže nelze vstupenku vyměnit ani nahradit její hodnotu ani poskytnout jinou kompenzaci. Další převod, prodej nebo zbavení se vstupenky bez písemného souhlasu pořadatele nebo pokus o další prodej za cenu vyšší, než je na vstupence vytištěna, způsobuje její neplatnost. Majiteli takové vstupenky bude odepřen vstup na místo konání akce nebo bude vyveden a zakládá to důvod pro zabavení vstupenky bez náhrady její nominální ceny nebo jiné kompenzace.
Vstupenka je cenina, její padělání a pozměňování je zakázáno. Pořadatel odepře vstup na akci všem majitelům takových vstupenek.
Zaplacené vstupné se nevrací, vstupenka se nevyměňuje. V případě zrušení akce zodpovídá za vrácení vstupného pořadatel. V případě zrušení akce uplatní majitel vstupenky nárok na vrácení vstupného dle pokynů pořadatele. Servisní poplatky se nevracejí. Náhrada zvláštních nákladů (např. hotel, jízdní výlohy) se neposkytuje. Změna programu vyhrazena. Datum a čas akce mohou být změněny bez upozornění.
Je zakázáno fotografování a pořizování obrazových a zvukových záznamů v průběhu akce včetně přestávek. Dále je zakázáno používání laserových ukazovátek, vnášet do objektu na akci kamery, profesionální fotoaparáty a tablety.
Na akci jsou poskytovány slevy. Pořadatel poskytuje slevy na vstupném držitelům průkazu ZTP/P – vozíčkářům a jejich průvodcům.
Při plnění povinností vyplývajících z prodeje vstupenek bude IRSnet CZ s.r.o. postupovat ve shodě s platnými obchodními podmínkami pro poskytování služby prodej vstupenek na sportovní a kulturní akce prostřednictvím prodejní sítě TICKETPORTAL. Aktuální znění obchodních podmínek je k dispozici na www.ticketportal.cz.
Cirque du Soleil is thrilled to announce its return to Prague with its high-energy and high-acrobatic production OVO. An exciting Cirque du Soleil experience, OVO is a colorful intrusion into a new day in the life of insects; a non-stop riot of energy and movement. Through show-stopping acrobatics highlighting the unique personalities and abilities of selected insect species, OVO explores the beauty of biodiversity in all its contrasts and vibrancy.
OVO will perform in Prague at the O2 arena from 3. – 7. 5. 2023.
Performance Schedule
• Wednesday: 3/5/2023 8:00 p.m.
• Thursday: 4/5/2023 8:00 p.m.
• Friday: 5/5/2023 4:00 p.m. & 8:00 p.m.
• Saturday: 6/5/2023 4:00 p.m. & 8:00 p.m.
• Sunday: 7/5/2023 1:00 p.m. & 5:00 p.m.
Ticket Information
Starting today, the tickets for OVO are available online exclusively to Club Cirque members. For free and easy subscription, visit cirqueclub.com. The general on-sale starts on 9. 12. at cirquedusoleil.com/ovo.
About OVO
From mighty crickets bouncing off trampolines to a hypnotic spider contorting inside her web, OVO exudes extraordinary showmanship to tickle the imagination. Funny and chaotic, yet adorable and wonderful, OVO charms our inner child with its sweet exuberance. Comprised of 100 people from 25 different countries, including 52 artists, OVO ("egg" in Portuguese) brings to the stage high-level acrobatic acts redefining the limits of the human body. Since its opening in Montreal in 2009, OVO has thrilled more than 7 million people in 155 cities in 26 different countries.
Cirque du Soleil
Cirque du Soleil has redefined how the world views the circus; from small town talent to a household name. Based in Montreal (Qc), the Canadian organization went on to become a global leader in live entertainment with the creation of world-class immersive and iconic experiences, across 6 continents. Cirque du Soleil connects with audiences by being genuine, human and inclusive. Privileged to work with artists from 64 countries to bring their creativity to life on stages around the world, the company aims to make a positive impact on people, communities and the planet with its most important tools: creativity and art. Over the years, more than 220 million people have been inspired, in over 70 different countries. For more information, visit cirquedusoleil.com.
Follow #OVOCirque and #cirquedusoleil on social media: Facebook | Twitter | Instagram | YouTube| TikTok
Partner
Cirque du Soleil wishes to thank its official partner Air Canada.
THE OFFICIAL SELLERS OF TICKETS FOR EVENTS AT THE O2 ARENA ARE TICKETMASTER AND TICKETPORTAL. WE DO NOT WARRANT THE VALIDITY OF TICKETS PURCHASED FROM OTHER SELLERS.