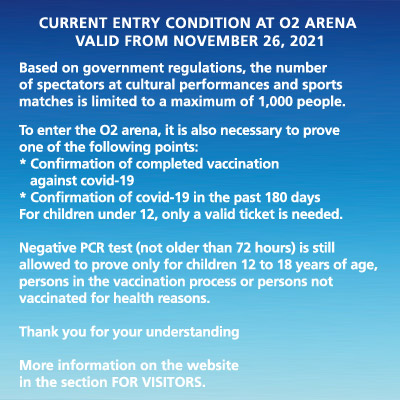 Place
O2 arena, Praha
Box offices

Box office - entry no. 10, O2 arena
Mon & Thu
13:00 - 18:00
Event day
10:00 - to 1 hour after the start of the event

In the period from 18 December 2021 to 2 January 2022, the box office will be closed and will open again on Monday 3 January 2022.

Information
Bestsport, a.s. records of visitors and other persons in accordance with Privacy Policy.
General rules for visitors entering the O2 arena following the government measures valid from November 22nd, 2021.
To enter the O2 arena, it is necessary to prove one of the points below:
Full vaccination certificate of Covid-19*
Laboratory confirmation with evidence of Covid illness in the past 180 days
Children under 12 years only need a valid ticket.
NEW RULE!
NEGATIVE ANTIGEN TEST OR COVID SELF-TEST ARE NOT ALLOWED ANYMORE.
Negative PCR test (not older than 72 hours) is still allowed to prove only for children from 12 to 18 years old, persons in vaccination process and persons unvaccinated due to health reasons.
According to the most updated government regulations the cultural events promoters are allowed to enable access full capacity of the venue. We kindly ask you to arrive to the O2 arena on time, as the necessary infectivity checks will be time consuming and may prolong the average waiting time before entering the arena.
We would like to ask you to keep 2 metres distances while waiting in the queue.
Thank you for helping us to stay safe. We are excited to welcome you.
*We recognize:
A national vaccination certificate or a vaccination certificat issued in accordance with the European Union Regulation on the EU digital COVID certificate providing that at least 14 days have elapsed since the completed vaccination schedule.
A national vaccination certificate is considered to be a written confirmation issed in English language by an authorized entity operating in a third country, a model of which  is published in the list of recognized national certificates on the website of the Ministry of Health of the Czech Republic. The written confirmation must contain details of the person to be vaccinated, the type of vaccine, the date of vaccination, identification of the subject who issued the certificate and all these data must be available to verify remotedly directly from the written confirmation, providing that the vaccination was: (i) a covid-19 vaccine which has been authorized in accordance with Regulation (EC) No 726/2004, (ii) or a medicinal producted with the patent of the medicinal product referred to (i), provided that the medicinal product i salso approved by the World Health Organization for an emergency use.