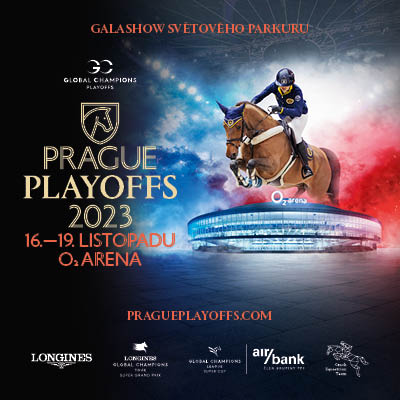 16.11.2023 15:00
17.11.2023 09:00
18.11.2023 09:00
19.11.2023 09:00
GLOBAL CHAMPIONS PRAGUE PLAYOFFS 2023
Organizer – Bestsport, a.s.
Vstupenka platí jen pro uvedený den, hodinu, akci, místo konání a sedadlo, je platná pouze s kontrolním ústřižkem a opravňuje k jednomu vstupu. Po opuštění místa konání akce pozbývá platnosti. Dodatečnými úpravami se stává vstupenka neplatnou. V případě uplynutí platnosti vstupenky, jejího poškození, zničení, ztráty nebo krádeže nelze vstupenku vyměnit ani nahradit její hodnotu ani poskytnout jinou kompenzaci. Další převod, prodej nebo zbavení se vstupenky bez písemného souhlasu pořadatele nebo pokus o další prodej za cenu vyšší, než je na vstupence vytištěna, způsobuje její neplatnost. Držiteli takové vstupenky bude odepřen vstup na místo konání akce nebo bude vyveden a zakládá to důvod pro zabavení vstupenky bez náhrady její nominální ceny nebo jiné kompenzace.
Vstupenka je cenina, její padělání a pozměňování je zakázáno. Pořadatel odepře vstup na akci všem držitelům takových vstupenek.
Zaplacené vstupné se nevrací, vstupenka se nevyměňuje. V případě zrušení akce zodpovídá za vrácení vstupného pořadatel. V případě zrušení akce uplatní držitel vstupenky nárok na vrácení vstupného dle pokynů pořadatele. Servisní poplatky se nevracejí. Náhrada zvláštních nákladů (např. hotel, jízdní výlohy) se neposkytuje. Změna programu vyhrazena. Datum a čas akce mohou být změněny bez upozornění.
Je zakázáno fotografování a pořizování obrazových a zvukových záznamů v průběhu akce včetně přestávek, vyjma malých kompaktních fotoaparátů. Dále je zakázáno vnášet do objektu kamery, profesionální fotoaparáty, tablety a zároveň je zakázáno používání laserových ukazovátek.
Pořadatel poskytuje slevy na vstupném vozíčkářům (držitelům průkazu ZTP/P) a jejich průvodcům. Pořadatel poskytuje slevy pro děti do 140 cm pro představení konané dne 16.11.2023 a 17.11.2023 ve výši 50 % z ceny vstupenky.
Při plnění povinností vyplývajících z prodeje vstupenek bude IRSnet CZ s.r.o. postupovat ve shodě s platnými Obchodními podmínkami pro poskytování služby prodej vstupenek na sportovní a kulturní akce prostřednictvím prodejní sítě Ticketportal. Aktuální znění obchodních podmínek je k dispozici na www.ticketportal.cz.
Global Champions Prague Playoffs, the greatest showjumping event in the world, is coming back to the O2 arena for the last time in 2023. Tickets for the unique event which will take place from 16 to 19 November, 2023, are available via Ticketmaster and Ticketportal. Prices range from CZK 290 to CZK 2,390 for daily tickets, discounted ticket packages are available as well.
"Global Champions Prague Playoffs will take place in O2 arena last time in 2023. The ticket prices start at 290 CZK. We continue in our efforts to offer the sport of showjumping to as many fans as possible. Traditionally, a spectacular accompanying show will be prepared for our fans," says Jan Andrlík, chairman of the Prague Playoffs organizing committee.
The fifth year of the showjumping event in Prague will welcome a total of sixteen individual riders of the season and best sixteen teams – as the home fans hope, including the local team of Prague Lions.
Day tickets, event tickets for all four competition days, but also VIP tickets, party boxes or seats at tables on the club floor will be available again. Tickets can be purchased through the official ticket vendors – the Ticketmaster (www.ticketmaster.cz) and Ticketportal (www.ticketportal.cz).
Daily ticket prices start at 290 CZK for tickets to the 4th floor. The prices for category 1 tickets, i.e. to the 1st floor of the O2 arena, start at 990 CZK. There is a 50% discount on the entrance fee for children up to 140 cm tall for the Thursday and Friday program.
Discounted packages are available for the entire program so that showjumping enthusiasts can enjoy all four competition days. Prices for four-day passes start at CZK 1,490 CZK. "The ticket package contains tickets for all four days, which are transferable, so the buyer can enjoy the entire program alone or can share the tickets with their loved ones or friends," explained Andrlík."Since this is the last year, I would appeal to all fans not to delay in buying a ticket and enjoy a unique show that has no parallel in the world," adds Jan Andrlík.
THE OFFICIAL SELLERS OF TICKETS FOR EVENTS AT THE O2 ARENA ARE TICKETMASTER AND TICKETPORTAL. WE DO NOT WARRANT THE VALIDITY OF TICKETS PURCHASED FROM OTHER SELLERS.