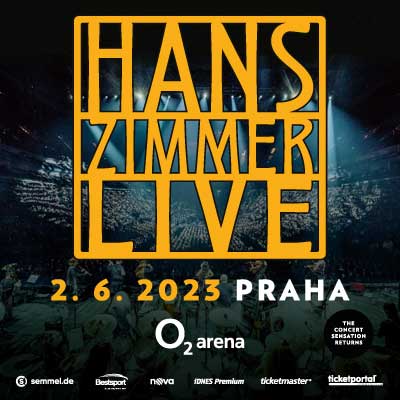 2.6.2023 20:00
HANS ZIMMER LIVE – EUROPE TOUR 2023
Organizer – Semmel Concerts a Bestsport, a.s.
Vstupenka platí jen pro uvedený den, hodinu, akci, místo konání a sedadlo, je platná pouze s kontrolním ústřižkem a opravňuje k jednomu vstupu. Po opuštění místa konání akce pozbývá platnosti. Dodatečnými úpravami se stává vstupenka neplatnou. V případě uplynutí platnosti vstupenky, jejího poškození, zničení, ztráty nebo krádeže nelze vstupenku vyměnit ani nahradit její hodnotu ani poskytnout jinou kompenzaci. Další převod, prodej nebo zbavení se vstupenky bez písemného souhlasu pořadatele nebo pokus o další prodej za cenu vyšší, než je na vstupence vytištěna, způsobuje její neplatnost. Držiteli takové vstupenky bude odepřen vstup na místo konání akce nebo bude vyveden a zakládá to důvod pro zabavení vstupenky bez náhrady její nominální ceny nebo jiné kompenzace.
Vstupenka je cenina, její padělání a pozměňování je zakázáno. Pořadatel odepře vstup na akci všem držitelům takových vstupenek.
Zaplacené vstupné se nevrací, vstupenka se nevyměňuje. V případě zrušení akce zodpovídá za vrácení vstupného pořadatel. V případě zrušení akce uplatní držitel vstupenky nárok na vrácení vstupného dle pokynů pořadatele. Servisní poplatky se nevracejí. Náhrada zvláštních nákladů (např. hotel, jízdní výlohy) se neposkytuje. Změna programu vyhrazena. Datum a čas akce mohou být změněny bez upozornění.
Je zakázáno fotografování a pořizování obrazových a zvukových záznamů v průběhu akce včetně přestávek, vyjma malých kompaktních fotoaparátů. Dále je zakázáno vnášet do objektu kamery, profesionální fotoaparáty, tablety a zároveň je zakázáno používání laserových ukazovátek.
Pořadatel poskytuje slevy na vstupném vozíčkářům (držitelům průkazu ZTP/P) a jejich průvodcům.
Při plnění povinností vyplývajících z prodeje vstupenek bude IRSnet CZ s.r.o. postupovat ve shodě s platnými Obchodními podmínkami pro poskytování služby prodej vstupenek na sportovní a kulturní akce prostřednictvím prodejní sítě Ticketportal. Aktuální znění obchodních podmínek je k dispozici na www.ticketportal.cz.
The concert sensation returns with immense success and starts SOLD OUT
Hans Zimmer's smash-hit tour 2023 started throughout Europe this weekend with the predicate "SOLD OUT"!
The return of the "Hollywood Rebel" (according to the BBC) with his outstanding live band and orchestra for the Hans Zimmer Live – European Tour 2023 wowed the audience from the sound of the first note! The arena tour comprises 36 concerts in 15 countries – by the end of this tour, 400,000 fans will have experienced Hans Zimmer and his concert sensation live. In a groundbreaking audio and visual show, the multiple Academy Award® and Grammy winning Zimmer, his band and the Odessa Orchestra & Friends perform the composer's worldwide successes. The newly arranged concert suites include music from GLADIATOR, PIRATES OF THE CARIBBEAN, THE DARK KNIGHT, INTERSTELLAR, THE LION KING, THE LAST SAMURAI and DUNE, for which Zimmer received his second Academy Award® during his previous tour stop in Amsterdam in 2022.
"I love this feeling of uniting my family of extraordinary musicians in music with you, the audience. And I truly see them as family, maybe an unusual one, made up of a super group of the best musicians in the world. But nothing would have meaning without the good graces and support of you, the other part of the family – the audience. And ultimately, the music connects us all. And I promise you this: we will always play our best, straight from the heart for you," says Zimmer.
Hans Zimmer's extraordinary melodies and modern compositions captivate a huge worldwide fan base across generations. He has already energized countless international cinema blockbusters, among others: "Dune," "James Bond – No Time to Die," "The Lion King," "Gladiator," "Pirates of the Caribbean," "The Dark Knight" trilogy, "Interstellar," "Last Samurai" and "Top Gun: Maverick." The "Hans Zimmer Live" album is now available.
About Hans Zimmer
Hans Zimmer has scored more than 200 projects across all mediums, which, combined, have grossed more than 28 billion dollars at the worldwide box office. Zimmer has been honored with two Academy Awards®, three Golden Globes®, three Grammys®, an American Music Award, and a Tony® Award. His work highlights include Dune, No Time to Die, Gladiator, The Thin Red Line, As Good as It Gets, Rain Man, The Dark Knight trilogy, Inception, Thelma and Louise, The Last Samurai, 12 Years A Slave, Blade Runner 2049 (co-scored w/ Benjamin Wallfisch) and Dunkirk, as well as recent film scores including Wonder Woman 1984, Ron Howard's Hillbilly Elegy and The SpongeBob Movie: Sponge on the Run. Most recently, Zimmer won the Academy Award® for Best Achievement in Music Written for Motion Pictures for Dune. In 2019, Zimmer scored the live-action remake of The Lion King, for which he received a Grammy® nomination for Best Score Soundtrack for Visual Media.  Zimmer has completed successful tour stops around the world with his HANS ZIMMER LIVE concerts and is now continuing the current, groundbreaking live European tour 2022 in 2023.
About Semmel Concerts
Semmel Concerts Entertainment GmbH is one of the leading event organisers in Europe, and has long been one of POLLSTAR's top 10 promoters worldwide. Running the Eventim Live network together with Europe's largest ticketing provider, CTS Eventim AG, Semmel has grown to become a national and international leader in live entertainment. Semmel Concerts employs around 150 people in eight different cities in Germany. Semmel also holds interests in Promoters Group Munich, Show Factory Entertainment GmbH in Vienna and Bregenz, and Arena Berlin Betriebs GmbH. SC Exhibitions and Semmel Concerts Corporate Events complete the company alongside the Semmel Concerts Premium Entertainment division. The company is led by Dieter Semmelmann. With a national and international spectrum of topics and a wide variety of in-house productions, Semmel organises more than 1,500 events with more than 5 million visitors every year. Semmel Concerts GmbH has already received many Live Entertainment Awards (LEAs), including Organiser of the Year.
About RCI
RCI Global, founded by Steven Kofsky and Hans Zimmer and based in Santa Monica, focuses on live entertainment and special projects. RCI Global also co-produced the previous Hans Zimmer Live shows.
Hans Zimmer Live – Europe Tour 2023
April  23  Oberhausen  Rudolf Weber – ARENA
April  25  Antwerp  Sportpalais Antwerp
April  27  Frankfurt  Festhalle Frankfurt
April  29  Stuttgart  Hanns-Martin-Schleyer-Halle
May  01  Turino  Pala Alpitour
May  03  Bologna  Unipol Arena (postponed from 2022)
May  06  Nice  Palais Nikaia
May  07  Montpellier  La Sud de France Arena
May  09  Bordeaux  Arkea Arena Bordeaux
May  11  Bilbao  BILBAO EXHIBITION CENTRE
May  13  Lisbon  Altice Arena
May  16  Madrid  WiZink Center
May  20  Hannover  ZAG Arena
May  22  Zurich  Hallenstadion Zurich
May  24  Munich  Olympiahalle Munich
May  26  Berlin  Mercedes-Benz Arena
May  28  Hamburg  Barclays Arena
May  30  Krakow  Tauron Arena Krakow
June 02  Prague  O2 Arena
June 03  Vienna  Wiener Stadthalle – Halle D
June 05  Budapest Papp László Sportaréna
June 06  Bratislava  Ondrej Nepela Arena (postponed from 2022)
June 09  Cologne LANXESS arena
June 10  Amsterdam Ziggo Dome
June 12  Rotterdam  Ahoy Rotterdam
June 14  London  The O2
June 15  London  The O2
June 16  Manchester  Manchester Arena
June 18  Dublin  3Arena
June 22  Brussels  Palais 12
June 23  Paris  Accor Arena
June 24  Paris  Accor Arena
Hans Zimmer Live on social media
WEBPAGE – INSTAGRAM – FACEBOOK – TWITTER
Hans Zimmer on social media
INSTAGRAM – FACEBOOK – TWITTER – YOUTUBE
THE OFFICIAL SELLERS OF TICKETS FOR EVENTS AT THE O2 ARENA ARE TICKETMASTER AND TICKETPORTAL. WE DO NOT WARRANT THE VALIDITY OF TICKETS PURCHASED FROM OTHER SELLERS.