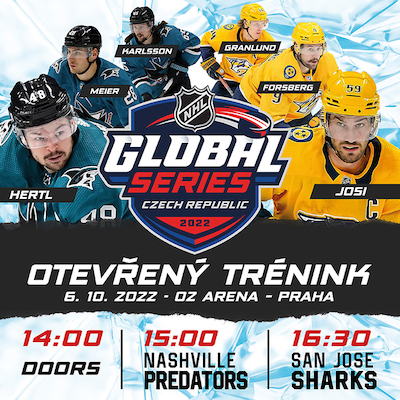 6.10.2022 15:00
OPEN PRACTICE 2022 NHL GLOBAL SERIES
Date
6.10.2022 15:00
Entry from
14:00
Place
O2 arena, Praha
Organizer
LIVE NATION CZECH REPUBLIC s.r.o. Organizer
Download
Orientation Plan NHL Ticketportal (278.23 Kb)

Price

CZK 390
---
wheelchairer + guide
CZK 390 + CZK 1

Order wheelchair tickets from Ticketportal.

Sale / reservation
Ticket sales have ended.
Box offices

Box office - entry no. 10, O2 arena
Mon - Fri
13:00 - 18:00
Event day
13:00 - 1 hour after the start of the event

Opening hours may change depending on the event schedule.

Information
Bestsport, a.s. records of visitors and other persons in accordance with Privacy Policy.
Organizer – LIVE NATION CZECH REPUBLIC s.r.o.
Majitel vstupenky je povinen nosit ji po celou dobu pobytu v O2 areně a na požádání pořadatele ji předložit ke kontrole. Vstupenka platí jen pro uvedený den, akci, místo konání, sedadlo. Je platná pouze s kontrolním ústřižkem a opravňuje k jednomu vstupu do arény. Po opuštění O2 areny pozbývá platnosti. Dodatečnými úpravami se stává vstupenka neplatnou. V případě uplynutí platnosti vstupenky, jejího poškození, zničení, ztráty nebo krádeže nelze vstupenku vyměnit ani nahradit její hodnotu ani poskytnout jinou kompenzaci. Další převod, prodej nebo zbavení se vstupenky bez písemného souhlasu pořadatele nebo pokus o další prodej za cenu vyšší, než je na vstupence vytištěna, způsobuje její neplatnost. Majiteli takové vstupenky bude odepřen vstup na místo konání akce nebo bude vyveden a zakládá to důvod pro zabavení vstupenky bez náhrady její nominální ceny nebo jiné kompenzace.
Vstupenka je cenina, její padělání a pozměňování je zakázáno. Pořadatel odepře vstup na akci všem majitelům takových vstupenek.
Zaplacené vstupné se nevrací, vstupenka se nevyměňuje. V případě zrušení akce zodpovídá za vrácení vstupného pořadatel. V případě zrušení akce uplatní majitel vstupenky nárok na vrácení vstupného dle pokynů pořadatele. Servisní poplatky se nevracejí. Náhrada zvláštních nákladů (např. hotel, jízdní výlohy) se neposkytuje. Změna programu vyhrazena. Datum a čas akce mohou být změněny bez upozornění.
Je zakázáno fotografování a pořizování obrazových a zvukových záznamů v průběhu akce včetně přestávek. Dále je zakázáno používání laserových ukazovátek, vnášet do objektu na akci kamery, profesionální fotoaparáty a tablety.
Na akci jsou poskytovány slevy. Pořadatel poskytuje slevy na vstupném držitelům průkazu ZTP/P – vozíčkářům a jejich průvodcům.
Při plnění povinností vyplývajících z prodeje vstupenek bude IRSnet CZ s.r.o. postupovat ve shodě s platnými obchodními podmínkami pro poskytování služby prodej vstupenek na sportovní a kulturní akce prostřednictvím prodejní sítě TICKETPORTAL. Aktuální znění obchodních podmínek je k dispozici na www.ticketportal.cz.
As part of the 2022 NHL Global Series, the National Hockey League (NHL), the National Hockey League Players Association (NHLPA) and Live Nation today announced the 2022 NHL Global Series Fan Day, a special opportunity for fans to attend practice sessions for the Nashville Predators and San Jose Sharks. on Thursday, October 6 from 15:00 to 17:30 at the O2 Arena in Prague, i.e. the day before the opening game of the 2022-23 season between the Predators and the Sharks.
In April, the NHL, NHLPA and Live Nation Sweden announced that the Predators and Sharks, along with the Columbus Blue Jackets and Colorado Avalanche, will participate in the 2022 NHL Global Series. The Sharks and Predators will open the 2022-23 regular season with a matchup in Prague at the O2 Arena on Friday, 7 . October and on Saturday, October 8. The Avalanche and Blue Jackets will square off in a pair of regular season games at Finland's Nokia Arena in Tampere on Friday, November 4th and Saturday, November 5th.
Prior to the games in Prague, the Predators and Sharks will complete training camps in Europe and will each play an exhibition game as part of the 2022 NHL Global Series Challenge. The Predators will report to Bern, Switzerland and play an exhibition game against SC Bern at PostFinance Arena on Monday, October 3 . The Sharks will report to Berlin, Germany for an exhibition game against Eisbären Berlin at the Mercedes-Benz Arena on Tuesday, October 4th.
Schedule
Doors: 14:00
Nashville Predators open practice: 15:00
San Jose Sharks open practice: 16:30
The 2022 NHL Global Series will mark the ninth season overall that the NHL has traveled to Europe to play regular season games and the first time since 2019. These games reward the legions of loyal and passionate fans in Europe who enjoy the live streaming of NHL games available through international broadcast and media partners. The NHL's biggest stars are also featured on multiple social media platforms and on NHL.com in eight languages ​​for the league's international fans. 28 regular season NHL games were played in Europe. So far, five games of the regular season of the NHL have taken place in the Czech Republic, all of which took place in Prague's O2 arena. This year's games in Finland will be the first ever NHL regular season games to be played in Tampere.
The NHL is a global league – 29% of NHL players in the 2021-22 season were born outside of North America. All four clubs have a number of foreign stars on their rosters, including natives of the countries they host. In October, Roman Josi and Nino Niederreiter of the Predators will play in their native Switzerland. Czech natives Tomáš Hertl and Radim Šimek from the Sharks team will play in their homeland for the first time as NHL players. In addition, the Blue Jackets and Avalanche games in Finland will feature Mikko Rantanen and Artturi Lehkonen of the Avalanche, as well as Tampere natives Patrik Laine and Joonas Korpisalo of the Blue Jackets and Blue Jackets general manager Jarmo Kekalainen.
THE OFFICIAL SELLERS OF TICKETS FOR EVENTS AT THE O2 ARENA ARE TICKETMASTER AND TICKETPORTAL. WE DO NOT WARRANT THE VALIDITY OF TICKETS PURCHASED FROM OTHER SELLERS.