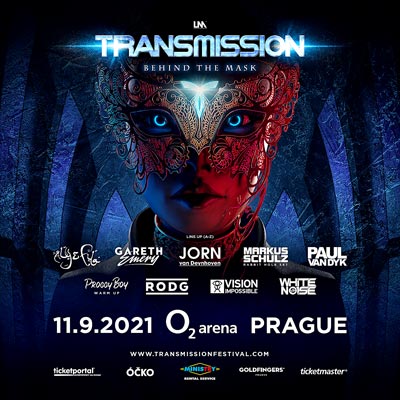 11.9.2021 21:30
TRANSMISSION festival
Organizer – UM Production s.r.o.
Pokyny pořadatele – UM Production s.r.o.
Zakoupením vstupenky návštěvník souhlasil s Provozním řádem, Návštěvním řádem,
Ticketportal  Obchodními podmínky
Ticketmaster Obchodní podmínky
a pokyny pořadatele a zavázal se jimi při návštěvě O2 areny řídit.
Návštěvník akce je povinen při vstupu do O2 areny absolvovat bezpečnostní prohlídku, která je prováděna pořadatelskou službou. Prohlídka se vztahuje i na vnášené batohy, tašky, kabelky a návštěvník je povinen umožnit kontrolu jednotlivých vnášených předmětů. Po odmítnutí bezpečnostní prohlídky nebude návštěvník vpuštěn do O2 areny.
Návštěvník dává výslovný souhlas k bezplatnému použití filmového, fotografického, zvukového nebo jiného záznamu, které organizátor nebo jím pověřené osoby vyhotovili během akce.
Na akci není povoleno fotografování a výroba zvykových a obrazových záznamů profesionální technikou bez předchozí akreditace organizátorem.
Vstup na akci povolen pouze osobám starším 18 let.
Opakovaný vstup na akci není umožněn. Po opuštění O2 areny pozbývá vstupenka nebo identifikační páska platnosti.
Pořadatel akce si vyhrazuje právo na změnu programu, místa a data konání akce. Zaplacené vstupné se nevrací, vstupenka se nevyměňuje.
Pořadatel nepřebírá odpovědnost za vstupenky, které byly zakoupeny návštěvníky akce mimo oficiální ticketingovou síť pořadatele.
CURRENT ENTRY CONDITIONS AT O2 ARENA
To enter the venue, you will need to prove yourself in person with one of the following documents:
National vaccination certificate of Covid-19

Laboratory confirmation with evidence of Covid illness in the past 180 days

Confirmation from the health service provider of a negative result of the PCR test – not older than 7 days before entry

Confirmation from the health service provider of a negative result of the antigen test – not older than 72 hours before entry
More information can be found HERE
On Saturday the 11th September 2021, the much-anticipated edition of Transmission Festival takes place at the O2 arena in Prague where the magic of electronic dance music will merge with a spectacular audio-visual show to provide an unforgettable night.
Who are you? Are you hiding your deepest desires behind a mask or you wear one to expand your personality? Let your instincts run free! During the night, you will discover the masks of mystery, fortune, attraction and more to reveal the person you want to be.
All bought tickets for the 2020 edition remain valid for the new date 11.9.2021.
Take a leap beyond the borders of reality! Transmission 'Behind the Mask' will showcase an outstanding production with a mind blowing lights and laser extravaganza and special effects that amplified by a carefully selected line-up will leave a strong impression and embrace all your senses.
Line-up (alphabetical order)
ALY & FILA
GARETH EMERY
JORN VAN DEYNHOVEN
MARKUS SCHULZ (Rabbit Hole set)
PAUL VAN DYK
PROGGYBOY (Warm up)
RODG
VISION IMPOSSIBLE
WHITENO1SE
Tickets for the event are available HERE (http://bit.ly/VstupenkyTMPRG21). Hotel packages and e-lockers are available HERE (http://bit.ly/TicketsTMPRG21).
We hope you cannot wait to enjoy Transmission Festival again and come to Prague on Saturday, 11.9.2021 to experience a new spectacular Transmission show!
Age limit to join Transmission Festival is 18 years. More information at TransmissionFestival.com