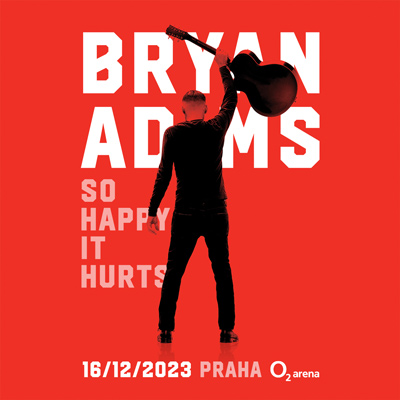 16.12.2023 20:00
BRYAN ADAMS
Organizer – LIVE NATION CZECH REPUBLIC s.r.o.
Majitel vstupenky je povinen nosit ji po celou dobu pobytu v O2 areně a na požádání pořadatele ji předložit ke kontrole. Vstupenka platí jen pro uvedený den, akci, místo konání, sedadlo. Je platná pouze s kontrolním ústřižkem a opravňuje k jednomu vstupu do arény. Po opuštění O2 areny pozbývá platnosti. Dodatečnými úpravami se stává vstupenka neplatnou. V případě uplynutí platnosti vstupenky, jejího poškození, zničení, ztráty nebo krádeže nelze vstupenku vyměnit ani nahradit její hodnotu ani poskytnout jinou kompenzaci. Další převod, prodej nebo zbavení se vstupenky bez písemného souhlasu pořadatele nebo pokus o další prodej za cenu vyšší, než je na vstupence vytištěna, způsobuje její neplatnost. Majiteli takové vstupenky bude odepřen vstup na místo konání akce nebo bude vyveden a zakládá to důvod pro zabavení vstupenky bez náhrady její nominální ceny nebo jiné kompenzace.
Vstupenka je cenina, její padělání a pozměňování je zakázáno. Pořadatel odepře vstup na akci všem majitelům takových vstupenek.
Zaplacené vstupné se nevrací, vstupenka se nevyměňuje. V případě zrušení akce zodpovídá za vrácení vstupného pořadatel. V případě zrušení akce uplatní majitel vstupenky nárok na vrácení vstupného dle pokynů pořadatele. Servisní poplatky se nevracejí. Náhrada zvláštních nákladů (např. hotel, jízdní výlohy) se neposkytuje. Změna programu vyhrazena. Datum a čas akce mohou být změněny bez upozornění.
Je zakázáno fotografování a pořizování obrazových a zvukových záznamů v průběhu akce včetně přestávek. Dále je zakázáno používání laserových ukazovátek, vnášet do objektu na akci kamery, profesionální fotoaparáty a tablety.
Na akci jsou poskytovány slevy. Pořadatel poskytuje slevy na vstupném držitelům průkazu ZTP/P – vozíčkářům a jejich průvodcům.
Při plnění povinností vyplývajících z prodeje vstupenek bude IRSnet CZ s.r.o. postupovat ve shodě s platnými obchodními podmínkami pro poskytování služby prodej vstupenek na sportovní a kulturní akce prostřednictvím prodejní sítí Ticketmaster a Ticketportal. Aktuální znění obchodních podmínek je k dispozici na www.ticketmaster.cz a www.ticketportal.cz.
Bryan Adams has the reputation of being one the most exciting live musicians in the world. His energetic vocals and stage presence have proven to entertain for over 40 years.
With 17 studio albums, and four new studio albums in 2022 including, "So Happy It Hurts" (nominated for a Grammy) and "Pretty Woman The Musical". In addition to Classic pt. I and pt. II, which feature new recordings of his greatest hits, released digitally and in ATMOS with Platoon, are also available physically with BMG.
His song writing has garnered him numerous awards and accolades including three Academy Award nominations, five Golden Globe nominations and a Grammy Award and 20 Juno Awards.
Canadian singer-songwriter Bryan Adams has become one of the most important rock musicians of his generation. His career began in the 1980s when he became an international star with songs like "Summer of '69" and "Heaven". During his lifetime, he released more than 17 studio albums and sold more than 100 million copies worldwide.
TICKET PRICE FROM 1490,- CZK. TICKETS ON SALE IN TICKETPORTAL FROM 24 MARCH 2023 AT 10:00. PRE-SALE IDNES PREMIUM FROM 23 MARCH 2023 AT 10:00
Bryan Adams is also an active philanthropist and devotes much of his time to supporting charities. He is a member of several non-profit organizations that focus on helping children and fighting cancer. Adams has also written several songs for charitable causes, such as "All for Love", which was a collaboration with Rod Stewart and Sting to support the fight against cancer for Children in Need in 1993.