Privacy Policy
Find complete Personal Data Processing Principles HERE.

Surroundings and building of the O2 arena (building no. 2345, on the plot of land no. 3343/35, cadastral district Libeň; address Českomoravská 17a), surroundings and building of the O2 universum (building no. 2345, on plots no. 3343/32, 3343/109 and 3343/10, cadastral district Libeň, address Českomoravská 17), surroundings and building of the STAGES HOTEL PRAGUE (building no. 2521, on plots no. 3343/90 and 3343/49, cadastral district Libeň, address Českomoravská 19a), and the surroundings and the building of the Parking House (building no. 2422, cadastral district Libeň; address: Lisabonská 2) are monitored by a continuous camera system (CCTV) with a record, for the purpose of protection of property, life and health of persons, operation of all listed facilities and ensuring order and organization of events and in connection with them in the buildings O2 arena/O2 universum/STAGES HOTEL PRAGUE. The recording made from this camera system is stored for 21 calendar days from the moment of recording at the O2 arena, O2 universum and STAGES HOTEL PRAGUE and 48 hours from the moment of recording at the building of the Parking House, unless there is a legitimate reason for a longer period retention (eg. request from law enforcement authorities).

The recording shall be provided on request to data subjects, unless such request interferes with the rights of other data subjects (the recording may be modified for disclosure purposes), law enforcement authorities or other public authorities. The recording (usually without further modifications) is also provided to the event organizers if they request the recording to ensure or investigate security or order at the event, compliance with the rules of the event (eg ELH or other rules) or the organization of the event organized by Bestsport, a.s. The organizers of events handle the recording in accordance with their own rules for personal data protection applicable to events organized at Bestsport, a.s.
Data subjects are informed about the monitoring by this camera system through information boards at the place of recording, where the contact to the administrator is also given. The administrator of personal data processed in this way is, for the purposes of processing by Bestsport, a.s. the company Bestsport, a.s., ID: 24214795. In the event that the record is handed over to the event organizer in accordance with the above, the administrator of the record provided in this way is the event organizer.
Further information on the camera system can be obtained at the e-mail address cctv@bestsport.cz or osobniudaje@bestsport.cz.

What are cookies?

Cookies are small data files that make this website remember your actions and settings you have made, so you do not need to enter these data repeatedly.

We use cookies to make our website more functional and to see how our website is used by visitors. Likewise, cookies help improve user experience by saving your settings for your next visit (eg, your chosen language, font size, and other display preferences).

We also use third-party cookies (such as Google Analytics to analyze traffic – see www.google.com/analytics for more). These cookies are managed by third parties and we do not have access to read these data. We do not use cookies to collect personal information.

Most browsers automatically accept cookies if the browser is not set up differently. By using this website, you agree to save cookies. You may restrict or block the use of cookies in your web browser settings. For information about setting a specific browser, please visit:

Contact

If you have any questions or concerns about cookies while using the site, please contact osobniudaje@bestsport.cz
Important notification
50 CENT ADDS SECOND SHOW AT O2 ARENA!
Less than a week after announcing his concert, legendary rapper 50 Cent reports it is sold out. Due to the great interest of the fans, he is adding the second show.
It will take place on October 17, 2022 at 8:00 pm.
Tickets for the added show are already available at the official ticket sellers Ticketmaster a Ticketportal.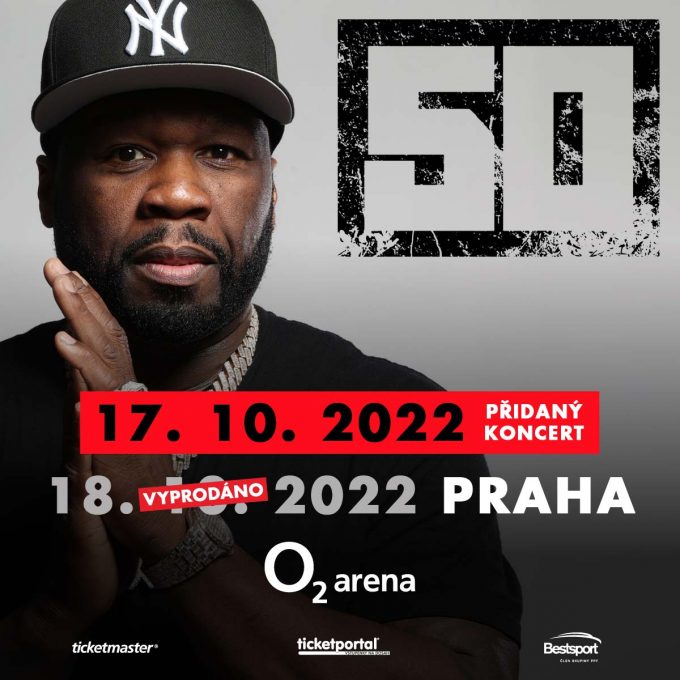 Thank you for your great interest. We look forward to you!
O2 arena