Where to eat
Any time you come to the O2 arena we are ready to convince you of your excellent choice!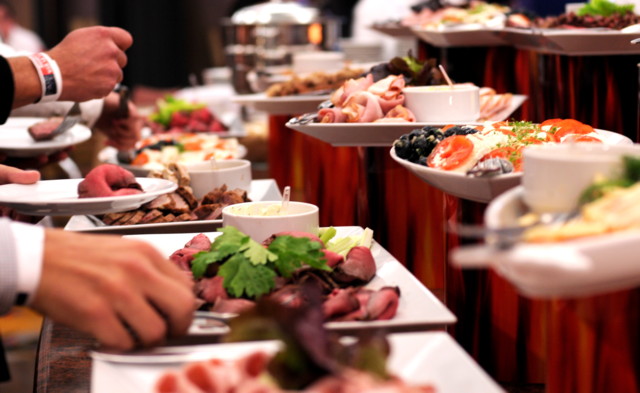 The O2 arena catering team consists of top professionals following gastronomic trends and searching for quality ingredients and products. This allows to provide both fast food refreshments and the exclusive catering on the club and sky box floors to always be of the highest quality.
The O2 arena has extensive technological facilities, such as the central kitchen and several satellite kitchens, the central large-capacity warehouse and a number of mobile technologies. This is why our team can easily serve 13,000 customers coming to the fast food stands and prepare another 4,000 full course meals for VIP floor and corporate area visitors participating in events which take place over several days.
However, that is not the end. Every event brings with it artists, athletes and their implementation teams. And we take care of them as well as of the spectators. Many have tried our services out – New York Rangers hockey players or music stars such as Kylie Minogue and Leonard Cohen.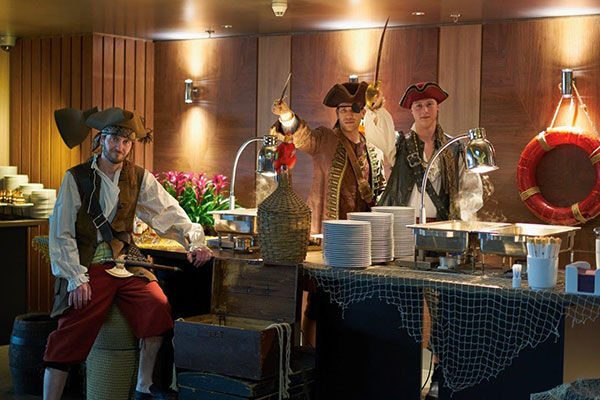 As we amuse our guests on the stage as well as in our restaurants, we provide them with both the delicious food and inspirational services. They could even join Caribbean pirates at the dinner party held on the occasion of a concert by Hans Zimmer, the composer of blockbuster film music.
The work is shared by our permanent team and up to 500 part time workers who help take care of our visitors. If you are interested in a part time job, use the following CONTACT information.
Regulation (EU) No 1169/2011

on the provision of food information to consumers entered into application on 13 December 2014. 

This obliges us, the provider of catering services, to inform about allergens that contain ingredients used for the production of food and beverages.

More information can be found HERE.

A unique space, an exceptional experience

The Lokomotivka restaurant is located on the arena level and is accessible by the staircase leading from the North foyer. Lokomotivka is multifunctional just as the entire O2 arena. Sliding screens along the three sides of the restaurant allow high layout variability.

During events when spectators use the arena (concerts, dance events, some family shows) the screen separating Lokomotivka and the arena entirely open and guests may make use of the Lokomotivka bar.

During events when the arena is used by athletes and performers, the screen is closed and Lokomotivka offers a unique space for corporate events, e.g., VIP lounge for sponsors including services ranging from a coffee break up to a gala dinner.

The open kitchen also allows guests to observe their food live while it's being prepared. The maximum recommended capacity is 350 persons.

Lokomotivka may be rented for corporate events when no key even is scheduled in the arena, as well. Would you like to rent the restaurant? Contact information is available HERE.

The O2 arena emphasises the work "fast" more than anywhere else. We understand your needs and know that, for instance, during an 18-minute break between periods at a hockey match, you want to use the bathroom, buy something to eat and consume your meal in peace. That is why we have set up strict time limits for customer service speed. The number of open stands and attending staff is modified according to the expected attendance to make your waiting time for being served was as short as possible. Another tool for fast service is a unique central draft beer system described in a greater detail here.

The quality of ingredients is the basis of good meal. Because we operate the fast food services, we have an absolute control over the selection and deliveries of all the ingredients and goods. Products which are to be sold on the stands are selected from quality and reliable suppliers, just as if were selecting them for ourselves. In the O2 Arena you can get a good sausage made of meat, chicken nuggets made exclusively from chicken breasts or sandwiches and salads made in our kitchen on the day you buy them – therefore absolutely fresh. And we stand behind this principle!

26 fast food stands

Spectators in the O2 arena can make use of 26 fast food stands located on the two public floors (1st Floor and 4th Floor). They are named according to the type of meals they offer.

SANDWICH offers home made sandwiches and salads,
CHICKEN LAND fried chicken specialities,
PIZZA LAND various types of pizza,
HOT DOG grilled sausages and hot dogs.

During concerts and some cultural events, wine, sect and several mixed drinks, e.g., the popular Cuba Libre, are available.

Beverages are sold without bottle tops

All beverages are sold open and those packaged in PET bottles (e.g., Coca-Cola) are sold without the top. This safety measure protects both performers and, most importantly, visitors. A closed 1/2 kg bottle or can thrown out of the 4th Floor situated 30 m on top of the stage area, can be dangerous.

A comprehensive experience

These words perfectly describe what the VIP floor clients savour during every event in the O2 arena. A simple connection between an intensive sports or cultural experience with good food and drinks and attentive service.

Tens of thousands of visitors have enjoyed the exclusive high-level catering provided on the club floor and skyboxes. Up to 70,000 people every year. But don't expect any run-of-the-mill production! To the contrary. Every event bears a characteristic motive – our inspiration for the menu served, decorations and accompanying program. Modern gastronomy and demanding clients say: "cook from fresh ingredients and in front of my eyes, if possible". We try to keep up with this motto. We finish the preparation of as many dishes as we can live in front of our guests. Chefs from the best restaurants are regularly invited to join our team. All dishes are prepared from fresh ingredients directly in the O2 arena which provides for maximum supervision over quality.

Inspired by stars, prepared by masters

That is the O2 arena catering. These services are not exclusive to the VIP floors. You can order catering in any area of the O2 arena. We provide everything from coffee breaks for company presentation for 30 people up to gala dinners served on the ice rink for 2,000 guests. Always expect individual approach.