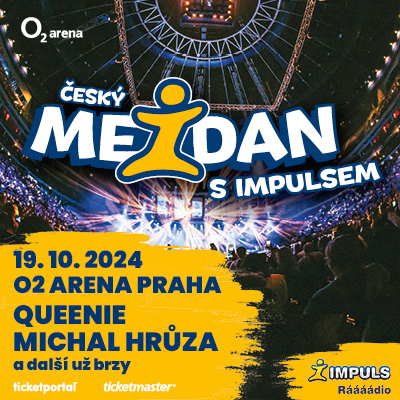 19.10.2024 18:00
ČESKÝ MEJDAN S IMPULSEM 2024
Organizer – Bestsport, a.s.
1. Vstupenka platí jen pro uvedený den, hodinu, akci, místo konání a sedadlo, je platná pouze s kontrolním ústřižkem a opravňuje k jednomu vstupu. Po opuštění místa konání akce pozbývá platnosti. Dodatečnými úpravami se stává vstupenka neplatnou. V případě uplynutí platnosti vstupenky, jejího poškození, zničení, ztráty nebo krádeže nelze vstupenku vyměnit ani nahradit její hodnotu ani poskytnout jinou kompenzaci. Další převod, prodej nebo zbavení se vstupenky bez písemného souhlasu pořadatele nebo pokus o další prodej za cenu vyšší, než je na vstupence vytištěna, způsobuje její neplatnost. Držiteli takové vstupenky bude odepřen vstup na místo konání akce nebo bude vyveden a zakládá to důvod pro zabavení vstupenky bez náhrady její nominální ceny nebo jiné kompenzace.
2. Vstupenka je cenina, její padělání a pozměňování je zakázáno. Pořadatel odepře vstup na akci všem držitelům takových vstupenek.
3. Zaplacené vstupné se nevrací, vstupenka se nevyměňuje. V případě zrušení akce zodpovídá za vrácení vstupného pořadatel. V případě zrušení akce uplatní držitel vstupenky nárok na vrácení vstupného dle pokynů pořadatele. Servisní poplatky se nevracejí. Náhrada zvláštních nákladů (např. hotel, jízdní výlohy) se neposkytuje. Změna programu vyhrazena. Datum a čas akce mohou být změněny bez upozornění.
4. Je zakázáno používání laserových ukazovátek a selfie tyčí.
5. Pořadatel poskytuje slevy na vstupném vozíčkářům (držitelům průkazu ZTP/P) a jejich průvodcům.
6. Při plnění povinností vyplývajících z prodeje vstupenek bude IRSnet CZ s.r.o. postupovat ve shodě s platnými obchodními podmínkami pro poskytování služby prodej vstupenek na sportovní a kulturní akce prostřednictvím prodejní sítí Ticketmaster a Ticketportal. Aktuální znění obchodních podmínek je k dispozici na www.ticketmaster.cz a www.ticketportal.cz.
The Český mejdan s Impulsem (Czech party with Impuls), a traditional domestic music event, will be held for the eighth time and Radio Impuls will celebrate its 25th birthday there. Fans of this unique concert for all generations, who live by Czech music, will surely be pleased to learn that the next edition of the Český mejdan s Impulsem will once again bring the largest hall in the Czech Republic, Prague's O2 Arena, to life.
It will be on Saturday, October 19, 2024.
So far, the organizers of the event are revealing only the first names of the traditional marathon full of great music and they have a surprising news for the visitors. For the first time, world hits that you know from the repertoire of the famous band Queen will be heard at this musical event. After all, Radio Ga-Ga is the right hit for a radio birthday party. Yes, the most famous Czech tribute band of the world format, QUEENIE, which has conquered the O2 arena several times in style, will bring the most famous hits of the immortal Freddie Mercury to the Český mejdan s Impulsem 2024. Those who have already seen this formation live know that this "Show must go on" and they will definitely enjoy it.
The next name of the Český mejdan 2024 is already traditional and Czech. MICHAL HRŮZA will head to the O2 arena again. His name is a guarantee that you will sing well-known hits at Český mejdan such as Zakázané uvolnění, Černý brejle, Pro Emu or Napořád.
And that's not all. More names will be announced soon. What is certain, however, is that the line-up of the 8th edition of Český mejdan s Impulsem will be spectacular again and, as is customary, both traditional and completely new names will appear here! Let's remember that among the performers of previous years were such names as Karel Gott, Lucie Bílá, Kryštof, Hana Zagorová, Chinaski, Peter Nagy, Richard Müller, Vašo Patejdl, Marie Rottrová, Václav Neckář, Xindl X, Mirai, Jelen or the party king Michal David.
The best seats tend to be the most popular, so we advise: "Buy your ticket before the others". Special VIP Experience tickets for sitting right next to the stage and with catering are also on sale.
The producers of the concert are Radio Impuls, Stratex Communication and Bestsport.