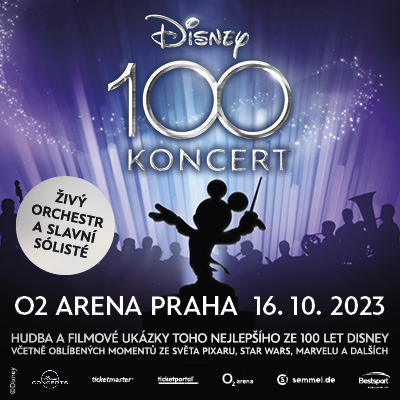 16.10.2023 19:30
DISNEY100: KONCERT
Organizer – Bestsport, a.s.
Vstupenka platí jen pro uvedený den, hodinu, akci, místo konání a sedadlo, je platná pouze s kontrolním ústřižkem a opravňuje k jednomu vstupu. Po opuštění místa konání akce pozbývá platnosti. Dodatečnými úpravami se stává vstupenka neplatnou. V případě uplynutí platnosti vstupenky, jejího poškození, zničení, ztráty nebo krádeže nelze vstupenku vyměnit ani nahradit její hodnotu ani poskytnout jinou kompenzaci. Další převod, prodej nebo zbavení se vstupenky bez písemného souhlasu pořadatele nebo pokus o další prodej za cenu vyšší, než je na vstupence vytištěna, způsobuje její neplatnost. Držiteli takové vstupenky bude odepřen vstup na místo konání akce nebo bude vyveden a zakládá to důvod pro zabavení vstupenky bez náhrady její nominální ceny nebo jiné kompenzace.
Vstupenka je cenina, její padělání a pozměňování je zakázáno. Pořadatel odepře vstup na akci všem držitelům takových vstupenek.
Zaplacené vstupné se nevrací, vstupenka se nevyměňuje. V případě zrušení akce zodpovídá za vrácení vstupného pořadatel. V případě zrušení akce uplatní držitel vstupenky nárok na vrácení vstupného dle pokynů pořadatele. Servisní poplatky se nevracejí. Náhrada zvláštních nákladů (např. hotel, jízdní výlohy) se neposkytuje. Změna programu vyhrazena. Datum a čas akce mohou být změněny bez upozornění.
Je zakázáno fotografování a pořizování obrazových a zvukových záznamů v průběhu akce včetně přestávek, vyjma malých kompaktních fotoaparátů. Dále je zakázáno vnášet do objektu kamery, profesionální fotoaparáty, tablety a zároveň je zakázáno používání laserových ukazovátek.
Pořadatel poskytuje slevy na vstupném vozíčkářům (držitelům průkazu ZTP/P) a jejich průvodcům.
Při plnění povinností vyplývajících z prodeje vstupenek bude IRSnet CZ s.r.o. postupovat ve shodě s platnými Obchodními podmínkami pro poskytování služby prodej vstupenek na sportovní a kulturní akce prostřednictvím prodejní sítě Ticketportal. Aktuální znění obchodních podmínek je k dispozici na www.ticketportal.cz.
CELEBRATION OF 100 YEARS OF ICONIC MUSIC FROM WALT DISNEY STUDIOS' FILMS.  FANTASTIC MUSICAL MOMENTS WITH HOLLYWOOD SOUND ORCHESTRA, CHOIR, AND STAR SOLOISTS, FEATURING PROJECTION OF ICONIC SCENES FROM THE MOVIES ON A HUGE SCREEN.
DISNEY100: KONCERT
The celebration of the 100th anniversary, which will never be repeated, will take place on October 16, 2023, at the O2 arena in Prague, exactly one hundred years after the Disney brothers founded the most famous animated film studio in the world. Alongside the Hollywood Sound Orchestra, choir, and international soloists, Monika Absolonová, Míša Tomešová, and Jan Bendig will also perform. Together, they will create an exceptional musical experience for all generations. The whole evening will be hosted by Libor Bouček.
During the performance, you will hear the most famous melodies from Marvel, Star Wars, Pirates of the Caribbean, music from the world of Pixar, and, of course, hits from the most famous Disney films like Frozen, Beauty and the Beast, Encanto, The Lion King, and many others, many of which have been awarded Oscars and other accolades. The most beautiful shots and multimedia projections from these films, fairy tales, and series will be projected on the huge screen.
The Walt Disney Studios was founded in 1923. Since then, the company has been synonymous with boundless imagination, magical moments, overwhelming emotions, fulfilled dreams, a wide range of heroines and heroes from fascinating worlds that have been astonishing both young and old for 100 years. The beautiful soundtracks from their legendary films are no exception.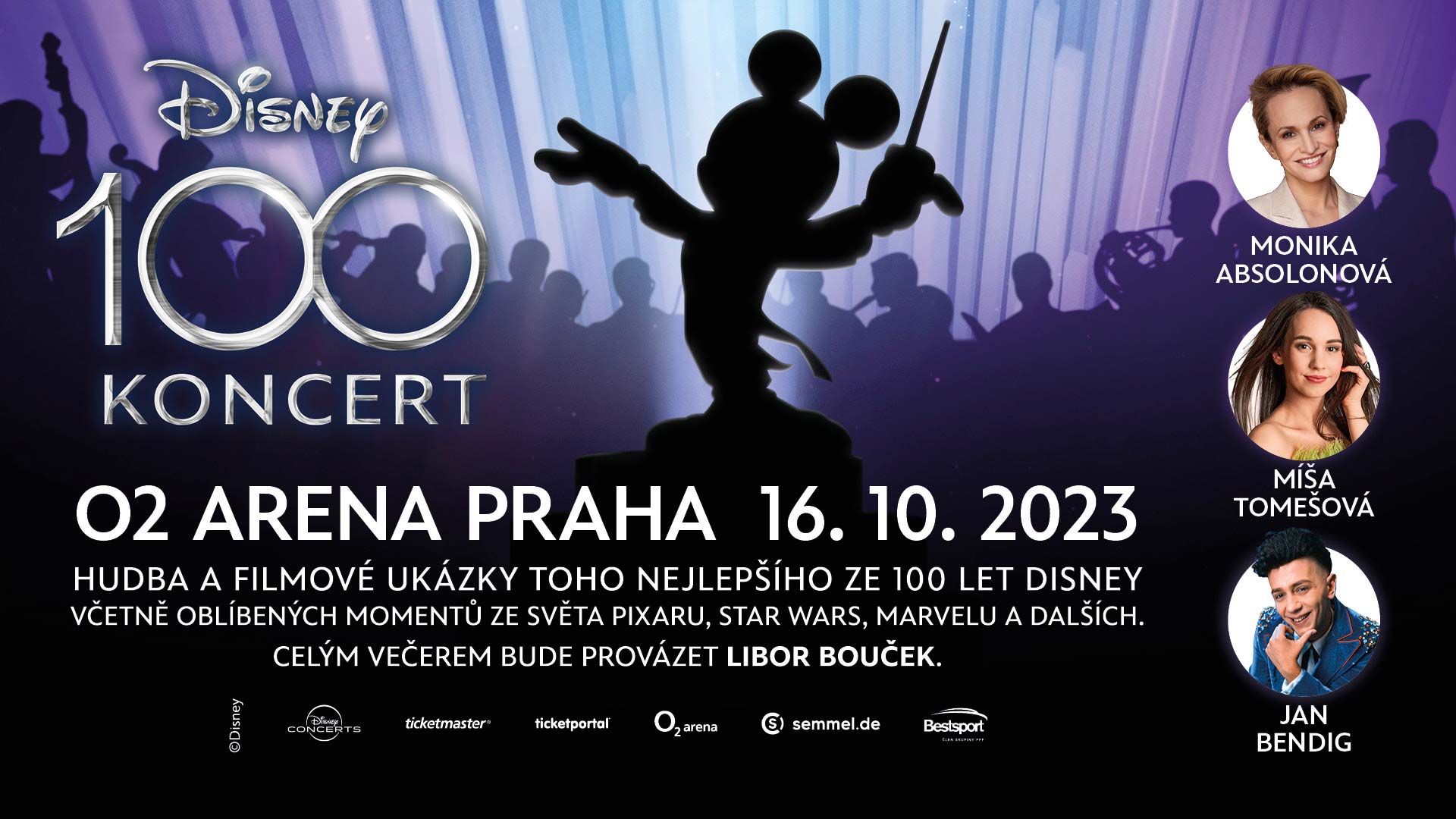 CZECH SOLOISTS
MONIKA ABSOLONOVÁ
A Czech singer, actress, and presenter. Her artistic beginnings date back to 1983 when, at the age of seven, she joined the Kühn Children's Choir. In the early 1990´s, she began studying singing under Lída Nopová and, since 1996, under Professor Eduard Klezl. She has been involved in musical acting since 1995 and made a name for herself in 2002 with the title role in the musical Cleopatra. She quickly followed with other prominent roles and received the Thalia Award in 2012 for her role as Fanny in Funny Girl. Monika has released seven solo albums and performs her own concerts while participating in numerous charitable events. Currently, you can see her in the musical Funny Girl and the comedies Duety and Lovci bobrů.
MICHAELA TOMEŠOVÁ
Michaela was born in 1991 in Prague and has been actively involved in acting, singing, and dancing since childhood. She graduated from the Music-Drama Department at the Prague Conservatory. During her studies, she appeared in TV series such as The Ordinace v růžové zahradě, Kriminálka Anděl, and Terapie. She reached the finals of the TV casting show Robin Hood aneb Cesta ke slávě. You may have also seen Michaela in series like Ulice, Sestřičky, ZOO or in the children's show Draci v hrnci. She guest-starred in the Czech National Theatre's A Midsummer Night's Dream. Since 2010, she has been a member of the Kalich Theatre, where you can currently see her in musicals such as Robin Hood (maid Kitty, Lady Mariana), Grease (Rizzo), The Jungle Book (Rashmi), Hair (Jeanie), Water (and blood) over water (Tereza), Love Biograf (Alča, the doctor), Heart King (Natalie), and in drama Love in Live Broadcast. Currently, you can also see her in Ballad for a Bandit as Eržika (The Vinohrady Theatre), in Cabaret in the leading role of Sally Bowles (The Theatre Bez Zábradlí), or in the play The Morning After at the Palace Theatre. She actively engages in dubbing and has dubbed, for example, the titular role in Disney's Moana: Legend of the End of the World.
JAN BENDIG
Jan is one of the most prominent vocal personalities on the Czech music scene. He launched his career in 2009 on the television competition Czechoslovak Superstar, where he finished in fourth place. Since then, he has been continuously working on his music career and has a multitude of successful songs and duets under his belt, collaborating with vocal elites such as Lucie Bílá, Michal David, Rytmus, and Ewa Farna.
LIBOR BOUČEK
For the past twenty years, Libor has been among the most recognized hosting faces in Czech Republic. His DNA is that of a versatile host, thriving on television screens and at significant events. He led the first year of the Laver Cup, the 2015 Ice Hockey World Championships, and was present during Czech triumphs in the Davis Cup and Fed Cup. His heart belongs to the Global Champions Prague Playoffs. He has guided through large concerts, including last year's tribute to Karel Gott. All of the mentioned events took place at the O2 arena, which Libor considers his home stage. As a scriptwriter and host, he has contributed to numerous successful television projects, including Český slavík, Máme rádi Česko, and Inkognita. This year, he represented the Czech Republic as the official host of the Basketball World Cup in the Philippines.
THE OFFICIAL SELLERS OF TICKETS FOR EVENTS AT THE O2 ARENA ARE TICKETMASTER AND TICKETPORTAL. WE DO NOT WARRANT THE VALIDITY OF TICKETS PURCHASED FROM OTHER SELLERS.