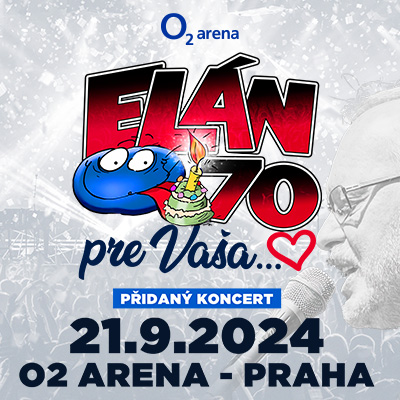 21.9.2024 20:30
ELÁN 70 pre Vaša…
In a record short time, one of the most popular Czechoslovak music groups, Elán, sold out the two biggest halls in the former Czechoslovakia. Both concerts are not until the fall of next year. However, the band around frontman Jož Ráž was not too happy about the success, because they were hit by the sad news of the passing of their bandmate, friend and band founder Vaša Patejdl. In his honor, Elán will return to both halls once more with a program called Pre Vaša. He will first perform on Saturday, September 21, 2024, in the O2 Arena in Prague, and a week later, on September 28, 2024, he will repeat the concert in the TIPOS Arena – Ondrej Nepela Winter Stadium in Bratislava. Fans can find pre-sale tickets for the added Pre Vaša concert in Prague at www.elan.cz, and for Bratislava at www.elan.sk.
"We thank everyone for the condolences and words of support with the death of our Vas. A piece of Elán left with him, but a large part of his exceptional personality will remain with us forever in Elán. We will keep what we promised you before his death, that's why we are announcing two concerts in his honor," says singer Jožo Ráž, who will also celebrate his seventieth birthday at the concert. The original plan was that it would be a birthday concert for the equally old Vaša Patejdl.
"Vasho has been telling us for the past few months that a proper celebration must last at least two days, and one celebrates one's seventieth birthday only once in a lifetime. So we will play for him on both added days," adds guitarist Jano Baláž, adding that the band is not planning concerts in other cities or playing at festivals. "Fans write to us whether we will come to Brno or Košice. We answer them that this time they have to follow us to Prague or Bratislava".
Elán reveals how the second announced concerts will differ from the already sold-out first concerts
a) fans will influence the playlist of the evening by voting and decide some of the songs that Elán will play
b) at the concerts for your group, Elán will pay musical and audiovisual tribute to his bandmate Vašo Patejdl
c) only at the second concerts will the legendary Škoda 110 R from the movie Rabaka be available
At the added concerts, fans will see Elán in his pure rock form. "The band will return to the period in the eighties on stage. At that time, she was already playing out of breath and devoted herself to more rock music. There will also be songs from the Detektívka album, when Vašo was not a member of Elán and devoted himself to his solo career," explains Elán's manager Michal Čimera.
The group Elán was founded in 1968. They released fifteen studio albums, five English albums and a number of compilations, for the sales of which they received an incredible 25 platinum records. 100,000 fans did not miss Elán's concert at Letná, and the Slovaks also sold out the famous Carnegie Hall in New York in 2007. The pillars of the band are Jožo Ráž (vocals, bass guitar) and Jano Baláž (vocals, guitar). The founder of the band Vašo Patejdl (keyboards, vocals) died this August. Elán last gave a concert in 2018, when he ended his spectacular Czechoslovak indoor and open air tour full of visual effects and projections in the sold-out Prague O2 arena.
Hi Vašo!