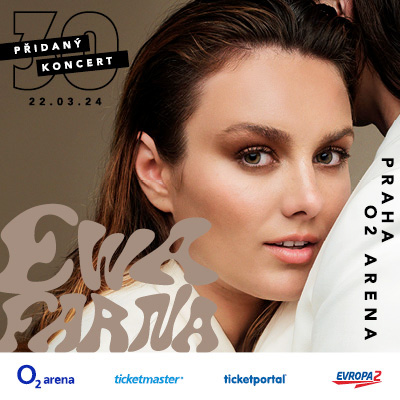 22.3.2024 19:00
EWA FARNA "30"
Organizer – Bestsport, a.s.
1. Vstupenka platí jen pro uvedený den, hodinu, akci, místo konání a sedadlo, je platná pouze s kontrolním ústřižkem a opravňuje k jednomu vstupu. Po opuštění místa konání akce pozbývá platnosti. Dodatečnými úpravami se stává vstupenka neplatnou. V případě uplynutí platnosti vstupenky, jejího poškození, zničení, ztráty nebo krádeže nelze vstupenku vyměnit ani nahradit její hodnotu ani poskytnout jinou kompenzaci. Další převod, prodej nebo zbavení se vstupenky bez písemného souhlasu pořadatele nebo pokus o další prodej za cenu vyšší, než je na vstupence vytištěna, způsobuje její neplatnost. Držiteli takové vstupenky bude odepřen vstup na místo konání akce nebo bude vyveden a zakládá to důvod pro zabavení vstupenky bez náhrady její nominální ceny nebo jiné kompenzace.
2. Vstupenka je cenina, její padělání a pozměňování je zakázáno. Pořadatel odepře vstup na akci všem držitelům takových vstupenek.
3. Zaplacené vstupné se nevrací, vstupenka se nevyměňuje. V případě zrušení akce zodpovídá za vrácení vstupného pořadatel. V případě zrušení akce uplatní držitel vstupenky nárok na vrácení vstupného dle pokynů pořadatele. Servisní poplatky se nevracejí. Náhrada zvláštních nákladů (např. hotel, jízdní výlohy) se neposkytuje. Změna programu vyhrazena. Datum a čas akce mohou být změněny bez upozornění.
4. Je zakázáno používání laserových ukazovátek a selfie tyčí.
5. Pořadatel poskytuje slevy na vstupném vozíčkářům (držitelům průkazu ZTP/P) a jejich průvodcům.
6. Při plnění povinností vyplývajících z prodeje vstupenek bude IRSnet CZ s.r.o. postupovat ve shodě s platnými obchodními podmínkami pro poskytování služby prodej vstupenek na sportovní a kulturní akce prostřednictvím prodejní sítí Ticketmaster a Ticketportal. Aktuální znění obchodních podmínek je k dispozici na www.ticketmaster.cz a www.ticketportal.cz.
On October 14, Ewa Farna filled O2 arena Prague to its maximum capacity, becoming the youngest Czech singer in history to sell out the country's largest venue. She delivered a performance that the media described as "world-class," earning praise from dozens of Czech journalists. After a week filled with emotions and an overwhelming amount of fan messages, she decided to take an originally unplanned step and repeat her birthday concert once more – and for the last time – in Prague's Libeň on Friday, March 22, 2024.
Headlines from the past days have praised the meticulously prepared show, which Ewa and her artistic, production, and technical team worked on for approximately a year. Three hundred people worked on the entire show for 15,000 attendees on-site.
"I really didn't anticipate adding another concert; we had even begun dismantling the stage set. However, the immense number of messages from fans who, for various reasons, couldn't attend my thirtieth-anniversary celebration, couldn't secure tickets, or want to experience it once more, convinced me to repeat the performance a week after the sold-out concert. I approach this with humility and I want to make it clear that this additional concert will also be the last chance to witness this spectacle. I intend to enjoy it just as much as the first one," Ewa Farna adds.
While the format of the additional concert will remain the same as the first one, some minor details may change. Whether it involves one of the guests or songs will remain a mystery until the start of the March performance.