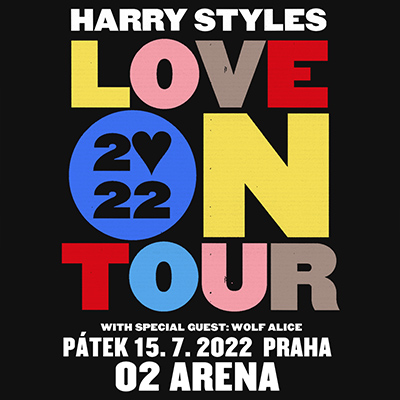 15.7.2022 20:00
HARRY STYLES
Date
15.7.2022 20:00
Entry from
18:30
Place
O2 arena, Praha
Organizer
LIVE NATION CZECH REPUBLIC s.r.o. Organizer
Download
Orientation Plan HARRY STYLES Ticketportal (359.47 Kb)

Price

CZK 1 590–2 190
---
wheelchairer + guide
CZK 1 190 + CZK 1

Children under the age of 15 can only attend the concert if accompanied by an adult.

Order wheelchair tickets from Ticketmaster (ticket@ticketmaster.cz) and Ticketportal.

Sale / reservation
Ticket sales have ended.
Box offices

Box office - entry no. 10, O2 arena
Mon - Fri
13:00 - 18:00
Event day
13:00 - 1 hour after the start of the event

Opening hours may change depending on the event schedule.

Information
Bestsport, a.s. records of visitors and other persons in accordance with Privacy Policy.
Organizer – LIVE NATION CZECH REPUBLIC s.r.o.
POKYNY POŘADATELE  –  HARRY STYLES
Majitel vstupenky je povinen nosit ji po celou dobu pobytu v O2 areně a na požádání pořadatele ji předložit ke kontrole. Vstupenka platí jen pro uvedený den, akci, místo konání, sedadlo. Je platná pouze s kontrolním ústřižkem a opravňuje k jednomu vstupu do arény. Po opuštění O2 areny pozbývá platnosti. Dodatečnými úpravami se stává vstupenka neplatnou. V případě uplynutí platnosti vstupenky, jejího poškození, zničení, ztráty nebo krádeže nelze vstupenku vyměnit ani nahradit její hodnotu ani poskytnout jinou kompenzaci. Další převod, prodej nebo zbavení se vstupenky bez písemného souhlasu pořadatele nebo pokus o další prodej za cenu vyšší, než je na vstupence vytištěna, způsobuje její neplatnost. Majiteli takové vstupenky bude odepřen vstup na místo konání akce nebo bude vyveden a zakládá to důvod pro zabavení vstupenky bez náhrady její nominální ceny nebo jiné kompenzace.
Vstupenka je cenina, její padělání a pozměňování je zakázáno. Pořadatel odepře vstup na akci všem majitelům takových vstupenek.
Zaplacené vstupné se nevrací, vstupenka se nevyměňuje. V případě zrušení akce zodpovídá za vrácení vstupného pořadatel. V případě zrušení akce uplatní majitel vstupenky nárok na vrácení vstupného dle pokynů pořadatele. Servisní poplatky se nevracejí. Náhrada zvláštních nákladů (např. hotel, jízdní výlohy) se neposkytuje. Změna programu vyhrazena. Datum a čas akce mohou být změněny bez upozornění.
Je zakázáno fotografování a pořizování obrazových a zvukových záznamů v průběhu akce včetně přestávek. Dále je zakázáno používání laserových ukazovátek, vnášet do objektu na akci  kamery, profesionální fotoaparáty a tablety.
Na akci jsou poskytovány slevy. Pořadatel poskytuje slevy na vstupném držitelům průkazu ZTP/P – vozíčkářům a jejich průvodcům.
Při plnění povinností vyplývajících z prodeje vstupenek bude IRSnet CZ s.r.o. postupovat ve shodě s platnými obchodními podmínkami pro poskytování služby prodej vstupenek na sportovní a kulturní akce prostřednictvím prodejní sítě TICKETPORTAL. Aktuální znění obchodních podmínek je k dispozici na www.ticketportal.cz .
Harry Styles has established himself as one of the biggest and most influential artists in music. His self-titled debut solo album became one of the world's top-ten best selling albums of the year and had the biggest first week of sales by a male artist in history.
His second album, Fine Line, topped the Billboard 200 when it was released, making it Harry's second US Number One album and made chart history providing the biggest sales week for a solo UK male artist since Nielsen Music began electronically trading sales data in 1991. Since launching his solo career, he has gained prestigious accolades including, two BRIT awards, a Grammy award, an Ivor Novello Award an American Music Award and many others across the world, in addition to being the first man to appear solo on the cover of Vogue Magazine.
The cancelled concert will take place on the new date of July 15th 2022 in O2 arena in Prague. Your original tickets (May 11, 2020 and February 23, 2021) for this event remain valid.
doors – 18:30
Wolf Alice – 20:00
Harry Styles – 21:00
Harry is equally renowned as an incredible live performer. His Love On Tour shows were postponed due to the pandemic and finally started in September 2021 in Las Vegas. Harry performed over 40 shows throughout the US at the end of last year winning praise from fans and critics alike. His shows are packed with his global hit singles including Sign of the Times, Lights Up, Adore You, Watermelon Sugar and Kiwi.
THE OFFICIAL SELLERS OF TICKETS FOR EVENTS AT THE O2 ARENA ARE TICKETMASTER AND TICKETPORTAL. WE DO NOT WARRANT THE VALIDITY OF TICKETS PURCHASED FROM OTHER SELLERS.