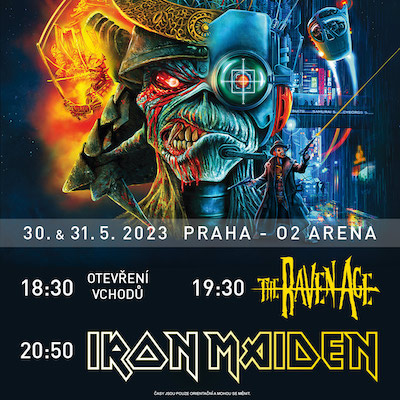 30.5.2023 20:00
31.5.2023 20:00
IRON MAIDEN
Organizer – LIVE NATION CZECH REPUBLIC s.r.o.
Majitel vstupenky je povinen nosit ji po celou dobu pobytu v O2 areně a na požádání pořadatele ji předložit ke kontrole. Vstupenka platí jen pro uvedený den, akci, místo konání, sedadlo. Je platná pouze s kontrolním ústřižkem a opravňuje k jednomu vstupu do arény. Po opuštění O2 areny pozbývá platnosti. Dodatečnými úpravami se stává vstupenka neplatnou. V případě uplynutí platnosti vstupenky, jejího poškození, zničení, ztráty nebo krádeže nelze vstupenku vyměnit ani nahradit její hodnotu ani poskytnout jinou kompenzaci. Další převod, prodej nebo zbavení se vstupenky bez písemného souhlasu pořadatele nebo pokus o další prodej za cenu vyšší, než je na vstupence vytištěna, způsobuje její neplatnost. Majiteli takové vstupenky bude odepřen vstup na místo konání akce nebo bude vyveden a zakládá to důvod pro zabavení vstupenky bez náhrady její nominální ceny nebo jiné kompenzace.
Vstupenka je cenina, její padělání a pozměňování je zakázáno. Pořadatel odepře vstup na akci všem majitelům takových vstupenek.
Zaplacené vstupné se nevrací, vstupenka se nevyměňuje. V případě zrušení akce zodpovídá za vrácení vstupného pořadatel. V případě zrušení akce uplatní majitel vstupenky nárok na vrácení vstupného dle pokynů pořadatele. Servisní poplatky se nevracejí. Náhrada zvláštních nákladů (např. hotel, jízdní výlohy) se neposkytuje. Změna programu vyhrazena. Datum a čas akce mohou být změněny bez upozornění.
Je zakázáno fotografování a pořizování obrazových a zvukových záznamů v průběhu akce včetně přestávek. Dále je zakázáno používání laserových ukazovátek, vnášet do objektu na akci kamery, profesionální fotoaparáty a tablety.
Na akci jsou poskytovány slevy. Pořadatel poskytuje slevy na vstupném držitelům průkazu ZTP/P – vozíčkářům a jejich průvodcům.
Při plnění povinností vyplývajících z prodeje vstupenek bude IRSnet CZ s.r.o. postupovat ve shodě s platnými obchodními podmínkami pro poskytování služby prodej vstupenek na sportovní a kulturní akce prostřednictvím prodejní sítě TICKETPORTAL. Aktuální znění obchodních podmínek je k dispozici na www.ticketportal.cz.
IRON MAIDEN will bring their brand new THE FUTURE PAST TOUR to Prague's O2 arena on May 30, 2023, featuring previously unplayed tracks from their latest studio album Senjutsu, along with an emphasis on 1986's iconic Somewhere In Time and other classic cuts.
Schedule
Doors open: 6:30 p.m
The Raven Age: 7:30 p.m
Iron Maiden: 8:50 p.m. 

Founding member and bassist Steve Harris adds:
"Following the release of our latest album Senjutsu, we've updated the current Legacy of the Beast Tour a little by opening the show with the first three songs from it, in the backdrop of a Japanese palace. Since it doesn't make much sense to repeat that on the Senjutsu album tour, we thought about other options and decided to revisit Somewhere In Time, since that tour hasn't appeared in the various history retrospective tours we've done over the years. They were based on our concert videos from the 80's and unfortunately we didn't film this tour (blame the manager!!). We've had a lot of requests from fans over the years for many of the songs from it, so we're going to play them now, plus of course a few more that we know you'll enjoy! It will also be especially pleasing to finally play some of the more epic tracks on Senjutsu, it's been a long wait! 2023 is going to be an exciting time and we're really looking forward to seeing everyone again in the Czech Republic."
Manager Rod Smallwood joins in:
"We think this combination of two albums is very exciting. We know that fans want to hear those epic Senjutsu cuts live for the first time, and we think the combination with an iconic album like Somewhere In Time will make for another really special tour for fans old and new! Of course, we'll be returning to the relative intimacy of arenas for much of the new album tour in Europe, and we know fans will be very happy about that too!"
The band recently completed the spectacular Legacy Of The Beast World Tour, which was interrupted for two years by Covid. The tour started in Tallinn, Estonia in May 2018 and consisted of 139 shows in 33 countries. By the time of the final show in Tampa, Florida on October 27, 2022, the band had played to over THREE MILLION fans on this epic world tour.
Stay up to date here www.ironmaiden.com.
As in previous years, a VIP Trooper experience will be available at many venues. Stay tuned for local details.
THE OFFICIAL SELLERS OF TICKETS FOR EVENTS AT THE O2 ARENA ARE TICKETMASTER AND TICKETPORTAL. WE DO NOT WARRANT THE VALIDITY OF TICKETS PURCHASED FROM OTHER SELLERS.