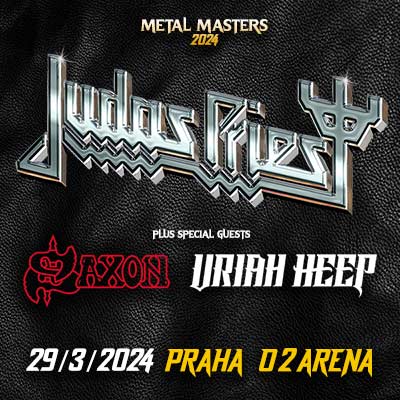 29.3.2024 18:30
JUDAS PRIEST
Organizer – LIVE NATION CZECH REPUBLIC s.r.o.
Vstupenka platí jen pro uvedený den, hodinu, akci, místo konání a sedadlo, je platná pouze s kontrolním ústřižkem a opravňuje k jednomu vstupu. Po opuštění místa konání akce pozbývá platnosti. Dodatečnými úpravami se stává vstupenka neplatnou. V případě uplynutí platnosti vstupenky, jejího poškození, zničení, ztráty nebo krádeže nelze vstupenku vyměnit ani nahradit její hodnotu ani poskytnout jinou kompenzaci. Další převod, prodej nebo zbavení se vstupenky bez písemného souhlasu pořadatele nebo pokus o další prodej za cenu vyšší, než je na vstupence vytištěna, způsobuje její neplatnost. Držiteli takové vstupenky bude odepřen vstup na místo konání akce nebo bude vyveden a zakládá to důvod pro zabavení vstupenky bez náhrady její nominální ceny nebo jiné kompenzace.
Vstupenka je cenina, její padělání a pozměňování je zakázáno. Pořadatel odepře vstup na akci všem držitelům takových vstupenek.
Zaplacené vstupné se nevrací, vstupenka se nevyměňuje. V případě zrušení akce zodpovídá za vrácení vstupného pořadatel. V případě zrušení akce uplatní držitel vstupenky nárok na vrácení vstupného dle pokynů pořadatele. Náhrada zvláštních nákladů (např. hotel, jízdní výlohy) se neposkytuje. Změna programu vyhrazena. Datum a čas akce mohou být změněny bez upozornění.
Je zakázáno fotografování a pořizování obrazových a zvukových záznamů v průběhu akce včetně přestávek, vyjma malých kompaktních fotoaparátů. Dále je zakázáno vnášet do objektu kamery, profesionální fotoaparáty, tablety a zároveň je zakázáno používání laserových ukazovátek.
Pořadatel poskytuje slevy na vstupném vozíčkářům (držitelům průkazu ZTP/P) a jejich průvodcům.
Při plnění povinností vyplývajících z prodeje vstupenek bude IRSnet CZ s.r.o. postupovat ve shodě s platnými obchodními podmínkami pro poskytování služby prodej vstupenek na sportovní a kulturní akce prostřednictvím prodejní sítí Ticketmaster a Ticketportal. Aktuální znění obchodních podmínek je k dispozici na www.ticketmaster.cz a www.ticketportal.cz.
Judas Priest returns to the Czech Republic with their "Metal Masters 2024" tour, delighting their fans after the recently cancelled Ozzy Osbourne concert, where they were supposed to perform as guests. They will be joined by other great bands Saxon and Uriah Heep for their stop at Prague's O2 Arena on March 29.
The mighty Judas Priest today announce a European tour which will kick off on 24th March 2024 in Frankfurt, Germany – special guests on the tour include Saxon and Uriah Heep.
The hardest working band in metal were inducted into the Rock & Roll Hall of Fame in 2022 – earlier that year they had embarked on a rescheduled world tour in support of the bands 50th Anniversary – this included shows in the US, Europe, Mexico and South America.
In 2023 the band are continuing to work on their new studio album, due for release early next year. 2024 will see the icons embark on their next world tour which kicks off in the UK then continues on into Europe followed by the US and beyond. More details to be revealed shortly.
It's safe to say that Judas Priest continue to retain their crown as one of the biggest and best British bands to emerge over the past 50 plus years.
Interested in meeting the band? Judas Priest Metal Masters Backstage Experience: https://bit.ly/_Judas_Priest
The Judas Priest Metal Masters Backstage Experience includes:
– Backstage tour: includes an exclusive behind-the-scenes look at a Judas Priest concert – meet members of the production and find out what goes on behind the scenes
– Early entry to the venue for merchandise purchases
– Souvenir VIP laminate
– Exclusive t-shirt available only to VIP ticket holders