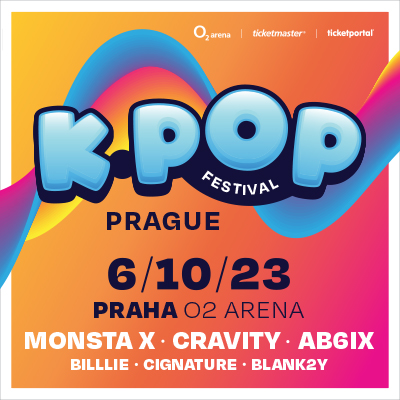 6.10.2023 20:00
K-POP FESTIVAL PRAGUE
Date
6.10.2023 20:00
Entry from
18:30
Place
O2 arena, Praha
Organizer
DS10 entertainment s.r.o. Organizer
Download
Orientation Plan K-POP Ticketmaster (271.15 Kb)
Orientation Plan K-POP Ticketportal (313.25 Kb)

Price

CZK 3 890 – 5 990
---
wheelchairer + guide
CZK 1 990 + CZK 1

Order wheelchair tickets from Ticketmaster (ticket@ticketmaster.cz) and Ticketportal.

Sale / reservation
Available in the Ticketmaster and Ticketportal sales networks

Box offices

Box office Ticketmaster - entry no. 1, O2 arena
Mon - Fri
9:00 - 12:00
12:30 - 17:00
Event day
10:00 - 1 hour after the start of the event

Box office Ticketportal - entry no. 10, O2 arena
Mon - Fri
13:00 - 18:00
Event day
13:00 - 1 hour after the start of the event

Opening hours may change depending on the event schedule.

Information
Bestsport, a.s. records of visitors and other persons in accordance with Privacy Policy.
Organizer – DS10 entertainment s.r.o.
Vstupenka platí jen pro uvedený den, hodinu, akci, místo konání a sedadlo, je platná pouze s kontrolním ústřižkem a opravňuje k jednomu vstupu. Po opuštění místa konání akce pozbývá platnosti. Dodatečnými úpravami se stává vstupenka neplatnou. V případě uplynutí platnosti vstupenky, jejího poškození, zničení, ztráty nebo krádeže nelze vstupenku vyměnit ani nahradit její hodnotu ani poskytnout jinou kompenzaci. Další převod, prodej nebo zbavení se vstupenky bez písemného souhlasu pořadatele nebo pokus o další prodej za cenu vyšší, než je na vstupence vytištěna, způsobuje její neplatnost. Držiteli takové vstupenky bude odepřen vstup na místo konání akce nebo bude vyveden a zakládá to důvod pro zabavení vstupenky bez náhrady její nominální ceny nebo jiné kompenzace.
Vstupenka je cenina, její padělání a pozměňování je zakázáno. Pořadatel odepře vstup na akci všem držitelům takových vstupenek.
Zaplacené vstupné se nevrací, vstupenka se nevyměňuje. V případě zrušení akce zodpovídá za vrácení vstupného pořadatel. V případě zrušení akce uplatní držitel vstupenky nárok na vrácení vstupného dle pokynů pořadatele. Servisní poplatky se nevracejí. Náhrada zvláštních nákladů (např. hotel, jízdní výlohy) se neposkytuje. Změna programu vyhrazena. Datum a čas akce mohou být změněny bez upozornění.
Je zakázáno fotografování a pořizování obrazových a zvukových záznamů v průběhu akce včetně přestávek.
Na akci jsou poskytovány slevy. Pořadatel poskytuje slevy na vstupném držitelům průkazu ZTP/P – vozíčkářům a jejich průvodcům.
Při plnění povinností vyplývajících z prodeje vstupenek bude IRSnet CZ s.r.o. postupovat ve shodě s platnými obchodními podmínkami pro poskytování služby prodej vstupenek na sportovní a kulturní akce prostřednictvím prodejní sítí Ticketmaster a Ticketportal. Aktuální znění obchodních podmínek je k dispozici na www.ticketmaster.cz a www.ticketportal.cz.
Czech fans will soon experience their first true K-pop celebration. It will take place on Friday, October 6th, at the O2 arena Prague as part of the unique K-POP Prague 2023 festival, featuring authentic Korean stars. In addition to the already announced boy groups Monsta X, Cravity, and AB6IX, organizers are now adding three more stellar names. The unique show will also feature the boy band Blank2y and girl groups Billlie and Cignature. Dominika Hašková, a singer from the band We Are Domi, will guide the audience through the festival alongside a Korean host.
K-pop is a blend of music, fashion, and dance. K-pop groups are known for catchy songs, elaborate music videos, captivating choreography, and imaginative costumes. Their members often appear at prestigious fashion events around the world and are considered fashion icons. These are all reasons why K-pop is perhaps the biggest contemporary music phenomenon. Now, the Czech audience will have the opportunity to experience it firsthand.
South Korean girl superstars will also arrive.
The organizers of the K-POP festival Prague 2023 event initially announced three South Korean boy supergroups, Monsta X, Cravity, and AB6IX. Now, they are adding three more star-studded names. The seven-member girl group Billlie fascinates fans worldwide with their unique perspective on the world and boundless versatility, captivating both eyes and ears. The girls from the group Cignature promise an unforgettable musical and visual experience, focusing on synchronized visuals and captivating choreography. The lineup is completed by the boy group Blank2y, which is among the most prominent representatives of the latest K-pop generation.
Dominika Hašková, known not only in the Czech Republic but also as a member of the Czech-Norwegian electropop trio We Are Domi, will guide the audience through the festival as a co-host. "It is a great honor for me to be chosen as a co-host for this grand show by members of both the Czech and Korean teams. I hope people of all generations will attend the festival and personally experience the unconventional performances by South Korean bands. The K-pop scene is known for not only its great music but also for delivering an amazing visual show that nobody should miss," says Dominika Hašková.
THE OFFICIAL SELLERS OF TICKETS FOR EVENTS AT THE O2 ARENA ARE TICKETMASTER AND TICKETPORTAL. WE DO NOT WARRANT THE VALIDITY OF TICKETS PURCHASED FROM OTHER SELLERS.