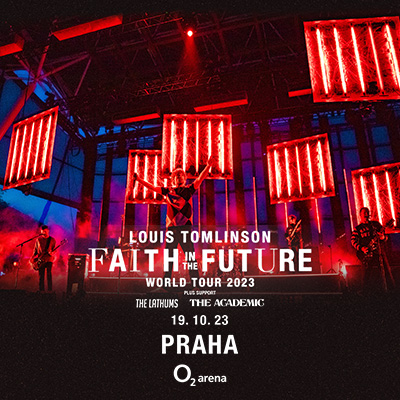 19.10.2023 19:00
LOUIS TOMLINSON
Date
19.10.2023 19:00
Entry from
18:00
Place
O2 arena, Praha
Organizer
Fource Entertainment s.r.o. Organizer
Download
Orientation Plan LOUIS TOMLINSON Ticketmaster (319.89 Kb)
Orientation Plan LOUIS TOMLINSON Ticketportal (279.91 Kb)

Price

CZK 1 290 – 1 690
---
wheelchairer + guide
CZK 1 390 + CZK 1

Order wheelchair tickets from Ticketmaster (ticket@ticketmaster.cz) and Ticketportal.

Sale / reservation
Ticket sales have ended.
Box offices

Box office Ticketmaster - entry no. 1, O2 arena
Mon - Fri
9:00 - 12:00
12:30 - 17:00
Event day
10:00 - 1 hour after the start of the event

Box office Ticketportal - entry no. 10, O2 arena
Mon - Fri
13:00 - 18:00
Event day
13:00 - 1 hour after the start of the event

Opening hours may change depending on the event schedule.

Information
Bestsport, a.s. records of visitors and other persons in accordance with Privacy Policy.
Organizer – Fource Entertainment s.r.o.
Vstupenka platí jen pro uvedený den, hodinu, akci, místo konání a sedadlo, je platná pouze s kontrolním ústřižkem a opravňuje k jednomu vstupu. Po opuštění místa konání akce pozbývá platnosti. Dodatečnými úpravami se stává vstupenka neplatnou. V případě uplynutí platnosti vstupenky, jejího poškození, zničení, ztráty nebo krádeže nelze vstupenku vyměnit ani nahradit její hodnotu ani poskytnout jinou kompenzaci. Další převod, prodej nebo zbavení se vstupenky bez písemného souhlasu pořadatele nebo pokus o další prodej za cenu vyšší, než je na vstupence vytištěna, způsobuje její neplatnost. Držiteli takové vstupenky bude odepřen vstup na místo konání akce nebo bude vyveden a zakládá to důvod pro zabavení vstupenky bez náhrady její nominální ceny nebo jiné kompenzace.
Vstupenka je cenina, její padělání a pozměňování je zakázáno. Pořadatel odepře vstup na akci všem držitelům takových vstupenek.
Zaplacené vstupné se nevrací, vstupenka se nevyměňuje. V případě zrušení akce zodpovídá za vrácení vstupného pořadatel. V případě zrušení akce uplatní držitel vstupenky nárok na vrácení vstupného dle pokynů pořadatele. Servisní poplatky se nevracejí. Náhrada zvláštních nákladů (např. hotel, jízdní výlohy) se neposkytuje. Změna programu vyhrazena. Datum a čas akce mohou být změněny bez upozornění.
Na akci je zakázáno pořizování obrazových a zvukových záznamů v jejím průběhu včetně přestávek. Výjimku tvoří používání malých kompaktních kapesních fotoaparátů pro veřejnost a profesionálních fotoaparátů, které budou používat fotografové akreditovaní pořadatelem akce.
Pořadatel poskytuje slevy na vstupném vozíčkářům (držitelům průkazu ZTP/P) a jejich průvodcům.
Při plnění povinností vyplývajících z prodeje vstupenek bude IRSnet CZ s.r.o. postupovat ve shodě s platnými Obchodními podmínkami pro poskytování služby prodej vstupenek na sportovní a kulturní akce prostřednictvím prodejní sítě Ticketportal. Aktuální znění obchodních podmínek je k dispozici na www.ticketportal.cz.
Tato vstupenka opravňuje pouze ke vstupu a zůstává ve vlastnictví pořadatele. Při vyžádání mu proto musí být odevzdána.
Tato vstupenka je prodána pořadatelem přímo zákazníkovi, vstupenky přeprodané jsou pak v nesouladu s pravidly pořadatele a mohou být stornovány.
V případě přeprodání vstupenky nebo jen NABÍDNUTÍ K PRODEJI může být vstupenka OKAMŽITĚ ZNEPLATNĚNA bez možnosti náhrady.
Prodej je omezen na 4 vstupenky na jednu osobu.
Following the international success of his 2020 debut album, Walls, which has sold over 1.2 million copies, Louis Tomlinson is back with his new record, Faith In The Future. On his ambitious second effort, the 30-year-old has carefully created a collection of songs designed for the live environment while simultaneously taking his artistry to new heights.
"Before lockdown, that phrase just spoke to me," Tomlinson says of the album title. "I had the idea that I'd like to name the album this, then everything happened in the world, and I tweeted out the title one day. I felt this magnetism towards it, and the longer I lived with it, I decided that's what it is now."
One consolatory factor of the pandemic was it gave Tomlinson an extended break for the first time in his career since joining One Direction as an 18-year-old. He meticulously took his time to perfect Faith In The Future and was helped by collaborators such as Rob Harvey, Dan Grech (The Killers, The Vaccines, Halsey), Nico Rebscher (Alice Merton), Joe Cross (Courteeners), and Hurts frontman Theo Hutchcraft.
On Faith In The Future, Tomlinson shows off his multi-faceted songwriting capabilities while still being distinctly authentic across the entirety of the genre-spanning record, which exudes confidence at every turn. Louis has never been more assured artistically, and he has every right to be after uncompromisingly expanding his wings and evolving on his head-turning new outing.
Facebook event:
https://www.facebook.com/events/639807137797057
event on the organizer's website:
https://fource.cz/cs/events/louis-tomlinson-23/
THE OFFICIAL SELLERS OF TICKETS FOR EVENTS AT THE O2 ARENA ARE TICKETMASTER AND TICKETPORTAL. WE DO NOT WARRANT THE VALIDITY OF TICKETS PURCHASED FROM OTHER SELLERS.