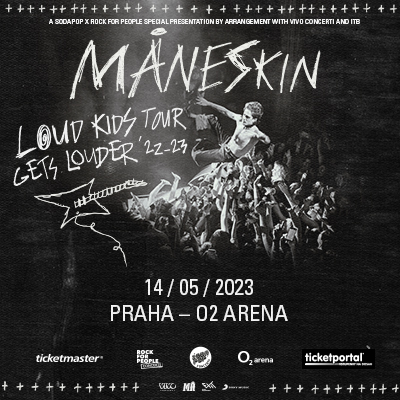 Organizer – Ameba Production spol. s r.o.
Måneskin
1. Vstupenka platí jen pro uvedený den, hodinu, akci, místo konání a sedadlo, je platná pouze s kontrolním ústřižkem a opravňuje k jednomu vstupu. Po opuštění místa konání akce pozbývá platnosti. Dodatečnými úpravami se stává vstupenka neplatnou. V případě uplynutí platnosti vstupenky, jejího poškození, zničení, ztráty nebo krádeže nelze vstupenku vyměnit ani nahradit její hodnotu ani poskytnout jinou kompenzaci. Další převod, prodej nebo zbavení se vstupenky bez písemného souhlasu pořadatele nebo pokus o další prodej za cenu vyšší, než je na vstupence vytištěna, způsobuje její neplatnost. Držiteli takové vstupenky bude odepřen vstup na místo konání akce nebo bude vyveden a zakládá to důvod pro zabavení vstupenky bez náhrady její nominální ceny nebo jiné kompenzace.
2. Vstupenka je cenina, její padělání a pozměňování je zakázáno. Pořadatel odepře vstup na akci všem držitelům takových vstupenek.
3. Zaplacené vstupné se nevrací, vstupenka se nevyměňuje. V případě zrušení akce zodpovídá za vrácení vstupného pořadatel, nikoli společnost IRSnet CZ s.r.o. V případě zrušení akce uplatní držitel vstupenky nárok na vrácení vstupného dle pokynů pořadatele. Servisní poplatky se nevracejí. Náhrada zvláštních nákladů (např. hotel, jízdní výlohy) se neposkytuje. Změna programu vyhrazena. Datum a čas akce mohou být změněny bez upozornění.
4. Je zakázáno fotografování a pořizování obrazových a zvukových záznamů v průběhu akce včetně přestávek, vyjma malých kompaktních fotoaparátů. Dále je zakázáno vnášet do objektu kamery, profesionální fotoaparáty, tablety a zároveň je zakázáno používání laserových ukazovátek.
5. Na akci jsou poskytovány slevy. Pořadatel poskytuje slevy na vstupném držitelům průkazu ZTP/P – vozíčkářům a jejich průvodcům.
6. Při plnění povinností vyplývajících z prodeje vstupenek bude společnost IRSnet CZ s.r.o. postupovat ve shodě s platnými Obchodními podmínkami pro poskytování služby prodej vstupenek na sportovní a kulturní akce prostřednictvím prodejní sítě Ticketportal. Aktuální znění obchodních podmínek je k dispozici na www.ticketportal.cz.
After climbing to the top of international music charts and reigning on the stages of leading European summer festivals, Måneskin announces new dates for the relocated "LOUD KIDS ON TOUR" tour, which will include a Prague stop in cooperation with Rock for People Concerts and SodaPop Concerts. On May 14, 2023, fans will see the same energetic show full of temperament as the Italian quartet Victoria, Damiano, Thomas and Ethan at Rock for People Hope last year. With more than 3.4 billion plays on all digital platforms and more than 43 million listeners on Spotify per month, the band has become a recent phenomenon. During the tour, Måneskin will visit the most important European cities such as London, Paris, Vienna, Prague and Berlin within sixteen stops. The Prague concert will take place in the O2 arena on May 14, 2023.
All tickets purchased for the original date of the concert in the GoOut network remain valid for the new date in the STANDING sector. Tickets for the new date at the O2 arena will be on sale from Friday 25 March at 2 pm on the Ticketmaster and Ticketportal networks. More information at www.rockforpeople.cz.
Thanks to its raw, energetic and cracked sound, Måneskin returns rock'n'roll to the top of the world charts and blends it perfectly with contemporary taste. Twenties Victoria (bass), Damiano (vocals), Thomas (guitar) and Ethan (drums) started in 2015 as buskers performing on the streets of Rome and only a few years later conquered the world and became one of the most popular rock bands of the new generation.
On July 15, 2021, the single "I WANNA BE YOUR SLAVE" premiered worldwide on YouTube, reaching 6.7 million in just 24 hours, becoming a clear hit in 67 countries and climbing to number one on YouTube Italia, and to the twentieth place in the ranking of the world's best artists. Måneskin broke a number of records and reached the top spot in the Spotify Global Top 50 with their version of the song "Beggin", which together with "I WANNA BE YOUR SLAVE" broke the UK Singles Chart when both songs placed in the Top 10. Måneskin became the first Italian band in history to place in the top ten of the UK Singles Chart with two singles simultaneously. On September 25, 2021, Måneskin performed as headliners along with Ed Sheeran and Doja Cat at the "Global Citizen Live 2021" event in Paris.
https://www.maneskin.it/
https://www.facebook.com/maneskinofficial
https://www.instagram.com/maneskinofficial/
THE OFFICIAL SELLERS OF TICKETS FOR EVENTS AT THE O2 ARENA ARE TICKETMASTER AND TICKETPORTAL. WE DO NOT WARRANT THE VALIDITY OF TICKETS PURCHASED FROM OTHER SELLERS.