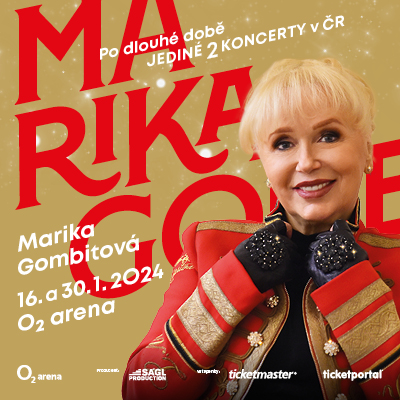 16.1.2024 20:00
30.1.2024 20:00
MARIKA GOMBITOVÁ
Organizer – SÁGL PRODUCTION s.r.o.
1. Vstupenka platí jen pro uvedený den, hodinu, akci, místo konání a sedadlo, je platná pouze s kontrolním ústřižkem a opravňuje k jednomu vstupu. Po opuštění místa konání akce pozbývá platnosti. Dodatečnými úpravami se stává vstupenka neplatnou. V případě uplynutí platnosti vstupenky, jejího poškození, zničení, ztráty nebo krádeže nelze vstupenku vyměnit ani nahradit její hodnotu ani poskytnout jinou kompenzaci. Další převod, prodej nebo zbavení se vstupenky bez písemného souhlasu pořadatele nebo pokus o další prodej za cenu vyšší, než je na vstupence vytištěna, způsobuje její neplatnost. Držiteli takové vstupenky bude odepřen vstup na místo konání akce nebo bude vyveden a zakládá to důvod pro zabavení vstupenky bez náhrady její nominální ceny nebo jiné kompenzace.
2. Vstupenka je cenina, její padělání a pozměňování je zakázáno. Pořadatel odepře vstup na akci všem držitelům takových vstupenek.
3. Zaplacené vstupné se nevrací, vstupenka se nevyměňuje. V případě zrušení akce zodpovídá za vrácení vstupného pořadatel. V případě zrušení akce uplatní držitel vstupenky nárok na vrácení vstupného dle pokynů pořadatele. Servisní poplatky se nevracejí. Náhrada zvláštních nákladů (např. hotel, jízdní výlohy) se neposkytuje. Změna programu vyhrazena. Datum a čas akce mohou být změněny bez upozornění.
4. Je zakázáno fotografování a pořizování obrazových a zvukových záznamů v průběhu akce včetně přestávek.
5. Na akci jsou poskytovány slevy. Pořadatel poskytuje slevy na vstupném držitelům průkazu ZTP/P – vozíčkářům a jejich průvodcům.
6. Při plnění povinností vyplývajících z prodeje vstupenek bude IRSnet CZ s.r.o. postupovat ve shodě s platnými obchodními podmínkami pro poskytování služby prodej vstupenek na sportovní a kulturní akce prostřednictvím prodejní sítí Ticketmaster a Ticketportal. Aktuální znění obchodních podmínek je k dispozici na www.ticketmaster.cz a www.ticketportal.cz.
Unbelievable, perhaps already impossible for many, a miracle for some – yes, it will come true! After many years, Marika Gombitová will perform again with her special concert project in the Czech Republic, and twice!
The singer is heading to Prague after the highly successful concert of the year in Slovakia, which she performed before Christmas and sang in front of a sold-out sports hall
in Bratislava.
The endless applause from this Bratislava hall was transferred mentally and emotionally to the Czech audience, who immediately after this success began to demand that Marika Gombitová's concert take place in the Czech Republic as well. And the fans' wishes were fulfilled – Mrs. Marika will come to Prague!
Everything is prepared with the great sensitivity and thoroughness characteristic of Marika, which is proven, for example, by the choice of 2 exclusive concerts not two days in a row, but with a solid two-week break. Especially, for example, in order to reach all viewers on time. If one term does not suit someone, they can choose another. Or vice versa. Similarly, attention is paid to the form of the concerts themselves – a magnificent stage, star guests and, above all, a program that offers as much as possible from a large number of legendary hits that have pleased entire generations.
Študentská láska, Vyznanie, Šaty, Cukráreň na dlani námestia, Ži a nechaj žiť, Územie zázrakov, Správne dievča, Adresa Ja, adresa Ty, Paradiso, Koloseum, Zem menom Láska… These and other beautiful songs have remained in the hearts and souls of all of us for many years, and it is wonderful that they will once again be performed directly in concert by this gem of Czechoslovak popular music.
Great pleasure for the Czech Republic!
After years, Marika Gombitová will shine again in Prague's O2 arena!