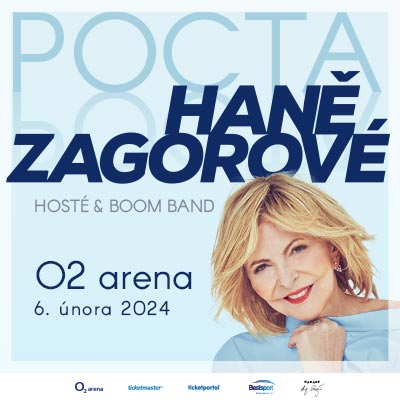 6.2.2024 20:00
POCTA HANĚ ZAGOROVÉ
Memorial galaconcerts honoring Hana Zagorová are getting closer. The one at O2 arena Prague will take place on February 6, 2024. The evening's program is based on the concert script that Hana Zagorová herself prepared for the planned celebration of her 75th birthday, a concert that unfortunately never happened.
One of the greatest stars of the Czech pop scene, a nine-time Golden Český Slavík, holder of the Supraphon Diamond Record for selling over 10 million sound carriers, and a member of the Hall of Fame of the Anděl Music Awards. Throughout her life, she has brought joy to countless fans and her music continues to spread happiness.
Tickets on sale from September 6, 2023 from 8:00 a.m. in the official sales networks Ticketmaster and Ticketportal.
The grand show Tribute to Hana Zagorová will celebrate her musical journey featuring her greatest hits spanning her entire musical career. The starry guests will be accompanied, as Hanka always used to say, by the fantastic Boom! Band led by Jiří Dvořák.
THE OFFICIAL SELLERS OF TICKETS FOR EVENTS AT THE O2 ARENA ARE TICKETMASTER AND TICKETPORTAL. WE DO NOT WARRANT THE VALIDITY OF TICKETS PURCHASED FROM OTHER SELLERS.