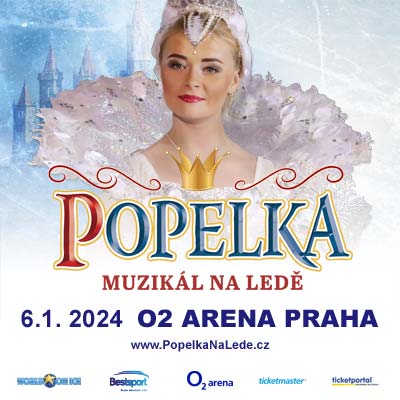 6.1.2024 13:00
6.1.2024 17:30
POPELKA NA LEDĚ
Organizer – Bestsport, a.s.
Vstupenka platí jen pro uvedený den, hodinu, akci, místo konání a sedadlo, je platná pouze s kontrolním ústřižkem a opravňuje k jednomu vstupu. Po opuštění místa konání akce pozbývá platnosti. Dodatečnými úpravami se stává vstupenka neplatnou. V případě uplynutí platnosti vstupenky, jejího poškození, zničení, ztráty nebo krádeže nelze vstupenku vyměnit ani nahradit její hodnotu ani poskytnout jinou kompenzaci. Další převod, prodej nebo zbavení se vstupenky bez písemného souhlasu pořadatele nebo pokus o další prodej za cenu vyšší, než je na vstupence vytištěna, způsobuje její neplatnost. Držiteli takové vstupenky bude odepřen vstup na místo konání akce nebo bude vyveden a zakládá to důvod pro zabavení vstupenky bez náhrady její nominální ceny nebo jiné kompenzace.
Vstupenka je cenina, její padělání a pozměňování je zakázáno. Pořadatel odepře vstup na akci všem držitelům takových vstupenek.
Zaplacené vstupné se nevrací, vstupenka se nevyměňuje. V případě zrušení akce zodpovídá za vrácení vstupného pořadatel. V případě zrušení akce uplatní držitel vstupenky nárok na vrácení vstupného dle pokynů pořadatele. Servisní poplatky se nevracejí. Náhrada zvláštních nákladů (např. hotel, jízdní výlohy) se neposkytuje. Změna programu vyhrazena. Datum a čas akce mohou být změněny bez upozornění.
Je zakázáno fotografování a pořizování obrazových a zvukových záznamů v průběhu akce včetně přestávek, vyjma malých kompaktních fotoaparátů. Dále je zakázáno vnášet do objektu kamery, profesionální fotoaparáty, tablety a zároveň je zakázáno používání laserových ukazovátek.
Pořadatel poskytuje slevy na vstupném vozíčkářům (držitelům průkazu ZTP/P) a jejich průvodcům. Dále poskytuje pořadatel 20% slevu z ceny vstupného pro děti do 120 cm a to v kategoriích I., III., IV.a V. .
Při plnění povinností vyplývajících z prodeje vstupenek bude IRSnet CZ s.r.o. postupovat ve shodě s platnými Obchodními podmínkami pro poskytování služby prodej vstupenek na sportovní a kulturní akce prostřednictvím prodejní sítě Ticketportal. Aktuální znění obchodních podmínek je k dispozici na www.ticketportal.cz.
A great musical on ice POPELKA (Cinderella) with an excellent cast of actors and singers. The show full of European figure skating stars returns to the O2 Arena for the fifth time for Three Kings Day on 6 January 2024. Let yourself be enchanted by the story of Cinderella once again, as well as hundreds of thousands of spectators in five European countries!
The show, which takes place simultaneously on the ice and on an impressive variable stage, is a unique experience for children and adults alike. A stellar cast, excellent figure skating performances, challenging acrobatic numbers, special lighting design, 300 period costumes, magic and many other effects will transport you into a world of fairy-tale fantasy.
The voices of Cinderella and the Prince were lent by Lucie Bílá and Ondřej Ruml. The acting and singing roles are played by Pepa Vojtek, Dana Morávková, Václav Kopta, Hanka Křížková, Tomáš Savka, Vlastimil Harapes, Hana Buštíková, Rudolf Kubík and others. The performers are an international figure skating ensemble of athletes from seven countries, including soloists from leading European figure skating shows.
The script by Jindřich Šimek, containing all the elements of a fairy tale fantasy, the beautiful original music by Petr Malásek and the great song lyrics by Václav Kopta are the cornerstones of the success of this spectacular family show.
The spectacular set by Petr Hloušek with perfect film projection, fascinating lighting composition with lots of effects and magic, beautiful period costumes by Roman Šolc and amazing choreography by Jana Hübler and world champion in figure skating Radka Kovaříková – this is a magical musical on ice Cinderella, which is a world rarity in its artistic conception and rendering.
Sold-out arena performances during tours in the Czech Republic and Slovakia (2011 – 2020), in Ukraine in Kiev (2013, 2014), in Düsseldorf, Germany (2017), or the Austrian premiere in Graz (2020) show the enormous popularity of this performance, but it is also a clear proof that this original Czech production form successfully represents Czech culture abroad.
Performance date and time:
January 6, 2024, 1:00 p.m.
January 6, 2024, 5:30 p.m.
Musical on Ice Cinderella is organized by WORLD ON ICE s.r.o and Bestsport, a.s.
For more information, visit http://www.popelkanalede.cz and Facebook.
THE OFFICIAL SELLERS OF TICKETS FOR EVENTS AT THE O2 ARENA ARE TICKETMASTER AND TICKETPORTAL. WE DO NOT WARRANT THE VALIDITY OF TICKETS PURCHASED FROM OTHER SELLERS.