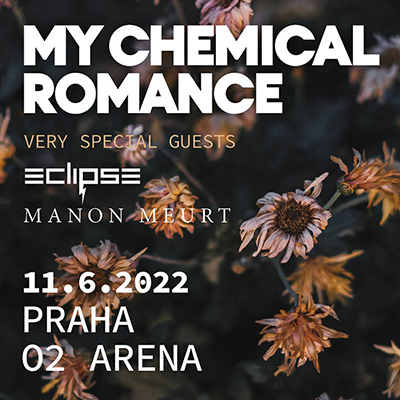 11.6.2022 19:00
PRAGUE ROCKS 2 / MY CHEMICAL ROMANCE
Organizer – LIVE NATION CZECH REPUBLIC s.r.o.
POKYNY POŘADATELE  –  PRAGUE ROCKS 2 / MY CHEMICAL ROMANCE
Majitel vstupenky je povinen nosit ji po celou dobu pobytu v O2 areně a na požádání pořadatele ji předložit ke kontrole. Vstupenka platí jen pro uvedený den, akci, místo konání, sedadlo. Je platná pouze s kontrolním ústřižkem a opravňuje k jednomu vstupu do arény. Po opuštění O2 areny pozbývá platnosti. Dodatečnými úpravami se stává vstupenka neplatnou. V případě uplynutí platnosti vstupenky, jejího poškození, zničení, ztráty nebo krádeže nelze vstupenku vyměnit ani nahradit její hodnotu ani poskytnout jinou kompenzaci. Další převod, prodej nebo zbavení se vstupenky bez písemného souhlasu pořadatele nebo pokus o další prodej za cenu vyšší, než je na vstupence vytištěna, způsobuje její neplatnost. Majiteli takové vstupenky bude odepřen vstup na místo konání akce nebo bude vyveden a zakládá to důvod pro zabavení vstupenky bez náhrady její nominální ceny nebo jiné kompenzace.
Vstupenka je cenina, její padělání a pozměňování je zakázáno. Pořadatel odepře vstup na akci všem majitelům takových vstupenek.
Zaplacené vstupné se nevrací, vstupenka se nevyměňuje. V případě zrušení akce zodpovídá za vrácení vstupného pořadatel. V případě zrušení akce uplatní majitel vstupenky nárok na vrácení vstupného dle pokynů pořadatele. Servisní poplatky se nevracejí. Náhrada zvláštních nákladů (např. hotel, jízdní výlohy) se neposkytuje. Změna programu vyhrazena. Datum a čas akce mohou být změněny bez upozornění.
Je zakázáno fotografování a pořizování obrazových a zvukových záznamů v průběhu akce včetně přestávek. Dále je zakázáno používání laserových ukazovátek, vnášet do objektu na akci  kamery, profesionální fotoaparáty a tablety.
Na akci jsou poskytovány slevy. Pořadatel poskytuje slevy na vstupném držitelům průkazu ZTP/P – vozíčkářům a jejich průvodcům.
Při plnění povinností vyplývajících z prodeje vstupenek bude IRSnet CZ s.r.o. postupovat ve shodě s platnými obchodními podmínkami pro poskytování služby prodej vstupenek na sportovní a kulturní akce prostřednictvím prodejní sítě TICKETPORTAL. Aktuální znění obchodních podmínek je k dispozici na www.ticketportal.cz .
My Chemical Romance are moving their Prague concert to the O2 arena and also announcing the first guest of their concert.
Band's statement:
"Dear fans of My Chemical Romance from the Czech Republic and neighboring countries, for technical and logistical reasons, our Prague concert has been moved to a new location – to a more comfortable and hospitable O2 arena."
There is no need to exchange tickets for standing on the podium. Standing tickets remain valid and do not need to be exchanged. Due to capacity reasons, your tickets are being moved to the 4th floor of the O2 arena seating. If this change does not suit you, you have the option of requesting a refund directly from the ticketing company from which you purchased the tickets.
Customers who have tickets to seat will receive new tickets on their account with the ticketing company from which they purchased the tickets (Ticketmaster or Ticketportal). Original Sinobo Stadium seating tickets will be canceled.
ATTENTION – due to this transfer, the capacity of the concert is now limited and the last few tickets remain. Please secure your tickets while they are available !!!
MY CHEMICAL ROMANCE - 11. 6. 2022 Prague. CONCERT MOVED TO O2 ARENA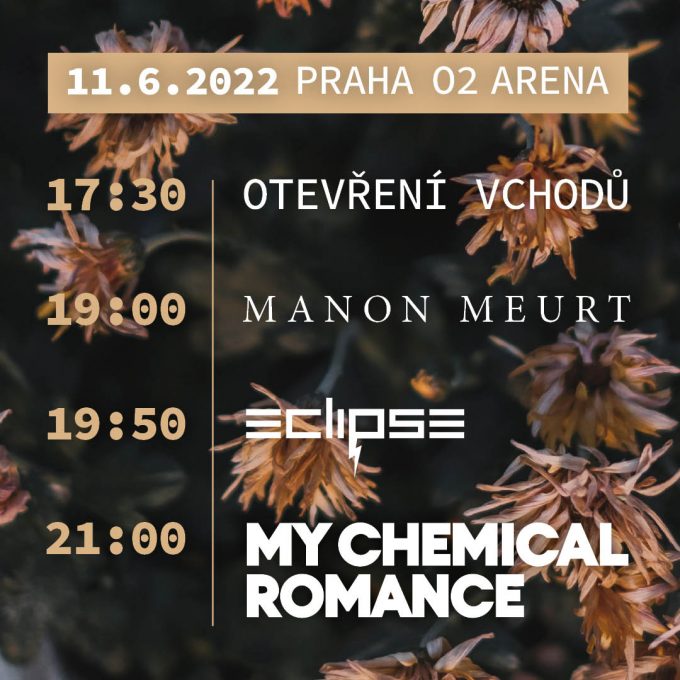 As a special guest of MY CHEMICAL ROMANCE, the Swedish rock band ECLIPSE from Sweden will be introduced to a wider audience in the Czech Republic for the first time. In recent years, thanks to the albums "Paradigm" and "Wired", singles "Viva La Victoria" (almost nineteen million listenings on Spotify) and "Twilight", it has established itself as a band performing around the world, at the biggest festivals, but also at joint concerts with SCORPIONS, ALICE COOPER or AEROSMITH. ECLIPSE's more than 300,000 Spotify listeners a month make it one of Sweden's most successful bands today.
The organizers announced an exceptional guest of the concert. It will be Manon Muert from the Czech Republic.
Manon Meurt is Vojtěch Pejša (guitar, vocals), Kateřina Elznicová (vocals, guitar), Jiří Bendl (drums) and David Tichý (synths and piano). Sparkling songs formed by soft and transcendent vocals, hypnotic bass lines, evolving drums and reverbed guitars are a trademark of this young quartet from Czech Republic.
Manon Meurt hail from a small town Rakovník west of Prague. Inspired by the British shoegaze movement of the early 90s and bands such as My Bloody Valentine, Lush, Ride or Slowdive have clearly helped shape the band's sound. Though inspired, they sound original enough to stand out with their music. Moreover their live gigs and stage presence are so tight, you almost get a feeling they were born on stage.
THE OFFICIAL SELLERS OF TICKETS FOR EVENTS AT THE O2 ARENA ARE TICKETMASTER AND TICKETPORTAL. WE DO NOT WARRANT THE VALIDITY OF TICKETS PURCHASED FROM OTHER SELLERS.