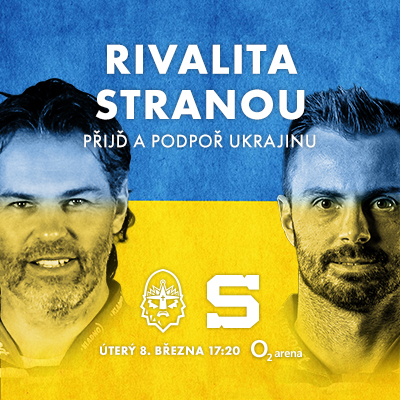 8.3.2022 17:20
RYTÍŘI KLADNO – HC SPARTA PRAHA
Organizer – Hokej Kladno s.r.o.
Vstupenka platí jen pro uvedený den, hodinu, akci, místo konání a sedadlo, je platná pouze s kontrolním ústřižkem a opravňuje k jednomu vstupu. Po opuštění místa konání akce pozbývá platnosti. Dodatečnými úpravami se stává vstupenka neplatnou. V případě uplynutí platnosti vstupenky, jejího poškození, zničení, ztráty nebo krádeže nelze vstupenku vyměnit ani nahradit její hodnotu ani poskytnout jinou kompenzaci. Další převod, prodej nebo zbavení se vstupenky bez písemného souhlasu pořadatele nebo pokus o další prodej za cenu vyšší, než je na vstupence vytištěna, způsobuje její neplatnost. Držiteli takové vstupenky bude odepřen vstup na místo konání akce nebo bude vyveden a zakládá to důvod pro zabavení vstupenky bez náhrady její nominální ceny nebo jiné kompenzace.
Vstupenka je cenina, její padělání a pozměňování je zakázáno. Pořadatel odepře vstup na akci všem držitelům takových vstupenek.
Zaplacené vstupné se nevrací, vstupenka se nevyměňuje. V případě zrušení akce zodpovídá za vrácení vstupného pořadatel, nikoli společnost IRSnet CZ s.r.o. V případě zrušení akce uplatní držitel vstupenky nárok na vrácení vstupného dle pokynů pořadatele. Servisní poplatky se nevracejí. Náhrada zvláštních nákladů (např. hotel, jízdní výlohy) se neposkytuje. Změna programu vyhrazena. Datum a čas akce mohou být změněny bez upozornění.
Je zakázáno fotografování a pořizování obrazových a zvukových záznamů v průběhu akce včetně přestávek.
Na akci jsou poskytovány slevy. Pořadatel poskytuje slevy na vstupném držitelům průkazu ZTP/P – vozíčkářům a jejich průvodcům.
Při plnění povinností vyplývajících z prodeje vstupenek bude společnost IRSnet CZ s.r.o. postupovat ve shodě s platnými Obchodními podmínkami pro poskytování služby prodej vstupenek na sportovní a kulturní akce prostřednictvím prodejní sítě Ticketportal. Aktuální znění obchodních podmínek je k dispozici na www.ticketportal.cz.
The duel of the final round of the hockey extra league between the Rytíři Kladno and HC Sparta Prague will take place extraordinarily in Chomutov in the O2 arena in Prague. The match will take place on Tuesday, March 8 at 5:20 pm and its main goal is to help Ukrainian mothers with children who fled to the Czech Republic before the war. The initiator of the whole event is Jaromír Jágr.
Proceeds from this match will help provide fleeing mothers and their children with immediate assistance, such as paying for accommodation, kindergartens and other necessities.
Tickets for the Knights Kladno - HC Sparta Praha match, which will take place on March 8 from 5:20 pm, are sold by Ticketmaster and Ticketportal.
"I got the idea on Wednesday that it could be organized. And I started to deal with it right away. At eleven in the evening, I called Karel Pražák, the owner of Sparta, and Robert Schaffer, the head of the O2 arena. They both agreed with the idea, which made me very happy. I hope as many people as possible arrive. To enjoy great hockey, but mainly to help good things," said Jaromír Jágr.
"Let's help Ukraine! The rivalry goes away," said Barbora Snopková Haberová, General Manager of HC Sparta Prague, among others.
THE OFFICIAL SELLERS OF TICKETS FOR EVENTS AT THE O2 ARENA ARE TICKETMASTER AND TICKETPORTAL. WE DO NOT WARRANT THE VALIDITY OF TICKETS PURCHASED FROM OTHER SELLERS.