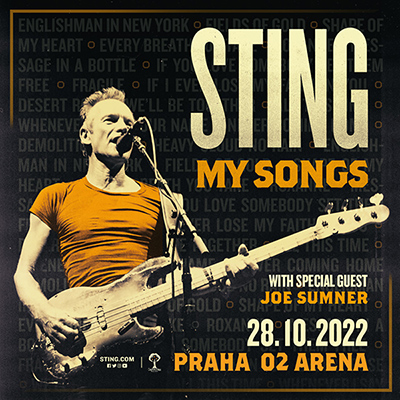 Organizer – LIVE NATION CZECH REPUBLIC s.r.o.
Majitel vstupenky je povinen nosit ji po celou dobu pobytu v O2 areně a na požádání pořadatele ji předložit ke kontrole. Vstupenka platí jen pro uvedený den, akci, místo konání, sedadlo. Je platná pouze s kontrolním ústřižkem a opravňuje k jednomu vstupu do arény. Po opuštění O2 areny pozbývá platnosti. Dodatečnými úpravami se stává vstupenka neplatnou. V případě uplynutí platnosti vstupenky, jejího poškození, zničení, ztráty nebo krádeže nelze vstupenku vyměnit ani nahradit její hodnotu ani poskytnout jinou kompenzaci. Další převod, prodej nebo zbavení se vstupenky bez písemného souhlasu pořadatele nebo pokus o další prodej za cenu vyšší, než je na vstupence vytištěna, způsobuje její neplatnost. Majiteli takové vstupenky bude odepřen vstup na místo konání akce nebo bude vyveden a zakládá to důvod pro zabavení vstupenky bez náhrady její nominální ceny nebo jiné kompenzace.
Vstupenka je cenina, její padělání a pozměňování je zakázáno. Pořadatel odepře vstup na akci všem majitelům takových vstupenek.
Zaplacené vstupné se nevrací, vstupenka se nevyměňuje. V případě zrušení akce zodpovídá za vrácení vstupného pořadatel. V případě zrušení akce uplatní majitel vstupenky nárok na vrácení vstupného dle pokynů pořadatele. Servisní poplatky se nevracejí. Náhrada zvláštních nákladů (např. hotel, jízdní výlohy) se neposkytuje. Změna programu vyhrazena. Datum a čas akce mohou být změněny bez upozornění.
Je zakázáno fotografování a pořizování obrazových a zvukových záznamů v průběhu akce včetně přestávek. Dále je zakázáno používání laserových ukazovátek, vnášet do objektu na akci kamery, profesionální fotoaparáty a tablety.
Na akci jsou poskytovány slevy. Pořadatel poskytuje slevy na vstupném držitelům průkazu ZTP/P – vozíčkářům a jejich průvodcům.
Při plnění povinností vyplývajících z prodeje vstupenek bude IRSnet CZ s.r.o. postupovat ve shodě s platnými obchodními podmínkami pro poskytování služby prodej vstupenek na sportovní a kulturní akce prostřednictvím prodejní sítě TICKETPORTAL. Aktuální znění obchodních podmínek je k dispozici na www.ticketportal.cz.
The Cherrytree Music Company and Live Nation have confirmed that Sting will perform a special My Songs concert in Prague at O2 arena on 28. 10. 2022. Tickets go on sale 3. 6. 2022 at Ticketmaster and Ticketportal.
Sting's My Songs concert is an exuberant and dynamic show featuring his most beloved songs, written throughout the 17-time Grammy Award winner's illustrious career both with The Police and as a solo artist. Following a sold out six-night residency at the London Palladium, My Songs was hailed "a masterclass" by The Times; "Sting remains an undeniably skilled performer with a gold-plated back catalogue". A musical journey taking in hits like 'Fields of Gold', 'Shape of my Heart', 'Roxanne' and 'Demolition Man', the concert was described as "a rare treat" by The Telegraph and saw Sting praised as "near peerless" by The Guardian with "sublime pop alchemy". Fans can also expect to hear 'Englishman In New York,' 'Every Breath You Take,' 'Roxanne,' 'Message In A Bottle' and many more.
Schedule
Doors: 18:30
Joe Sumner: 20:00
Sting: 20:45
On tour, Sting will be accompanied by an electric, rock ensemble. Special Guest Joe Sumner appears at all newly announced dates.
Members of Sting's Fan Club will have the opportunity to access exclusive pre-sale tickets prior to the general public by visiting www.sting.com.
Ticket prices from 1490,- to 2290,- CZK. Tickets on sale at Ticketmaster and Ticketportal from 3 June 2022 at 10:00. Sting fan club presale from 31 May 2022 10:00 - 1 June 2022 17:00. Live Nation club pre-sale from 2 June 2022 10:00 - 2 June 2022 17:00.
For complete tour, ticket and fan club information visit: www.Sting.com.
THE OFFICIAL SELLERS OF TICKETS FOR EVENTS AT THE O2 ARENA ARE TICKETMASTER AND TICKETPORTAL. WE DO NOT WARRANT THE VALIDITY OF TICKETS PURCHASED FROM OTHER SELLERS.