Actor Štěpán Kozub, a star of contemporary non-correct humour, adds a second performance in Prague's O2 arena
september 23, 2022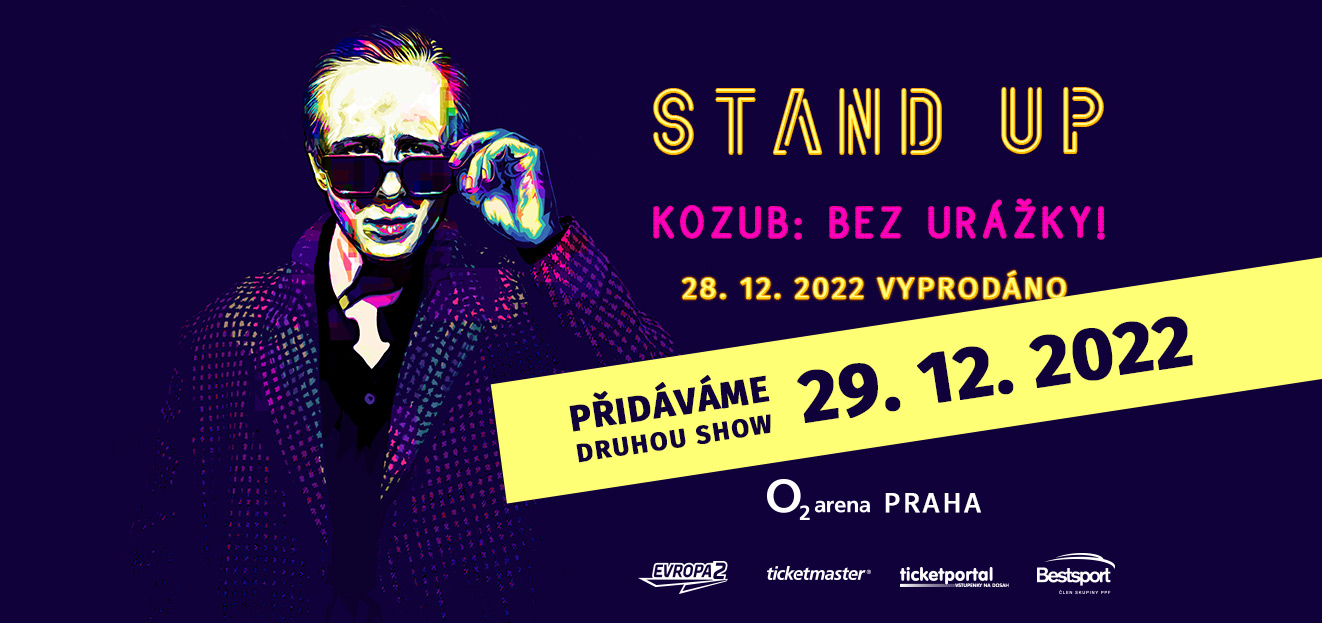 The biggest star of non-correct humour of our time, actor Štěpán Kozub, is adding a second performance at Prague's O2 arena. On 28 and 29 December 2022, he will perform a stand-up show Kozub: No Offence!
Fans of humour on the edge and beyond the edge who were unable to snag tickets to the hopelessly sold-out stand-up show Kozub: No Offence! on 28 December 2022 at Prague's O2 Arena will get their chance now. Kozub sticks to the motto from the poster "Was it too much? I'll add more." And so he's adding more. To the first show on 28 December 2022, for which tickets are no longer available, a second one will be added on 29 December 2022.
"Was it too much? I'll add more! I have listened to the desires of my fans and those who would prefer to turn me off, and in keeping with my lifelong motto, I have decided to "add more". So, the next stand-up show, based on pressure and public demand, will come to the modest premises of Prague's O2 arena, and I look forward to pushing all my and your boundaries further," says Kozub, one of the Three Tigers from Ostrava's Divadlo Mír.
So Kozub, with his megashow packed with absolutely uncompromising humour, jokes as black as the heart of Ostrava and stories that will make you blush, is daring one of the biggest halls in Central Europe, the O2 arena in Prague, twice.
The stand-up show, which is unparalleled in the Czech Republic, will take place on 28 and 29 December 2022 at the O2 Arena in Prague. Tickets are available at the official Ticketmaster and Ticketportal networks.
Official event website: www.kozubbezurazky.cz
Štěpán Kozub is one of the most outstanding actors of his generation. He has come to the fore thanks to his comedic talent, which this native of Bohumín has fully exploited on the stages of the Mír Theatre in Ostrava, in the improvisation group Tři Tygři, but also in films and TV series (he has already played over 40 roles across various genres) and, of course, on the Internet (his sketches on his YouTube channel have tens of millions of views). He is also the recipient of many different awards, including the Theatre Critics' Award for Talent of the Year (2015) and the Acting Award from the Las Vegas Independent Horror Film Festival (2018). In recent years, he has also worked as a director and producer, with his most notable film work to date being the feature film Three Tigers in a Movie: Jackpot (2022).
THE OFFICIAL SELLERS OF TICKETS FOR EVENTS AT THE O2 ARENA ARE TICKETMASTER AND TICKETPORTAL. WE DO NOT WARRANT THE VALIDITY OF TICKETS PURCHASED FROM OTHER SELLERS.