An unforgettable celebration of 100 years of famous music from Walt Disney Studio films will take place at the O2 arena
december 7, 2022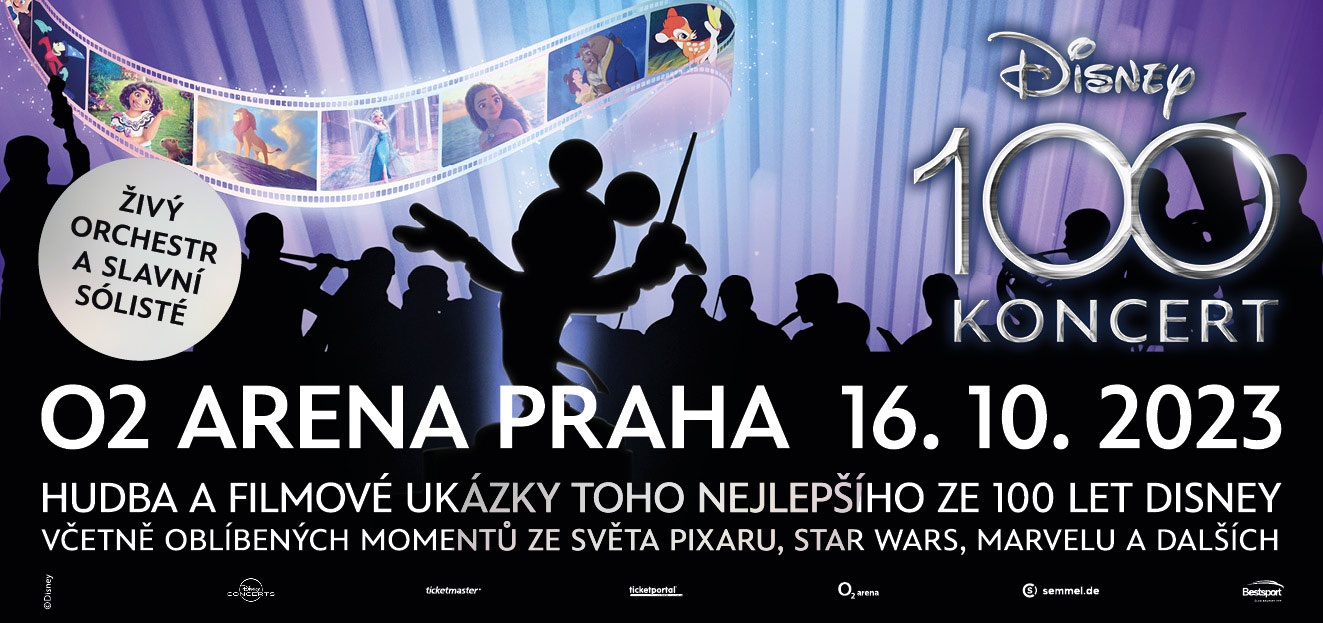 A brand new concert will come to O2 arena Prague on October 16, 2023, in celebration of 100 years of Disney! Presented in the O2 arena Prague and produced by Semmel Concerts, Disney100: The Concert will feature legendary film scenes on giant screen, whilst the magical musical moments are brought to life by the Hollywood Sound Orchestra along with star soloists, for a multimedia experience.
The shows will feature the greatest songs from films like Beauty and the Beast, Mary Poppins, Encanto, and more; as well as highlights from the worlds of Pixar, Star Wars and Marvel.
Premiering in Germany, on 13 April, the arena tour will be touring Europe for the whole anniversary year, with stops across Switzerland, Austria, Italy, Poland, Hungary, Sweden, Norway, the Czech Republic and the UK.
Featuring seminal Disney musical moments performed by live orchestra and guest singers set to iconic scenes shown on the big screen
Since its founding in 1923, The Walt Disney Company has embodied fantasy, magic, great emotions, and dreams experienced by a wide variety of heroes and heroines in fascinating worlds all set to mesmerizing, award-winning melodies and songs. Whether underwater or on the high seas, in the vastness of the universe or simply in a children's room, the soundtracks of these stories touch hearts and move people of all generations.
Since 2016, the successful musical series 'Disney in Concert' has been enchanting fans worldwide with these legendary soundtracks. A part of the Disney100 celebrations in its 100th anniversary year, this upcoming special edition of the magnificent concert series dedicates itself to a journey that celebrates 100 years of adventure, 100 years of emotions, and 100 years of Disney music magic.
Tickets for the Prague show are on-sale on December 7, 2022 at 10:00 am, and available at the official sites Ticketmaster and Ticketportal.
THE OFFICIAL SELLERS OF TICKETS FOR EVENTS AT THE O2 ARENA ARE TICKETMASTER AND TICKETPORTAL. WE DO NOT WARRANT THE VALIDITY OF TICKETS PURCHASED FROM OTHER SELLERS.