André Rieu adds an additional concert in Prague, O2 arena
may 18, 2021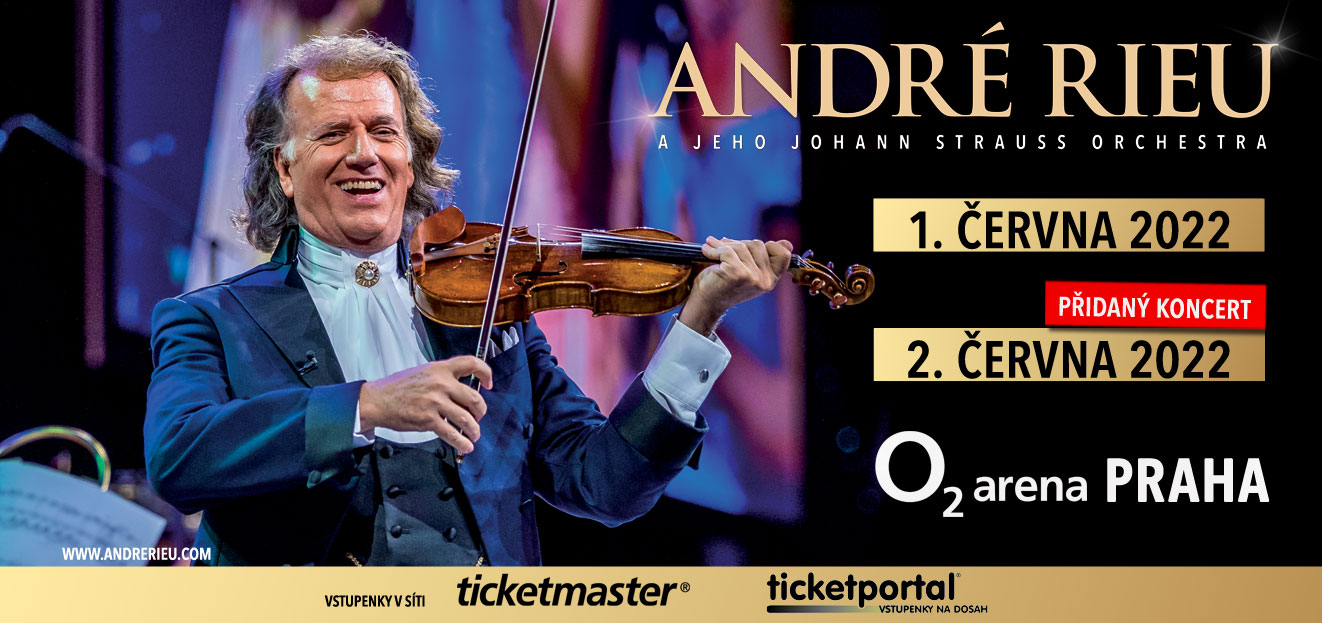 Because of the high demand, André Rieu is thrilled to announce an additional concert in Prague during his World Tour 2022. The added concert will take place in O2 arena on June 2nd, 2022.
"My dear friends in the Czech Republic, I am so excited to announce a second concert in Prague next year on 2nd June! My concerts are about sharing: Sharing the love, the laughter, sharing the singing. Sharing the joy of beautiful music and waltzing the night away. My orchestra, chorus, soloists and I are looking forward to much to returning on stage in your beautiful country. And I promise we will make you forget all your sorrows. We will make you forget your worries. And we will spend happy evenings filled with music, which you and I will remember forever!  I thank you from my heart for your loyalty, for being a member of our big "André-Rieu-Family". Please stay healthy and see you next year in June for two nights of wonderful music! Much love, André," says André Rieu to his Czech fans.
André Rieu will return to Prague with his full orchestra, soloists and choir for his three-hour concerts.
Tickets for the first concert on June 1st, 2022 are available at Ticketportal network and at www.andrerieu.com. This is a postponed concert. All tickets purchased for the original date of the concert (June 5, 2020) or postponed dates (November 11, 2020 or May 21, 2021) are valid for the new date June 1st, 2022 and do not need to be exchanged.
Tickets for the new added concert on June 2nd, 2022 will be on sale from May 19th, 2021 at 10am through Ticketmaster and Ticketportal networks.
Violin superstar André Rieu has made classical music accessible to millions around the world and has turned the waltz into an international sensation, recently extending his record as the highest grossing classical artist in Billboard's Boxscore history. Further, he continues to be the classical act with the highest attendance regularly outselling the world's top pop and rock stars. Rieu has had football crowds swaying to Shostakovich and has sold over 40 million albums. His romantic and joyful programs include a mixture of light classics, waltzes, music from film and opera as well as pop songs, performed by his Johann Strauss Orchestra, the biggest private orchestra in the world. His concerts are also a visual treat, from the sight of Rieu and his musicians entering through the crowd and up on to the stage at the beginning of the concert, to the lavish costumes and the vast screen behind the orchestra displaying beautiful imagery tailor-made for each song.
André Rieu performs for over half a million people each year. His YouTube videos have reached far over one billion views and 8 million fans follow the "King of Waltz" on Facebook. His last album "Jolly Holiday" reached top 10 positions in many countries, including the UK Pop charts.
André Rieu is not just for an evening. He is for life!
THE OFFICIAL SELLERS OF TICKETS FOR EVENTS AT THE O2 ARENA ARE TICKETMASTER AND TICKETPORTAL. WE DO NOT WARRANT THE VALIDITY OF TICKETS PURCHASED FROM OTHER SELLERS.