Andrea Bocelli will perform in O2 arena on May 29, 2021 Accompanied by the Czech National Symphony Orchestra conducted by Steven Mercurio
december 13, 2019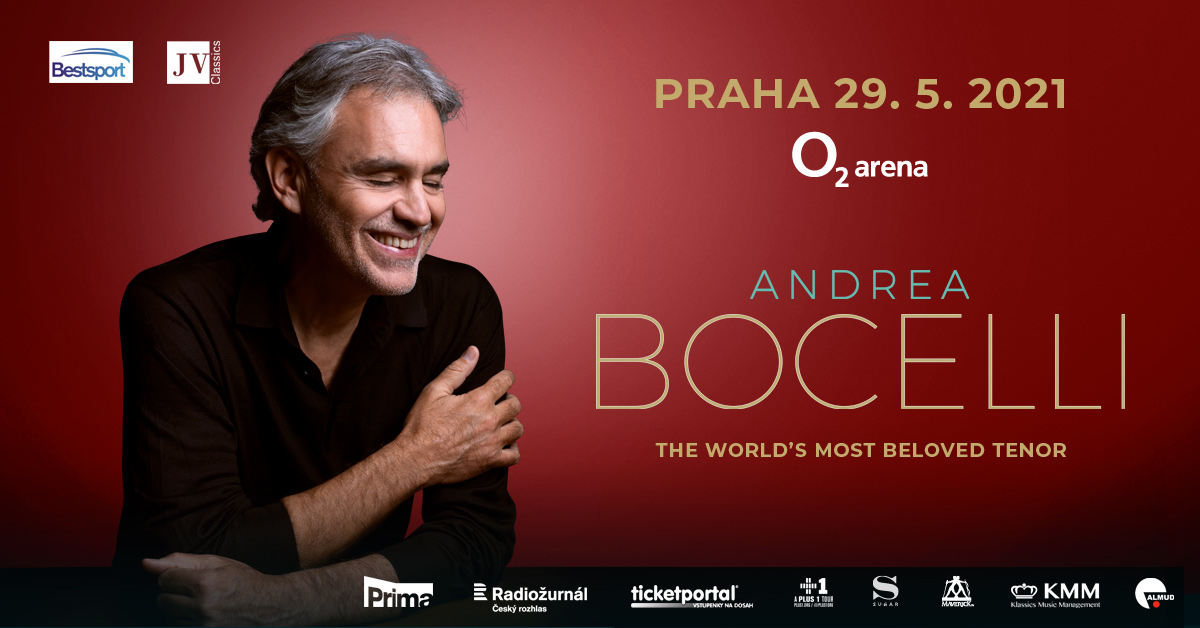 Andrea Bocelli returns to the O2 arena in Prague after a sold out concert. He will perform together with the Czech National Symphony Orchestra and special guests on May 29, 2021.
In a recent interview with the Czech radio station Radiožurnál, Andrea Bocelli praised the Czech audience: "Every time I come to Prague and I find that the concert hall is sold out, it is a joyous proof to me that the Czech audience likes me and looks forward to hearing me. And thanks to this relationship, I always have very good memories of Prague and the Czech audience. "
Throughout his career, Andrea Bocelli has performed not only for millions of enthusiastic listeners in the world's largest concert halls and opera houses, but also for the Popes, the Presidents and the royal families, and has sold an incredible 90 million records. Bocelli has won numerous awards, including the Golden Globe, an incredible seven Classic Brit Awards and seven World Music Awards; he has been nominated six times for a Grammy Award and six times for a Latin Grammy Award. Since 2010, his star shines on the Hollywood Walk of Fame. Nevertheless, he remains a modest and nice person who, besides his dazzling singing career, also devotes himself to the Andrea Bocelli Foundation, which aims to help the socially and physically handicapped people around the world.
Last fall, the artist released his new album Sì, an intimate collection of songs that celebrates love, faith and family. Produced by the legendary Bob Ezrine (Pink Floyd, Lou Reed), Si is an album about heart and soul, positivity and family, melody and magic. For this reason, Bocelli chose a strong and simple title. "Yes, it's the word you say when you get your first kiss, when you agree with someone when you want someone to feel good. Si is the word you say every time things end well … Si is an expression of positive and strong human words, feelings and emotions. "After its release, the album immediately rose to the top of both the US and UK charts, thus making history forever. On top of that, the celebrated singer has been nominated on November 20, 2019 for a Grammy for Best Traditional Pop Vocal Album for Sí.
After more than a million records sold worldwide, SUGAR MUSIC & DECCA RECORDS announces the diamond edition of 'Si'. The album is titled 'SI FOREVER: THE DIAMOND EDITION' and is available from November 8, 2019. It also includes brand new duets with Ellie Goulding and Jennifer Garner.
Andrea Bocelli Foundation (ABF) has recently started to cooperate with Plus1 organization to automatically add and then donate one unit of a local currency (crown / euro / dollar, etc.) from each ticket sold to any famous tenor's concert to ABF. 
Tickets are available from December 16, 2019 at 11 am via www.ticketportal.cz.
Concert is organised by Bestsport & JV Classics.