ATTENTION! The Prague´s concert of Finnish NIGHTWISH is postponed to spring 2021!
september 4, 2020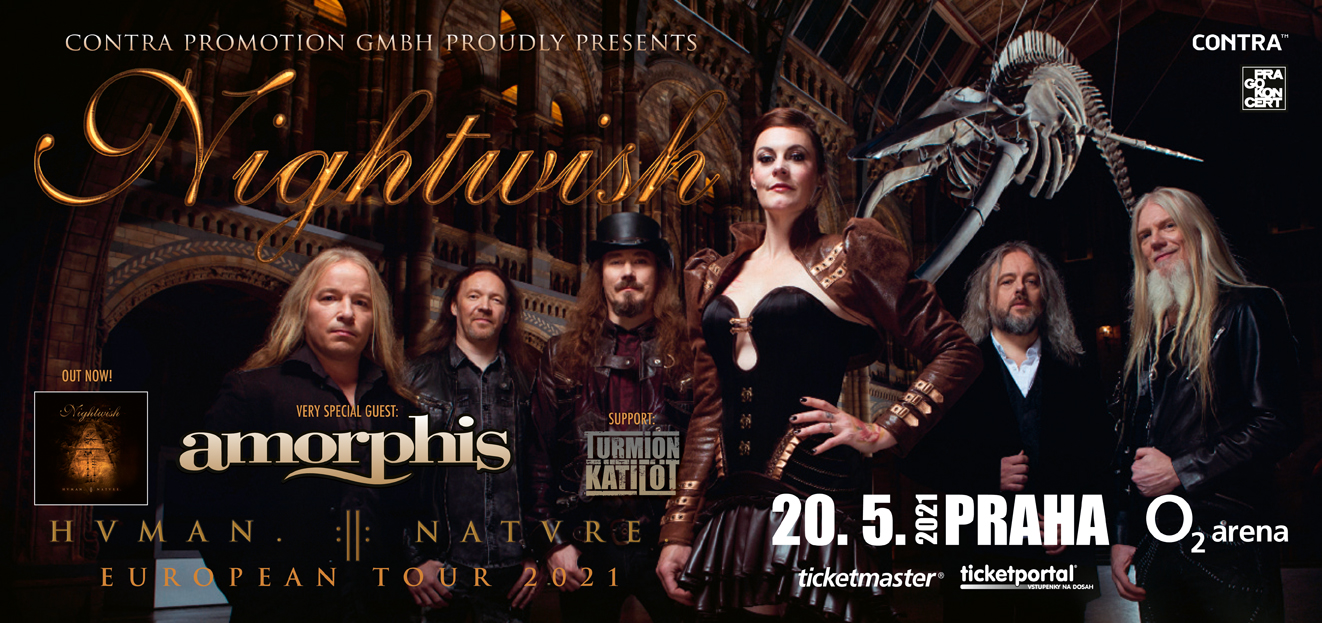 The insidious global coronavirus pandemic and different government regulations around the world are radically changing this year's concert calendar! Now we have to erase another big, highly anticipated concert, which was planned to take place on December 6th, 2020 in PRAGUE, O2 arena! Yes, the concert of the European tour for the new record, of the Finnish symphonic-metal gigants NIGHTWISH, is rescheduled to the spring 2021! The new date of the concert is confirmed! 
NIGHTWISH will play in PRAGUE, O2 arena on May 20th, 2021!
Tuomas Holopainen comments: "During these most peculiar and challenging times we`ve been forced to reschedule our shows, and that`s now also the case with the European leg of the Human :II: Nature World tour. Please check the new dates. This is a most unfortunate, but necessary move in order ensure everyone`s safety and make the best out of this bizarreness that all of you and us are going through. It`s not for forever, though, and The Caravan will soon be on the move again.
Until then, take care of each other & see you all in the spring of 2021!"
NIGHTWISH precedes the reputation of one of the best concert metal bands in the world, so it's definitely worth to wait for their spectacular show! At least you will be able to listen more to their latest, very successful album "HUMAN.:||:NATURE". and then you can maybe sing with them live! NIGHTWISH, in a unique stage design, with a bunch of pyro effects and a long-delayed desire to present its latest musical gems to its fans, it will be undoubtedly a perfect, grandiose musical experience! The special guests of the tour have been preserved, so you can continue to look forward to the Finnish melancholic-progressive metal legend AMORPHIS, who will present their current, very highly rated album "Queen Of Time". Accordinig to the plan, the concert night will start with the Finnish industrial metal band TURMION KÄTILÖT, presenting this year's new album "Global Warning".
What to add? There is much to look forward to! Do not miss this unusual music event, it will be smashing!
Already purchased concert tickets remain valid for a new date and it is not necessary to exchange them in any way!
You can also continue to order tickets, exclusively in the Ticketmaster and Ticketportal networks.
THE OFFICIAL SELLERS OF TICKETS FOR EVENTS AT THE O2 ARENA ARE TICKETMASTER AND TICKETPORTAL. WE DO NOT WARRANT THE VALIDITY OF TICKETS PURCHASED FROM OTHER SELLERS.