Blesk celebrates, celebrate with us and with Michal David or Monika Absolonová
april 27, 2022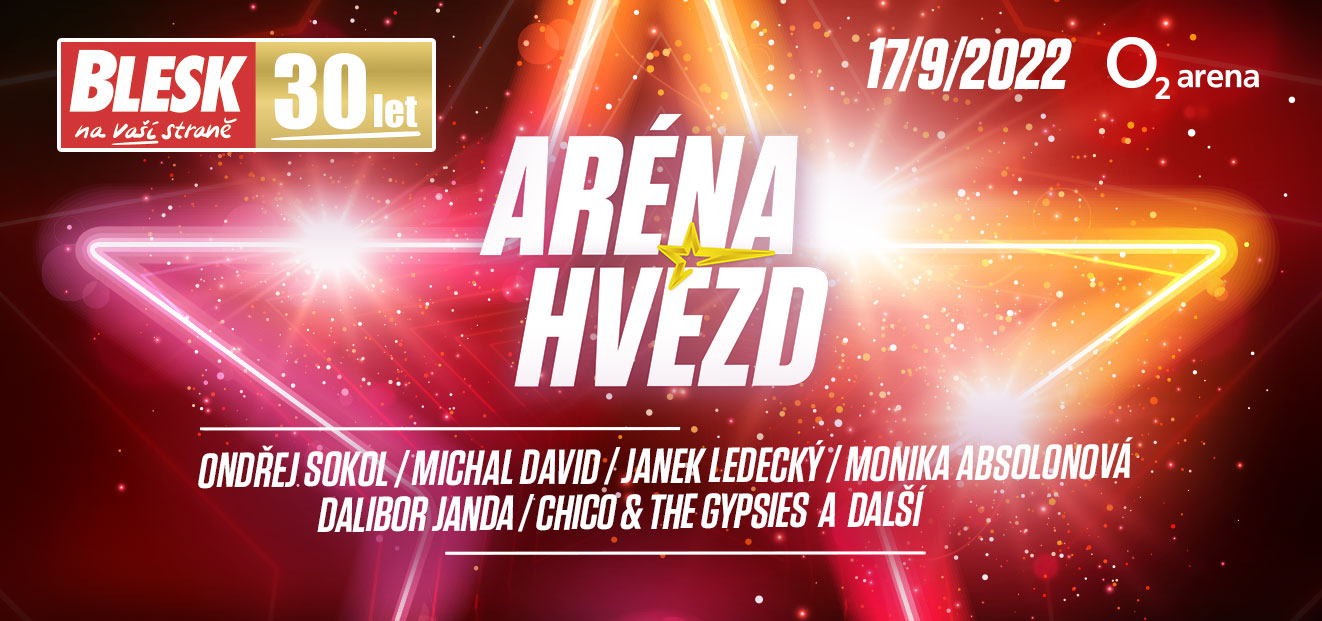 The magnificent celebration of the jubilee of the most widely read Czech daily will start on September 17 at Prague's O2 Arena. You must not miss it! Get your ticket on time. They will disappear quickly. The Arena of the Stars is called the gala evening, which is organized by the daily BLESK on the occasion of its 30th birthday. And you can transfer to the company of star bands, singers and your favorite celebrities for three hours.
The Prague O2 arena will be filled for you with personalities from the Czech and international music scene, and you will be able to enjoy your favorite hits. For example, hitmaker Michal David, popular singer Monika Absolonová, the ageless legend of Czechoslovak pop Dalibor Janda, who will perform with the band Prototyp and Jiřina Anna Jandová, the great 4 Tenoři or the Slovak Kandráčovci will perform.
You can look forward to the true highlight of Chico & The Gypsies evening! These members of the original Gipsy Kings will bring you to a boil with their Baila me, Volare and many others.
The evening will be accompanied by moderator Ondřej Sokol, whom you know, for example, from the popular series Ninadesátka or the show Your Face Has a Famous Voice.
You will receive a Premium Plus for each ticket for three months for CZK 1!
What is Premium Plus?
The best of nine sites. Premium content for the whole family! For one price you can enjoy premium content from
• Reflex.cz
• Blesk.cz
• iSport.cz
• Auto.cz
• Živě.cz
• E15.cz
• Maminka.cz
• and Flash for women
In addition, you will be able to enjoy unlimited reading of all titles on iKiosek.cz (except audio books and books). More titles will be added.
THE OFFICIAL SELLERS OF TICKETS FOR EVENTS AT THE O2 ARENA ARE TICKETMASTER AND TICKETPORTAL. WE DO NOT WARRANT THE VALIDITY OF TICKETS PURCHASED FROM OTHER SELLERS.