Christmas OKTAGON 38 KINCL vs. VÉMOLA 2: The ultimate battle to crown the real middleweight king!
december 3, 2022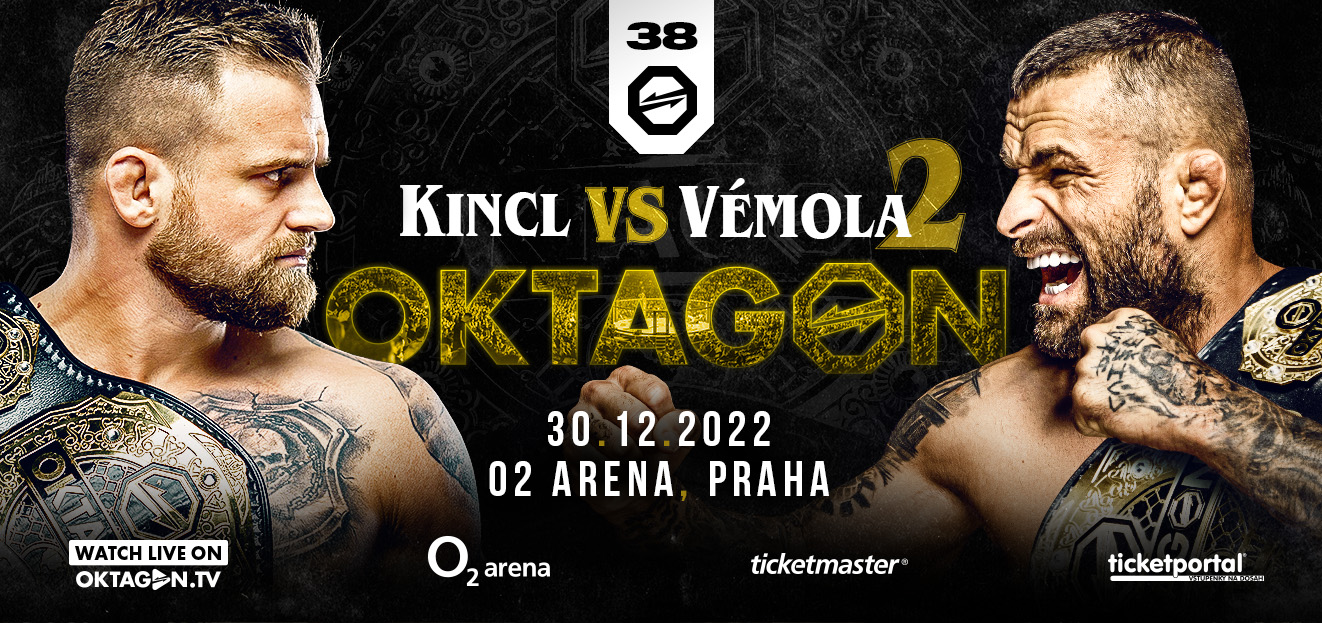 Christmas OKTAGON 38 KINCL vs. VÉMOLA 2: The ultimate battle to crown the real middleweight king!
You've been waiting 4 long years for this SHOWDOWN… The rematch of the rematch, and the most anticipated duel on the home stage for the title belt of the OKTAGON champion is finally here! All will be decided at the O2 arena on 30/12 during the tournament of the year, OKTAGON 38, where the title fight between Mågård and Macek will also take place!
Champion versus champion, and a monumental rivalry like no other on the stage! Two MMA giants at the top, with two incredible stories, will go head-to-head to determine only one winner!
4 years ago, Vémola was happy to win on points. However, Kincl has made unbelievable progress during the interim, and came to OKTAGON for 2 reasons – to win the championship belt, and to get "Terminator" in the cage! A battle that is sure to go down in MMA history!
And not only that! There will be one more title rematch in the O2 arena – Mågård.vs. Macek. Will we witness the confident Danish shark dominate, or will Macek take advantage of his 3rd title opportunity and overcome not only Mågård, but also the psychological pressure of the most important fight of his career?
You will see other brilliant MMA stars of today – KO striker Pěňáz, the great Matouš Kohout vs. Jan Malach, the popular Juráček vs. Lohoré, and finally, after a 9 month absence, you will welcome back to the cage the Brazilian executioner, Rafael Xavier, whose story captured everyone's heart,
The last tournament of the season and without a doubt the most exciting one to conclude with! It will be accompanied by a stunning audio-visual show in the O2 arena, delivering one of the most powerful experiences of 2022!
Tickets are going fast!
Tickets for this unforgettable experience will make the perfect gift for Christmas and are on sale now!
THE OFFICIAL SELLERS OF TICKETS FOR EVENTS AT THE O2 ARENA ARE TICKETMASTER AND TICKETPORTAL. WE DO NOT WARRANT THE VALIDITY OF TICKETS PURCHASED FROM OTHER SELLERS.