Cilic Faces the Unknown in Laver Cup Opener
september 21, 2017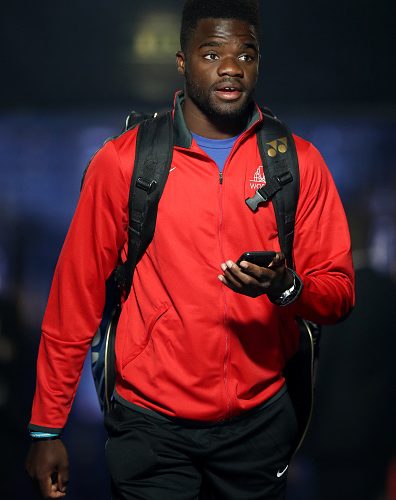 Team Europe's Marin Cilic and Team World's Frances Tiafoe have never contested a match on tour – and just like the Laver Cup itself, it's an occasion that will be intriguing.
World No.5 Cilic is the far more experienced competitor, his 2014 US Open title and run to the 2017 Wimbledon final, underlining his credentials.
But Tiafoe, still just 19 years old and ranked world No.72, will be unafraid of the high-stakes setting. The American recently demonstrated his ability to embrace the big stage as he pushed 19-time Grand Slam champion Roger Federer to five hard-fought sets in the first round of the US Open.
"Since I was a little kid. I always dreamed of being on center court, playing the best in the world. (It) finally happened so I was ready for it," Tiafoe said after that meeting with Federer. "I was really excited for it. I was going to give my best stuff no matter what, and that's what I did."
Team World captain John McEnroe believes that rising star Tiafoe will launch the Laver Cup with an abundance of spirit. "I think he's got great energy," said McEnroe. "He's making big improvements."
Tiafoe will arguably need that energy to counteract Cilic's trademark serve and improving consistency. Prior to his run to the recent Wimbledon final, the Team Europe competitor was also a quarterfinalist at the French Open, ensuring Cilic has now reached at least that stage of every Grand Slam.
Match Two at the Laver Cup, in which Team Europe's Dominic Thiem meets Team World's John Isner, is another fascinating contest between a fast-rising star and big server.
The pair is locked at one match apiece in their head-to-head battles, with both of those matches almost two years ago. The Austrian claimed a win over Isner en route to winning his first career title at Nice in 2015; Isner gained his revenge as he outclassed his younger opponent on the hard courts of Beijing several months later.
Much has changed since then, Thiem is now a two-time French Open semifinalist and the winner of eight career titles. The 24-year-old currently sits at world No.7 – a career peak he first achieved in June 2016 and from which he has rarely wavered.
Isner sits at world No.17, the 32-year-old American's confidence helped by the two tournament wins he's collected in 2017, boosting his title count to 12 in total.
Their contrasting styles will make for a thoroughly entertaining match-up. The showpiece of Thiem's fluid game is his stunning single-handed backhand while Isner, with more than 9000 aces served in his career so far, will unquestionably rely on his serving power.
The unique format of the Laver Cup adds to a compelling lack of predictability. One certainty, however, is how the competitors will embrace the occasion.
"It's just got a nice ring to it, the Laver Cup," said Isner. "We don't know what it's going to be like until we get out there but we can say for certain that we're all going to be fired up and wanting to win.
"There's a lot on the line. It's also the first time that this event has happened, so all of us have a great honour to go out there and put on a good show."