Cirque du Soleil's arena touring show inspired by AVATAR.
june 11, 2018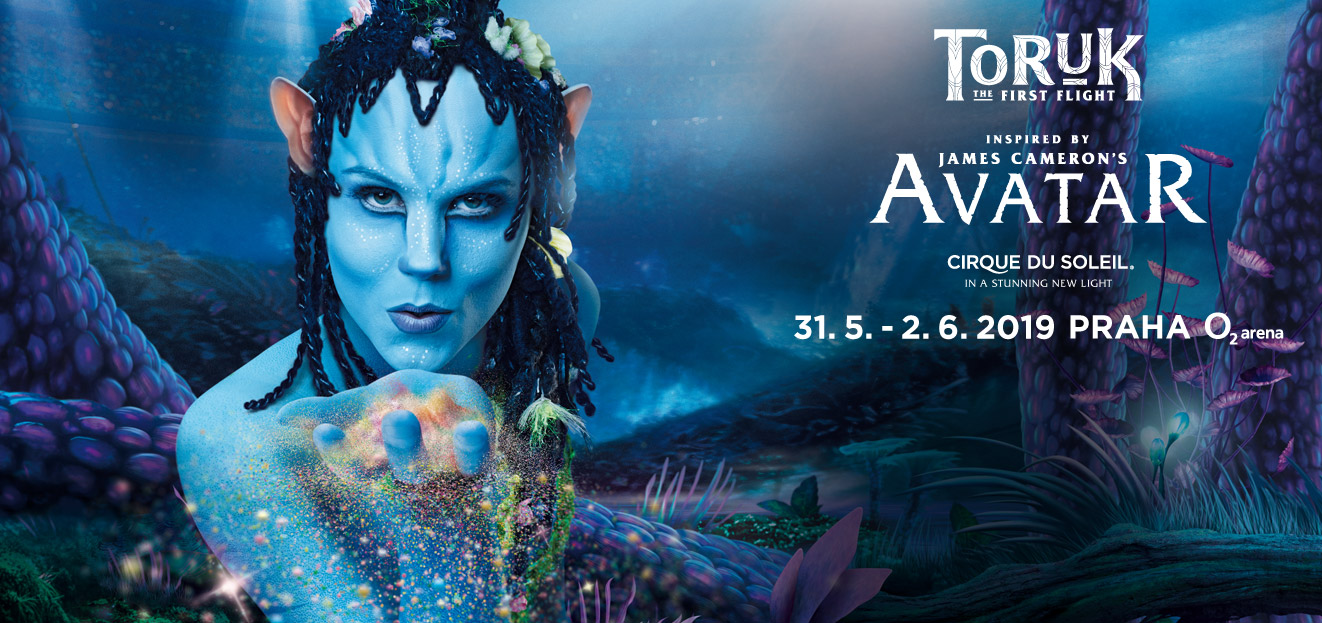 TORUK – The First Flight written and directed by Michel Lemieux and Victor Pilon will be presented at O2 arena in Prague. Public on-sale starting June 15th 2018.
Prague, June 11, 2018 –Inspired by James Cameron's record-breaking movie AVATAR, Cirque du Soleil's touring show TORUK – The First Flightwill be presented at O2 arena from May 31st2019, as part of a global tour in arenas around the world.
The show
Inspired by James Cameron's AVATAR,TORUK – The First Flighttransports you to the world of Pandora in a visually stunning live setting. Experience a storytelling odyssey through a new world of imagination, discovery, and possibility.
Through a riveting fusion of cutting-edge visuals, puppetry and stagecraft buoyed by a soaring cinematic score, Cirque du Soleil applies its unique signature style to James Cameron's imaginary world and "makes the bond" between two kindred artistic visions that capture the imagination.
This live immersive experience also bears the distinct signature of directors and multimedia innovators Michel Lemieux and Victor Pilon. It is a living ode to the Na'vi's symbiotic coexistence with nature and their belief in the basic interconnectedness of all living things.
Narrated by a "Na'vi Storyteller" and populated by unforgettable characters, TORUK – The First Flightis a mythical tale set thousands of years before the events depicted in the film AVATAR, and before any humans ever set foot on Pandora.
When a natural catastrophe threatens to destroy the sacred Tree of Souls, Ralu and Entu, two Omatikaya boys on the brink of adulthood, fearlessly decide to take matters into their own hands. Upon learning that Toruk can help them save the Tree of Souls, they set out, together with their newfound
friend Tsyal, on a quest high up in the Floating Mountains to find the mighty red and orange predator that rules the Pandoran sky. Prophecy is fulfilled when a pure soul rises among the clans to ride Toruk for the first time and save the Na'vi from a terrible fate.
Creative team
TORUK – The First Flightcomprises 13 creators under the artistic guidance of Guy Laliberté (Guide) andJean-François Bouchard (Creative Guide) for Cirque du Soleil, and James Cameron, Jon Landau, Kathy Franklin and Richie Baneham for Lightstorm Entertainment:
Michel Lemieux and Victor Pilon – Show Writers and Directors, Multimedia Directors
Neilson Vignola – Director of Creation
Carl Fillion – Set and Props Designer
Kym Barrett – Costume and Makeup Designer
Tuan Le and Tan Loc – Choreographers
Bob & Bill – Composers and Musical Directors
Jacques Boucher – Sound Designer
Alain Lortie – Lighting Designer
Patrick Martel – Puppet Designer
Germain Guillemot – Acrobatic Performance Designer
Pierre Masse – Rigging and Acrobatic Equipment Designer
Ticket information
TORUK – The First Flightwill be presented at O2 arena from May 31st2019. Tickets for those performances will be on pre-sale for Cirque Club members beginning today, June 11. Public on-sale will start June 15th2018 10:00a.m. Tickets can be purchased at https://www.cirquedusoleil.com/torukand www.Ticketportal.cz
TORUK – The First FlightApp
In an effort to bring audience members involvement to a whole new level, Cirque du Soleil launched a first-of-its-kind app for TORUK – The First Flight. Working with long-time technology partner SAP, the app enhances the overall show experience and enables audience members to be a part of the actionbefore, during and after the performance! Click here to download the app : https://itunes.apple.com/us/app/toruk-the-first-flight/id1060239115?mt=8
Follow us at www.facebook.com/torukthefirstflight, Twitter @cirque | Instagram @cirquedusoleil | Snapchat @CirqueSnap | #TORUK #Avatar #CirqueduSoleil
Cirque du Soleil
TORUK – The First Flightis Cirque du Soleil's 37thproduction since 1984. The company has brought wonder and delight to more than 190 million spectators in more than 450 cities on six continents. Cirque du Soleil has over 4,000 employees, including 1,300 performing artists from over 50 different countries.
For more information about Cirque du Soleil, visit https://www.cirquedusoleil.com.
To find out more about the ONE DROP Foundation, visit https://www.onedrop.org