"Devil's Violinist" DAVID GARRETT goes to Prague for his first crossover show
november 16, 2018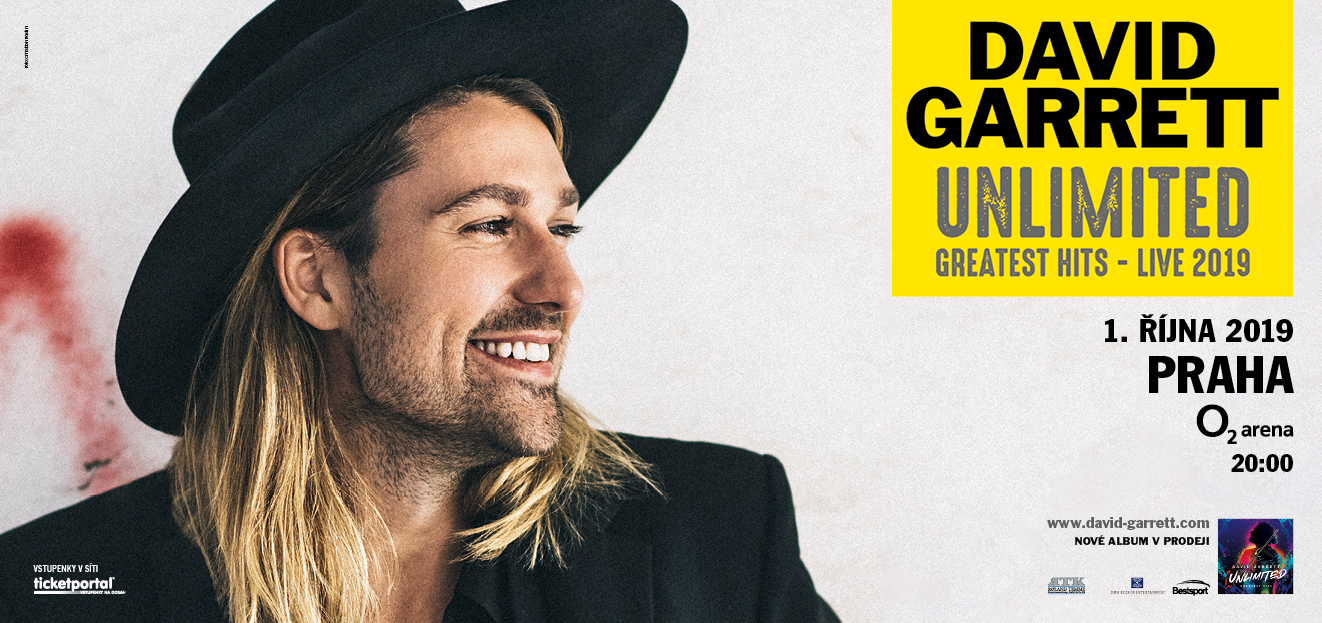 With "UNLIMITED – GREATEST HITS – LIVE" DAVID GARRETT announces a new world tour to celebrate his 10 year crossover anniversary with his fans. Answering the calls of his ever growing fan base in the Czech Republic, he will take his spectacular crossover program to Prague on 1st October 2019 for the first time ever!
David Garrett has recorded eleven albums since 2007 (17 altogether), the latest one "UNLIMITED GREATEST HITS" is on sale now. One decade on stage with his crossover music needs to be celebrated and the World Tour "UNLIMITED GREATEST HITS – LIVE" is the right answer. David Garrett is well known to Czech audience from his appearance as a special guest at a classical concert with the Czech Philharmonic in 2015.
However on his first crossover show in Prague in October 2019 he will be in the lead. David has succeeded not only in creating a completely new audience for crossover, but also for classical music. His intoxicating renditions of rock hits such as "Purple Rain" or "Smells Like Teen Spirit", his hauntingly beautiful versions of anthems like "Nothing Else Matters" or "November Rain", and his new spin on world-famous pop hits like "Viva la vida" or "Hey Jude" as well as his arrangements of core classical tunes such as Beethoven's "5th" or Debussy's "Clair de Lune" provide for positively ecstatic crowds frequently rising to their feet, clapping wildly and spontaneously dancing.
"I tremendously look forward to the 'UNLIMITED – GREATEST HITS – LIVE' tour 2019, and, more than ever, I want to take my fans on an exciting musical journey", says DAVID GARRETT." Together with my band, my friends and fans, I want to celebrate music and the past ten years," says David Garrett, a Paganini among pop stars and a Jimi Hendrix among violinists.
David Garrett is the "Devil's Violinist" of our age, an international superstar who blurs the lines between Mozart and Metallica. Praised for pioneering the modern crossover trend as well as his exceptionally virtuous playing, David is equally at home at performing the most intricate classical compositions with the world's leading conductors and orchestras as well as the most crowd pleasing stadium rock hits. Admired by millions of fans around the world, DAVID GARRETT has sold millions of tickets so far and earned 24 gold and 16 platinum awards in places as diverse as Hong Kong, Germany, Mexico, Taiwan, Brazil, Singapore, and many others. He combines rock star charisma with the kind of virtuosity innate only to the best instrumentalists of our time.
Tickets for the "UNLIMITED – GREATEST HITS – LIVE" tour in Prague will go on sale on 16thNovember 2018 at 1 pm via www.ticketportal.cz.