Eva Urbanová – GRANDE FINALE: A unique cross-genre concert directed by Michal Caban in the O2 arena
october 13, 2023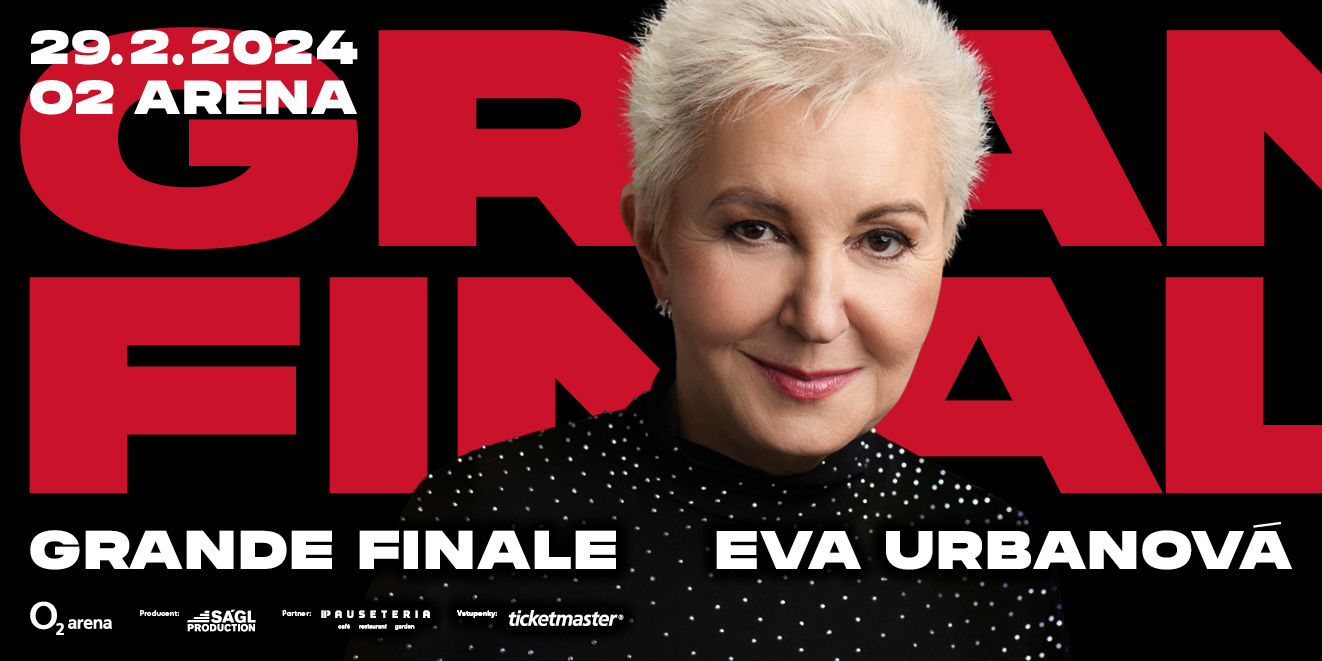 A UNIQUE CROSS-GENRE CONCERT stage directed by MICHAEL CABAN, musically staged by MARTIN KUMŽÁK and JIŘÍ ŠKORPÍK, accompanied by the EPOQUE SYMPHONY ORCHESTRA. EXCEPTIONAL SINGER – EXCEPTIONAL DATE – EXCEPTIONAL CONCERT
Eva Urbanová and guests
The Epoque Symphony Orchestra is conducted by Martin Kumžák
Musical staging: Jiří Škorpík and Martin Kumžák
Director: Michal Caban
Producer: Tomáš Ságl
Thanks to her fascinating stage expression and voice, Eva Urbanová became the first lady of the Czech opera scene. For more than thirty years, he has been one of the biggest stars of the Prague National Theater and has received standing ovations abroad. In 2003, she was appointed Knight of the Order of Arts and Letters of France. She shone in the world's most famous opera houses – New York's Metropolitan Opera, London's Royal Opera House in Covent Garden, Milan's La Scala. With her exceptional soprano, she charmed audiences in New York's Carnegie Hall, Paris, San Francisco, Toronto, Montreal, Vienna, Berlin and Los Angeles. There she met the famous Spanish tenor Plácido Domingo, who invited Eva Urbanová to his concert in Prague's O2 Arena in 2012.
Eva's collaboration with Karl Gott was extremely successful. They completed two hopelessly sold-out tours in Bohemia, Moravia and Slovakia, as well as a concert in the Tchaikovsky Hall in Moscow. Eva Urbanová presented herself as an opera diva with the heart of a rocker not only at joint concerts with Karl Gott.
She loves and sings songs by his favorite band Queen whenever possible. And also songs from the repertoire of the Finnish symphonic-metal band Nightwish. She also popularly presents songs from the repertoire of the American singer Jennifer Rush, the Italian tenor Andrea Bocelli, the Greek keyboard magician Vangelis or the international male quartet Il divo at his concerts.
Opera and popular music, two completely different worlds, two loves of Eva Urbanová. Opera compositions as well as songs from the world of pop, rock and musicals will be performed by Eva Urbanová at her unique narrative concert GRANDE FINALE in Prague's O2 arena.
She will be accompanied by the Epoque Symphony Orchestra under the baton of Martin Kumžák, who together with Jiří Škorpík will take care of imaginative and revealing arrangements of all the arias and songs that Eva Urbanová will sing with her guests. The scenography will be created by director Michal Caban, whose name guarantees that it will be an original, unique and epic show. The O2 arena has never experienced such a genre-bending concert.
THE OFFICIAL SELLERS OF TICKETS FOR EVENTS AT THE O2 ARENA ARE TICKETMASTER AND TICKETPORTAL. WE DO NOT WARRANT THE VALIDITY OF TICKETS PURCHASED FROM OTHER SELLERS.