The O2 arena emphasises the work "fast" more than anywhere else. We understand your needs and know that, for instance, during an 18-minute break between periods at a hockey match, you want to use the bathroom, buy something to eat and consume your meal in peace. That is why we have set up strict time limits for customer service speed. The number of open stands and attending staff is modified according to the expected attendance to make your waiting time for being served was as short as possible. Another tool for fast service is a unique central draft beer system described in a greater detail here.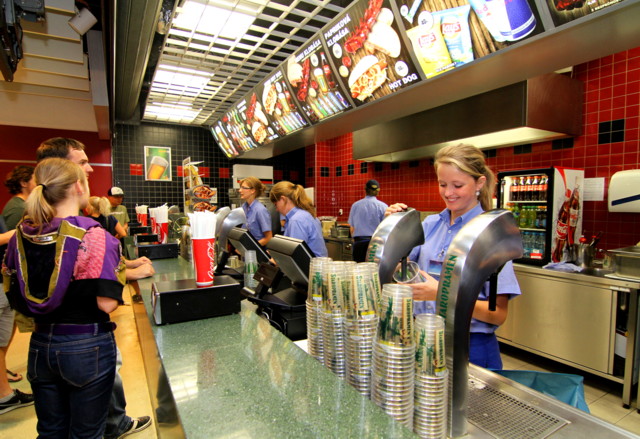 The quality of ingredients is the basis of good meal. Because we operate the fast food services, we have an absolute control over the selection and deliveries of all the ingredients and goods. Products which are to be sold on the stands are selected from quality and reliable suppliers, just as if were selecting them for ourselves. In the O2 Arena you can get a good sausage made of meat, chicken nuggets made exclusively from chicken breasts or sandwiches and salads made in our kitchen on the day you buy them – therefore absolutely fresh. And we stand behind this principle!
26 fast food stands
Spectators in the O2 arena can make use of 26 fast food stands located on the two public floors (1st Floor and 4th Floor). They are named according to the type of meals they offer.
SANDWICH offers home made sandwiches and salads,
CHICKEN LAND fried chicken specialities,
PIZZA LAND various types of pizza,
HOT DOG grilled sausages and hot dogs.
During concerts and some cultural events, wine, sect and several mixed drinks, e.g., the popular Cuba Libre, are available.
Beverages are sold without bottle tops
All beverages are sold open and those packaged in PET bottles (e.g., Coca-Cola) are sold without the top. This safety measure protects both performers and, most importantly, visitors. A closed 1/2 kg bottle or can thrown out of the 4th Floor situated 30 m on top of the stage area, can be dangerous.