Hans Zimmer's concert was postponed to the new date on April 20, 2022
january 31, 2022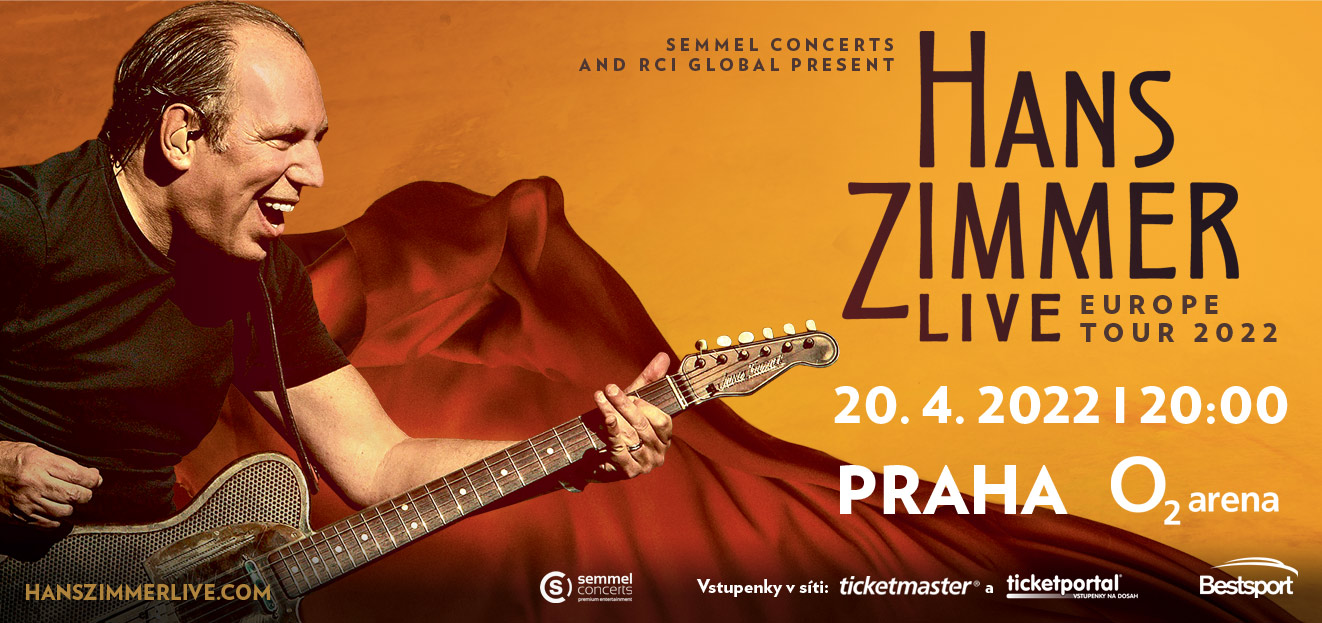 The first large-scale arena tour in Europe since the start of the pandemic, featuring 130 band and crew members including Hans Zimmer and his band is about to begin. Due to the large number of different regulations across Europe, the upcoming Hans Zimmer Live dates originally scheduled for February and the start of March 2022 will now take place in April 2022 with all tickets remaining valid for new dates. Any fans seeking additional information regarding tickets should speak to their ticket provider.
We strongly advise all fans attending the Hans Zimmer Live tour to check with their venue prior to arriving to ensure that they can safely follow the protocols for that city/country, which you can do so at hanszimmerlive.com and here.
Dieter Semmelmann, CEO Semmel Concerts Entertainment GmbH: "At RCI Global and Semmel Concerts we are fully aware that the upcoming Hans Zimmer Live – European Tour 2022 is a logistical challenge that we want to face very consciously. We kindly ask all fans attending the tour for their understanding, and that the current circumstances may result in changes within the new planned tour dates. It is our plan to implement the tour in all scheduled countries and cities – possibly with restrictions. We will inform all our fans step by step on www.hanszimmerlive.com
About Hans Zimmer:
HANS ZIMMER has scored more than 200 projects across all mediums, which, combined, have grossed more than 28 billion dollars at the worldwide box office and earned him an Academy Award®, three Golden Globes®, three Grammys®, an American Music Award and a Tony® Award. Zimmer's work highlights over the past few years include WIDOWS, which reteamed the composer with director Steve McQueen after previously working together on the critically acclaimed 12 YEARS A SLAVE; BLADE RUNNER 2049 which he co-scored alongside Benjamin Wallfisch and earned Grammy, BAFTA and Critics' Choice nominations for Best Score; and Christopher Nolan's DUNKIRK which earned him nominations for an Academy Award, Grammy Award, Golden Globe, BAFTA Award, and Critics' Choice Award.  Other notable scores of Zimmer's include GLADIATOR, THE THIN RED LINE, AS GOOD AS IT GETS, RAIN MAN, THE DARK KNIGHT trilogy, INCEPTION, THELMA AND LOUISE, BLACK HAWK DOWN and THE LAST SAMURRAI. Zimmer's 2021 films included the James Bond film NO TIME TO DIE and Denis Villeneuve's DUNE, the latter of which earned him significant praise and multiple recognitions including receiving his third Golden Globe Award, Grammy Award and Critics Choice Award nominations, as well as other critics circles across the globe, and his scores for both DUNE and NTTD were included among BAFTA's long list. Composing the score for Dune was a lifelong dream for Hans. When it came time to make that dream a reality, he spent months creating new instruments, defining, creating, and seeking new sounds, pushing the envelope. Based on mainly female voices, the masterful score elevates the soul and is completely immersive. In addition to the film score, there were three separate album releases of music from and in celebration of Dune starting September 3 – The Dune Sketchbook (Music from the Soundtrack), Dune (Original Motion Picture Soundtrack) and The Art and Soul of Dune. His upcoming releases include the highly anticipated TOP GUN: MAVERICK. Zimmer has completed highly successful tour stops for his HANS ZIMMER LIVE concert all around the world and will continue to perform in an upcoming new European tour in 2022.
About Semmel Concerts
Semmel Concerts Entertainment GmbH is one of the leading event organizers in Europe and ranked 4th in the POLLSTAR ranking in the category "Top 100 Worldwide Promoters" in 2018 and 2019. Since the start of its cooperation with CTS Eventim AG in 2000, the company has occupied a leading national and international position in live entertainment together with Europe's largest ticket service provider. Semmel Concerts employs approx. 150 people in 8 different cities of Germany. Semmel Concerts also holds interests in Promoters Group Munich, Show Factory Entertainment GmbH in Vienna and Bregenz as well as Arena Berlin Betriebs GmbH. In addition to the Semmel Concerts Premium Entertainment division, SC Exhibitions and Semmel Concerts Corporate Events complete the corporate structure. The managing partner of the company is Dieter Semmelmann. With a national and international spectrum of topics as well as various in-house productions, more than 1,500 events with more than 5 million visitors are recorded every year. Semmel Concerts GmbH has already received many Live Entertainment Awards (LEA), including the "Organiser of the Year" award.
About RCI
RCI Global, founded by Steven Kofsky and Hans Zimmer and based in Santa Monica, focuses on live entertainment and special projects. RCI Global co-produced the previous Hans Zimmer Live shows.
Hans Zimmer Live
European Tour 2022
March 11          Hamburg          Barclays Arena
March 13          Stuttgart           Hanns-Martin-Schleyer-Halle
March 15          Cologne           LANXESS arena
March 20          Dublin              3Arena
March 22          London             The O2
March 23          London             The O2
March 24          Manchester      Manchester Arena
March 26          Oberhausen     Rudolf-Weber-ARENA
March 27          Amsterdam       Ziggo Dome
March 28          Amsterdam       Ziggo Dome
March 30          Milano              Mediolanum Forum
March 31          Bologna            Unipol Arena
April 2              Zurich              Hallenstadion Zurich
April 3              Zurich              Hallenstadion Zurich
April 5              Paris                Accor Arena
April 6              Paris                Accor Arena
April 7              Paris                Accor Arena
April 9              Munich             Olympiahalle Munich
April 11             Budapest          Papp Laszio Sportarena (postponed from March, 3rd 2022)
April 12            Vienna             Wiener Stadthalle – Halle D
April 14             Lodz                 Atlas Arena (postponed from March, 8th 2022)
April 19             Berlin               Mercedes-Benz Arena (postponed from Feb., 15th 2022)
April 20             Prague             O2 Arena (postponed from Feb 13th 2022)
April 21             Krakow             Tauron Arena Krakow (postponed from March, 7th 2022)
April 23             Mannheim        SAP ARENA (postponed from Feb., 24th 2022)
April 24             Antwerp            Sportpalais Antwerp (postponed from Feb., 23rd 2022)
April 27             Copenhagen     Royal Arena (postponed from March , 10th 2022)
April 29             Oslo                 Telenor Arena (postponed from Feb., 18th 2022)
April 30             Stockholm        Avici Arena (postponed from Feb., 20th 2022)