Hauser announces his first indoor tour "Rebel with a Cello". Magnificent. Romantic. Rebel
may 23, 2023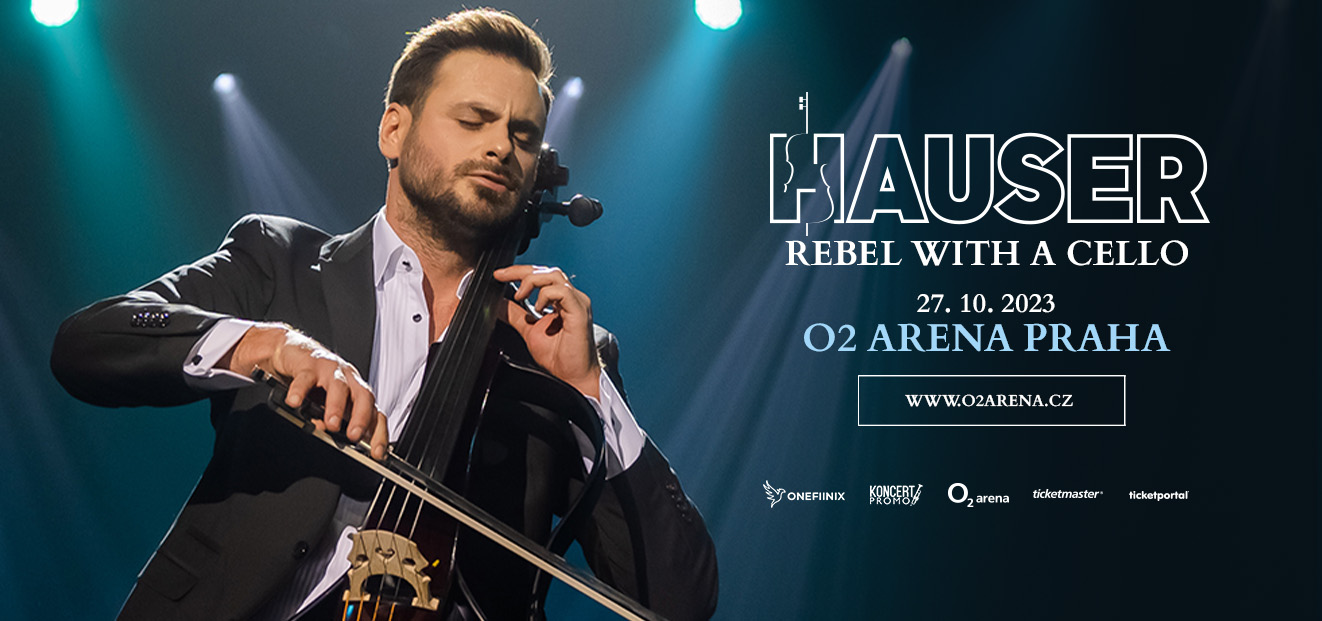 Within a few weeks, HAUSER sold out his first solo concert in Prague, announced for 17/12/2022, so he prepared an even bigger and more engaging show for his fans. The new date of the HAUSER concert is 27 October 2023, now in the prestigious O2 arena in Prague. The hard-hitting instrumentalist and founding member of 2Cellos, known simply as HAUSER, announces his first-ever solo (and long-awaited) world tour, 'Rebel with a Cello'.
Armed with the energy and success of 2Cellos' last and final sold-out tour, this cutting-edge cellist and visual artist delivers the ultimate musical spectacle – his signature show, featuring romantic and soulful sound, Hauser's inimitable playing style and pyrotechnics.
The event is moving from the FORTUNA Sports Hall. Purchased area tickets remain valid, other seat ticket holders will receive replacement tickets to the O2 arena.
A musical rascal and a romantic – this is how Hauser is known to his fans, primarily through breathtaking videos such as the extremely popular "Beach Party" or the dreamy visual concept of "Alone Together". HAUSER's first tour "Rebel with a Cello" presents the third act of rock and rhythm retro, which permeates the modern world famous dance tracks from his new solo album "The Player".
Dance with him and succumb to his captivating charm. HAUSER, LIVE. REBEL WITH A CELLO. Worldwide tour.
HAUSER's success extends far beyond his many millions of followers on YouTube, Facebook and Instagram, where he has a devoted international fan base that is constantly growing. It also has billions of audio streams and video views across social media platforms. The Croatian cellist is a phenomenon who is both a virtuoso and an irresistible and animal performer. For HAUSER fans, it may simply be his ability to unite generations of music lovers.
VIP 1 Meet&Greet (25,000,-) – entire first row on the floor
• Meeting with the artist with exclusive photos and video material for each guest
• 1x ticket in the best place right by the stage
• A welcome to all M&G participants from Hauser and a chance for a short conversation
• A gift box from Hauser, which includes: a collection of Hauser's recordings, special and touring commemorative items
• Souvenir to remember
• Signed photo from a limited edition
• Limited edition program
• Presence of coordinator – representative of the organizer, hostess
• Entry is allowed from entrance No.2 from 6:00 PM
VIP 2 (6,250,-) – the entire second row on the desktop
• 1x ticket directly at the podium
• A souvenir to remember
• Photo from the limited edition
• Limited edition of the program
• The presence of the coordinator – representative of the organizer, hostess
• Entry is possible through entrance No. 2 from 6:00 p.m
THE OFFICIAL SELLERS OF TICKETS FOR EVENTS AT THE O2 ARENA ARE TICKETMASTER AND TICKETPORTAL. WE DO NOT WARRANT THE VALIDITY OF TICKETS PURCHASED FROM OTHER SELLERS.