His son Ennio Morricone pays homage to his father together with ČNSO on the world tour "Ennio Morricone – The Official Concert Celebration"
february 21, 2022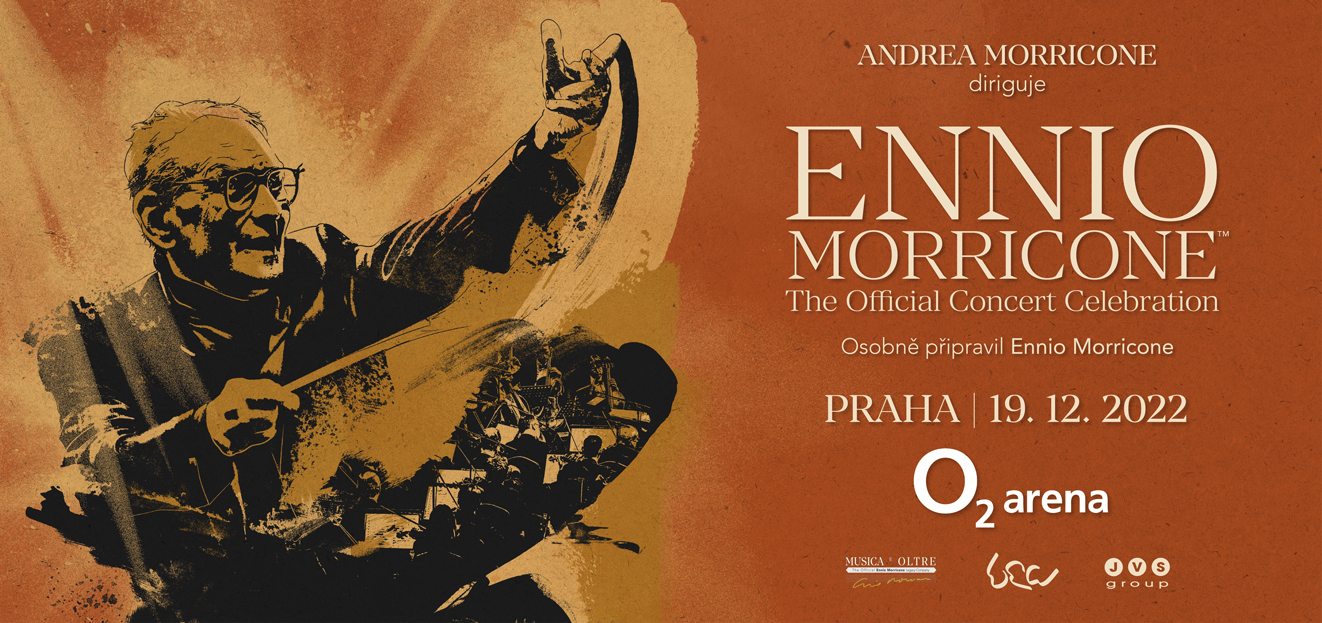 ENNIO MORRICONE – THE OFFICIAL CONCERT CELEBRATION will be a spectacular music event curated by Ennio Morricone himself. It will take place in Prague on 19.12. 2022 in the O2 arena and his son Andrea Morricone will take over the baton. The program will include iconic film melodies as well as unpublished footage of Maestro and his famous collaborators.
Finally, it's time to celebrate the world's greatest film composer with a new ENNIO MORRICONE – THE OFFICIAL CONCERT CELEBRATION concert tour. Maestro Ennio Morricone himself began working in 2019 on a new concert production, which was to replace him on world stages. After more than a year of work and preparations, Maestro Morricone, as a curator, completed the entire large concert program. According to his wishes, the brand new concert will also include iconic scenes from the most famous films, lighting effects, and soloists with whom Maestro Morricone has collaborated for many years will perform on stage together with a symphony orchestra and a large choir. His son, Andrea Morricone, will take over the baton.
July 6, 2020 Ennio Morricone left us at the age of 91. The big ENNIO MORRICONE - THE OFFICIAL CONCERT CELEBRATION concert tour will pay homage to the Maestro in many European and non-European capitals. The program will be complemented by a large-screen projection, where in addition to well-known film scenes, viewers will also see previously unpublished shots of the legendary composer at work, including interesting interviews.
Ennio Morricone has composed music for more than 500 films and television productions. He has also composed over 100 individual musical works. The new concert program will include the most famous songs from the films Bio Paradise, Then in America, Good and Ugly, Incorruptible and Missions.
"It will be a bittersweet experience, because of course I miss my father very much. But having the opportunity to honor him by conducting a large symphony orchestra and choir playing his phenomenal music is a great and deeply emotional opportunity to meet and celebrate with his fans around the world," comments Andrea Morricone.
Andrea Morricone is an acclaimed composer and conductor who has worked closely with his father for many years. He and his father won a BAFTA award for "The Love Theme" from the film Bio Paradise, which he composed. In addition to film music, Andrea Morricone conducts and composes a wide variety of music across genres. Among his most recent works is the theme for World Expo 2015 "La Forza Del Sorriso", sung by Andrea Bocelli.
Under the baton of Andrea Morricone, the Czech National Symphony Orchestra, a large choir and world soloists will perform at the O2 arena on 19 December 2022 as part of ENNIO MORRICONE – THE OFFICIAL CONCERT CELEBRATION. Together with the Czech audience, which Maestro Ennia Morricone has loved for many years, they pay tribute to the world composer and at the same time enjoy a wonderful musical and cinematic experience.
THE OFFICIAL SELLERS OF TICKETS FOR EVENTS AT THE O2 ARENA ARE TICKETMASTER AND TICKETPORTAL. WE DO NOT WARRANT THE VALIDITY OF TICKETS PURCHASED FROM OTHER SELLERS.