Ivan Mládek and the Banjo Band for the first time at the Czech Party with Impuls 2022
may 30, 2022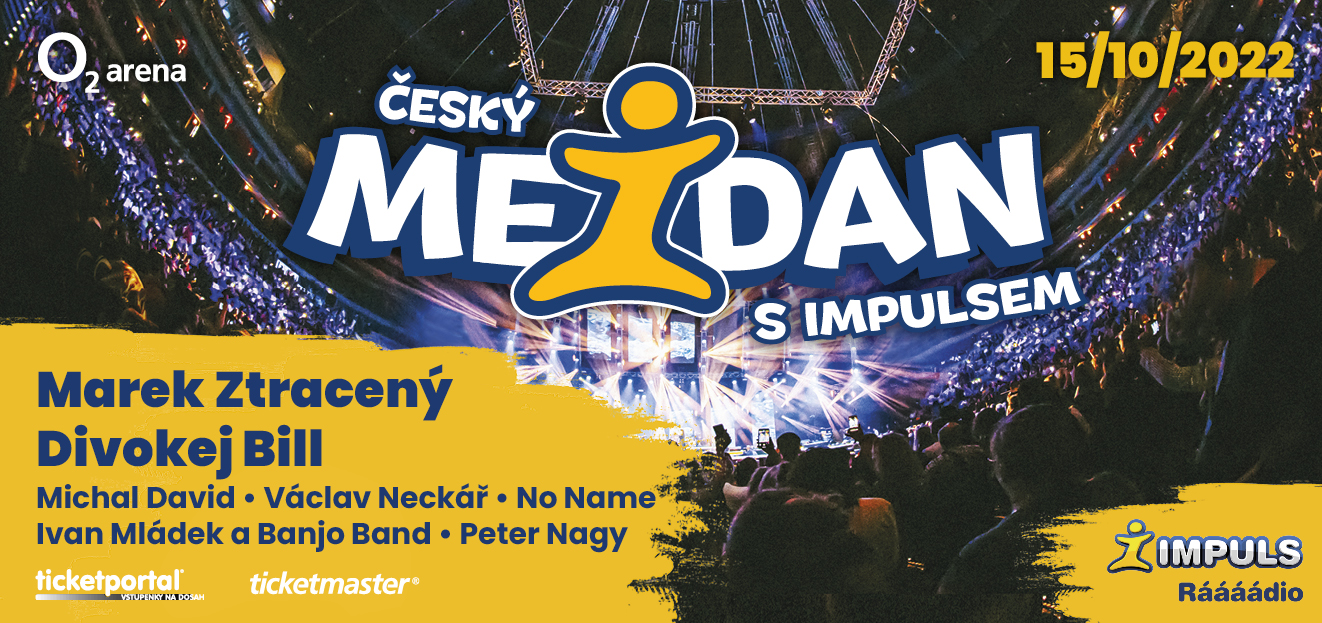 The set of the Czech party with Impuls 2022 is complete! The ageless IVAN MLÁDEK and his BANJO BAND will make the premiere on the O2 arena party stage. It will be added to the star group consisting of MAREK ZTRACENÝ, DIVOKEJ BILL, MICHAL DAVID, NO NAME, VÁCLAV NECKÁŘ and PETER NAGY! An exceptional five-hour concert will take place in Prague's O2 Arena on Saturday, October 15, 2022, for the sixth time.
The Czech party with Impuls has a great mood, and if anyone can warm up the audience with their songs, it's definitely Ivan Mládek. Despite the fact that he celebrated his 80th birthday this year, he still plays great with him and the Banjo Band, and the audience happily sings hits such as Prachovské skály, Hlásná Třebáň or Neopatrný křeček. "That is why we are very happy that we managed to get Ivan Mládek and the Banjo Band for Český mejdan and enrich this year's line-up with another great name, which is a guarantee that the whole hall will be sung," say the organizers. And while other musicians do not hide their respect for our largest concert hall, Ivan Mládek let himself be heard at Impuls with his own humor that he knew it well on the spot. "I went to Vysočany to practice there when I was working as a lathe operator."
A newcomer to the Czech Party will also be the band Divokej Bill, which touched our largest concert hall a few years ago and they managed to sell it out. Nevertheless, they have great respect. "We played at the O2 arena when we were 20 years old. When you get up there, you sting and emotions train with you. The 20,000 people, that's a cut," recalls Roman Procházka, a guitarist from Divoký Bill. Viewers will not lose hits such as Plakal, Rozárka, Znamení, Malovení or Všema ten. At the same time, the Bills are preparing new songs, which they will present live in the arena. By the way, do you know that this bunch of musicians will celebrate 25 years next year?
The headliner of this year's Czech Party with Impuls is the Czech Golden Nightingale Marek Ztracený, who is starting to feel at home in the Vysočina arena. His concerts are a guarantee that people have fun and Marek does everything to keep the audience on the same page with him. "I want everyone to sing together," is his simple message for the audience, which he looks forward to as well as to his colleagues who take turns with him on stage.
Michal David, on the other hand, is looking forward to his performance. The most popular Slovak band in the Czech Republic – No Name, which is said to not be able to make the long journey "Žily", is happy to make a trip from Košice to Prague. Mejdan Václav Neckář will enjoy a few days before his birthday, who is happy that he can finally play again. And Peter Nagy, who received an Angel nomination for his new album Petroleum, will come to present his musical form.
"Enjoy five hours of the best Czech and Slovak music and be with us at the Czech Party with Impuls." This is what the concert producers – Rádio Impuls, Stratex Communication and Bestsport say. Once again, there are also special VIP Platinum tickets for sitting right on the podium. Tickets are available in the Ticketportal and Ticketmaster sales networks in the price range of CZK 490 – CZK 2,590.
You can find more information at www.impuls.cz and the Facebook profile https://www.facebook.com/raaaadio.
THE OFFICIAL SELLERS OF TICKETS FOR EVENTS AT THE O2 ARENA ARE TICKETMASTER AND TICKETPORTAL. WE DO NOT WARRANT THE VALIDITY OF TICKETS PURCHASED FROM OTHER SELLERS.