KINCL vs. VÉMOLA 2 the decisive battle to be crowned king of the middleweight division, and Europe's greatest fighters competing for 1 million euros in the Tipsport Gamechanger quarterfinals
february 9, 2023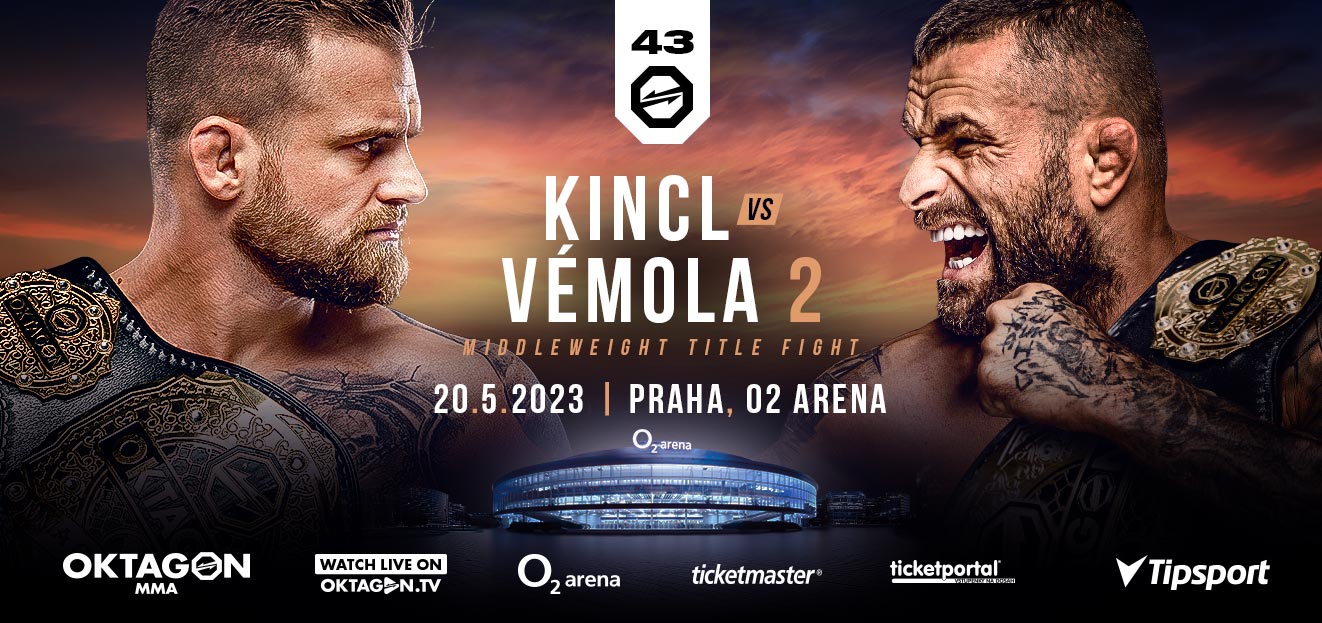 You've waited 4 long years for this DAY OF RECKONING… And now, it's finally here, the rematch between Kincl and Vémola is the most highly anticipated fight on the domestic scene and will determine who the true king of the middleweight division is! On 20.5.2023, OKTAGON 43 is coming to the O2 arena Prague and this epic battle will shake the stadium to its core. And what's more, you will also witness the thrilling quarterfinals of the Tipsport Gamechanger tournament.
Kincl vs. Vémola, middleweight Champion vs. light-heavyweight Champion, and the fiercest rivalry there is! Two incredible stories and two MMA giants are about to go head-to-head, but there can only be one winner.
While Vémola's only concern is taking the belt from Kincl, this rematch is personal for Kincl, who comes to OKTAGON for two reasons – to get "Terminator" in the cage and win the championship belt! 4 years ago, Vémola was happy to win on points. Who will reign victorious this time?
A battle that is destined to go down in MMA history.
In May 2023, four of Europe's greatest welterweight fighters will meet in Prague's O2 arena and fight with all of their might to advance to the Tipsport Gamechanger semi-finals.
And what's more, you will witness thrilling fights between your other favorite fighters across different weight categories.
Guaranteed to be one of the best tournaments in OKTAGON history, this extraordinary event also boasts the greatest audio-visual show you can imagine.
TICKETS on sale now at official Ticketmaster and Ticketportal sites.
THE OFFICIAL SELLERS OF TICKETS FOR EVENTS AT THE O2 ARENA ARE TICKETMASTER AND TICKETPORTAL. WE DO NOT WARRANT THE VALIDITY OF TICKETS PURCHASED FROM OTHER SELLERS.