Metal Dymytry fulfill their dream and conquer the O2 arena!
december 12, 2022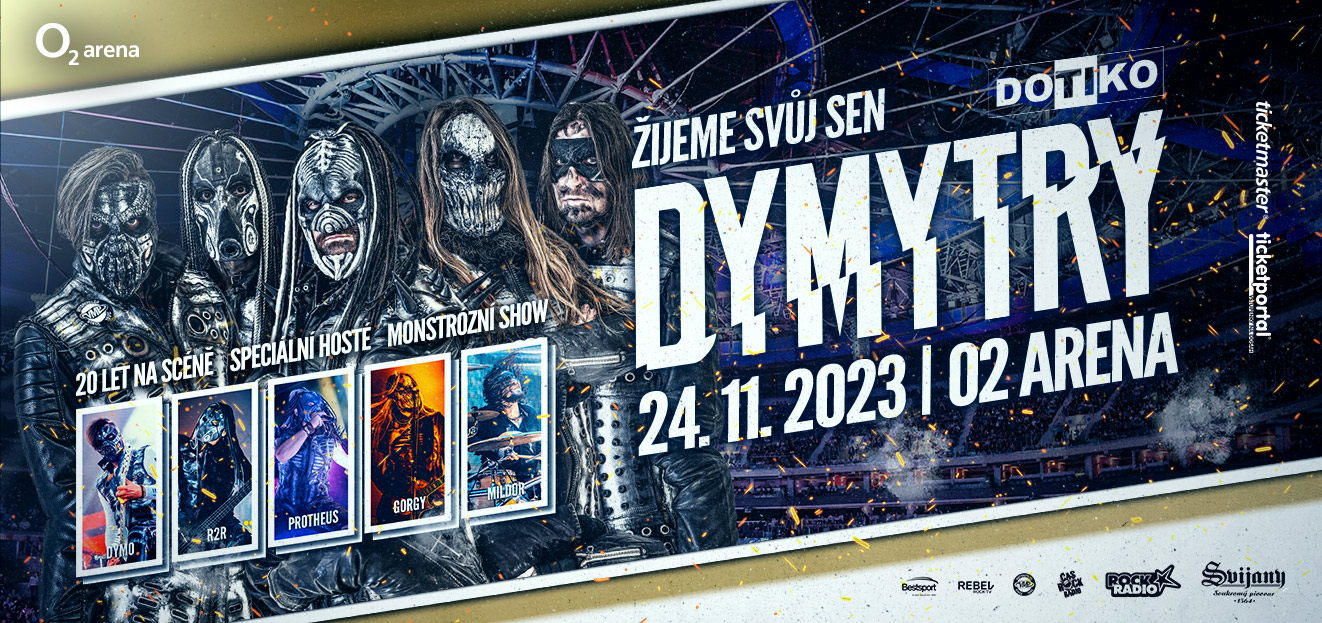 It hasn't happened in many years for a Czech metal band to fill the biggest concert hall in the Czech Republic. The last time Arakain performed at the O2 Arena was shortly after it opened.
But Dymytry never set small goals. Next year the band will celebrate twenty years of its existence, and on this occasion the musicians are continuing their dream and going for another peak in their career so far. They have many historic ones behind them. Five years ago they made a similar step and sold out the Prague Sport Hall in a flash with their concert project Monstrum, with which they then celebrated success in other halls, including the sold-out O2 universe. This success underlined and defined the band's next styling on stage, presenting a wide range of rock and metal songs with a spectacular technical backgroO2und. Thus, a concert by the five-piece with their characteristic masks is always not only a musical but also an audiovisual experience. Even for regular concerts, the band carefully prepares the stage, animations and special effects. In the O2 arena, they will surely perform their life's work.
The band has six albums in Czech and one in English, most of them produced abroad. The last three albums, Agronaut, Revolter and Pharmageddon, have earned them gold records and even a platinum record for Revolter. Although the band classifies itself as a metal band, the new albums also feature elaborate rock ballads. As a result, Dymytry are appearing more and more often in the lineup of mainstream festivals. The band isn't planning any solo shows next year and will take a longer break after their anniversary show.
Tickets go on sale on December 12th, 6pm at Ticketmaster and Ticketportal.
The anniversary concert at the O2 Arena will not only be a celebration of Dymytra's 20th anniversary and the highlight of their career so far, but also an important milestone and the biggest event of the Czech metal scene. At the same time, the band proves its form, unity and loyalty to the Czech fans, as they have made no secret of their foreign ambitions in recent years and the band's frontman is also working on a solo project. Together, they throw themselves into the preparations with full force and energy.
The flames will be really high this time! Dymytry invites all fans of rock and metal music to join the celebration of the band's 20th anniversary and to experience their big dream of the O2 Arena together on 24 November 2023.
THE OFFICIAL SELLERS OF TICKETS FOR EVENTS AT THE O2 ARENA ARE TICKETMASTER AND TICKETPORTAL. WE DO NOT WARRANT THE VALIDITY OF TICKETS PURCHASED FROM OTHER SELLERS.