NICK CAVE & THE BAD SEEDS will play their biggest concert in Prague so far in O2 arena on October 26.
june 8, 2017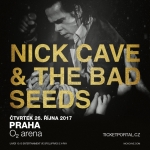 Nick Cave & The Bad Seeds, one of the most respected concert artists at the present time will be performing in O2 arena in the fall. This has been known for some time now. The promoting agency 10:15 Entertainment, in agreement with the band's management, has decided to increase the audience's capacity for the concert now.
"The originally planned number of tickets is sold out at this moment, except for a few individual tickets, so we have decided to open the 4th floor of O2 arena, which we had not originally considered to make available. It is already clear that this year Nick Cave & The Bad Seeds will perform in front of the largest number of fans in the history of independent concerts in the Czech Republic. Large-screen projections will be installed on both sides of the stage, so even the audience in the back of the venue will see the stage, "commented Milena Palečková.
The agency has been promoting Nick Cave & The Bad Seeds concerts since the very beginning. "The first concert of Nick Cave & The Bad Seeds was promoted by the agency, then called 10:15 Promotion, on September 6, 1992 in Lucerna Hall, Prague. Just a year later, they sold out Lucerna Hall twice. The attendance of the concerts is getting higher every year. It's such a great feeling to see a growing number of people interested in their music year after year, "adds Milena Palečková.
Tickets for the newly added sectors are already available at the Ticketportal pre-sales network:
https://www.ticketportal.com/event.aspx?id=183016
Nick Cave & The Bad Seeds will kick off their eight-week European tour on September 24 in Bournemouth, England, at the International Center. The band is performing in the USA at the moment. On this tour, the European audiences will have the opportunity to hear the new Skeleton Tree album live, alongside many other classic songs by Nick Cave and The Bad Seeds. Nick Cave & The Bad Seeds last toured Europe in 2013.
Nick Cave & The Bad Seeds perform as a group of eight musicians – Nick Cave, Warren Ellis, Martyn Casey, Thomas Wydler, Jim Sclavunos, Conway Savage, George Vjestic and Larry Mullins.